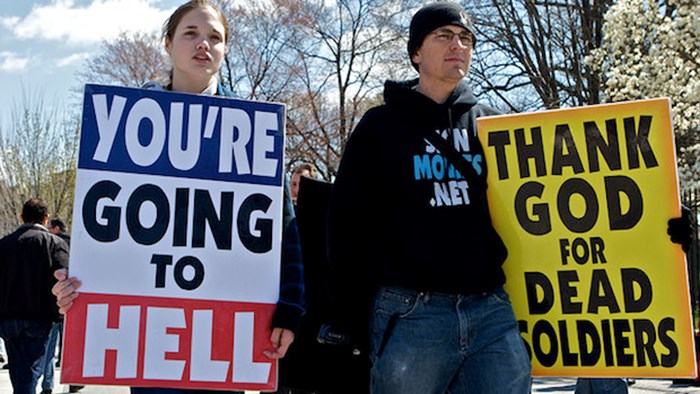 Image: @mjb / flickr
Ed Stetzer: First, tell us a little about your background.

Mark Phelps: I left my family and my father's "church" in 1973. I graduated college in 1976 with a degree in business finance. I married my wife of almost 38 years in August 1976. We started a business in 1978.
My wife and I lost three boys to miscarriage during the first 10 years of our marriage. I began doing business consulting in 1986. We adopted two little girls, one in 1987 and one in 1992. We lost our business of 32 years in 2010, and I am currently recovering from lung disease. I look forward to continuing my consulting business when my health allows.
Ed: How did you come to understand God as you do now?

Mark: The Lord saved me during a sermon at a Bible Conference in Ashland, Kentucky, in 1965, when I was eleven years old. I left my family and my father's "church" in 1973. My future wife, and her father and mother, were a loving support to me from the day I left my family.
If I had to take my family to court and convict them of being followers of Christ, I am not sure where I would find the evidence.
Though the fear was paralyzing, from the treatment and teachings of my father, by 1983 I was able to start thinking about God again and begin attending church again. There were a group of godly men where I was attending church. I joined their Bible study and began to slowly open my heart, and learn the truth about the Lord.
I was finally able to start formal healing therapy in 1988 and worked toward healing and restoration, overcoming the horrible pain and fear from the 19 years of living with my father. I completed formal therapy in 1994 and I was baptized again, on purpose and with great delight, in the local church I attended. Not because I believed I had to, but because I wanted to celebrate what the Lord had done in my life.
I have continued to grow in my faith and relationship with the Lord the past 20 years.
Ed: What are your thoughts on Westboro Baptist Church?
Mark: If I had to take my family to court and convict them of being followers of Christ, I am not sure where I would find the evidence.
An orange tree produces oranges. A thorn bush produces thorns. Each person is known by the fruit produced in their life, including me. The fruit of the Spirit is found in the life of a true follower of Christ.
Ed: Why do you think your family ended on the path they are on?

Mark: My father has been hateful and violent for as long as I can remember.
He made a practice of abusing his wife and children horribly. I observed and experienced the violence from my earliest memories...
When his children got older and he could no longer vent his hate by beating his children and his wife as much, he focused his hatred on the community at large.
It started with hateful, filthy faxes to the local community, then picketing in Topeka. Then picketing quickly expanded to wherever my father could get the most attention. Since he taught such hatefulness, the picketing may continue even after his death because some of the children still believe what he taught, and are afraid they will go to hell if they do not continue.
It is very difficult to comprehend the degree of control and fear that results when rage, violence, psychological domination and hateful teaching from God's Word starts at birth. The very soul of the child is forever engulfed—and lost—unless the Lord breaks through with his healing love and delivering power. The behavior of the family is directly related to the commands and tight control my father exercised over them their entire lives.
I pray daily for my family, for their escape.
Ed: What was the most difficult part about seeing your family associated with such hate?
Mark: My family does not display Christ-like behavior.
I hurt for the people my family has hurt.
I hurt for the people my family has hurt.
I am concerned about the younger grandchildren who participate in the hateful behavior at such a young age, while being told that what they are doing is a loving thing to do.
I am also concerned that the hateful behavior of my family is very likely driving people away from the Lord.
Ed: If you could ask your father one thing today, what would it be?
Mark: I would ask him, "Who did you model your behavior after?"
Ed: What is your hope for the future of Westboro Baptist?
Mark: Close the doors permanently.
It could be beneficial to make a study of the behavior of Christ when he was on the earth, and the behavior of Fred Phelps Sr., and then compare the two. Each person decides whose behavior they want to emulate.
Though there is much pain from all the loss these past few years—and now my father and seeing all the damage left in the wake of his hatefulness—the Lord is close and I am able to rejoice in his grace, his love and his goodness daily.
I have a little contact with a couple of my nieces, and my sister Dortha. Ed, they are so lost in confusion from Satan, because of all the years of lies and abuse. I pray for them and hope the Lord will allow me to be used in their lives in some way to bring them to a saving knowledge of Jesus Christ.
I pray for their salvation every day—all of them. I was so thankful for the truthful words you wrote in your article in Christianity Today!
The Lord is able, and I put my trust in him always!
The Exchange is a part of CT's Blog Forum. Support the work of CT. Subscribe and get one year free.
The views of the blogger do not necessarily reflect those of Christianity Today.