May 1, 2014
Church Planting
Replant: Book and Case Study: Redeemer Fellowship Kansas City
We need a lot more churches that are willing to be planted and grow alongside dying churches. |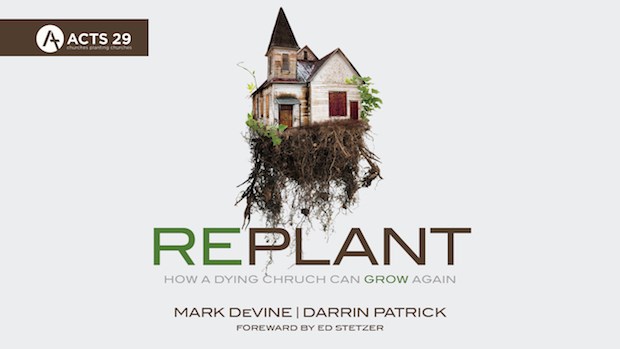 My friends Darrin Patrick and Mark DeVine recently authored a fascinating book, Replant: How a Dying Church Can Grow Again, which releases today.
I had the privilege of writing the foreword to the book, which I have pasted below my opening comments.
The book is worth of your time. It tells the story of a church being replanted within a dying church. We need a lot more churches like this.
A number of weeks ago, I happened to be in Kansas City and I dropped by Redeemer Fellowship for their Ash Wednesday services. I share a bit more about that before the pictures.
The Foreword
You may have heard of YouTube videos going "viral." Whether it's a boy biting his brother's finger or goats bleating along with Taylor Swift, some videos are just too good not to share.
This idea of going viral needs to expand beyond the realm of home videos on YouTube. For the health of the church in America, we need a number of ideas and movements to go "viral."
It is undeniable that churches evolve over time.
In under-reached areas and urban centers of the country we need a church planting and a church multiplication movement to go "viral." That's one of the reasons Warren Bird and I wrote Viral Churches.
In some communities where Christian influence has waned, where pews stand empty and churches are in disrepair, we need a church renewal and replanting movement to go "viral." We need churches and pastors who are passionate, proactive, and committed to doing whatever it takes in order to plant new churches, and replant and revitalize existing ones.
The task of revitalization in church planting
The Western world is in need of new churches. In some cases churches must multiply and plant new churches from scratch, while in other cases existing churches must and should be revitalized—in essence, they must be 'replanted.'
We already know that it takes a brave pastor to answer the call to plant a new church and undertake those unique and vital challenges. Answering such a call requires courage, vision and total dependence upon God. The pastor/planter must often overcome cultural resistance, inadequate facilities, and the lack of an established group with which to work.
Yet, the work of revitalization is also challenging. Here the pastor is often confronted with mounting debt, falling attendance, spiritual lethargy and long-standing turf wars that have distracted the leadership from the true work of outreach, care and evangelism.
Both tasks require pastors with vision, steely conviction, and foremost patient reliance on God's faithfulness. But, some pastors and churches are combining the ideas into one effort.
The vision above and beyond division
It is undeniable that churches evolve over time. Over the life of a church, neighborhoods can change, leadership can expand and even fail, theological trends can take hold, unity can be lost and splits can occur. Throughout all of this turmoil congregations frequently become inward-focused and often obsessed with maintaining the status quo.
Congregations frequently become inward-focused and often obsessed with maintaining the status quo.
Well-meaning members lose sight of their role as servants and become increasingly focused on controlling the very church they are called to serve. When a serving heart is replaced by controlling heart, division is bound to ensue. And when selfish division lies unchallenged, areas of ministry and service become turfs to be defended, and brother and sisters in Christ become opponents and obstacles to individual accomplishment.
Pastors called into this melee must have both a vision for unity and the ability to communicate that vision through the minefield of personal preference and tradition. In many cases the history of the church and its traditions provide the pastor with the very tools necessary to affect change and renewal.
The unlikely allies of tradition and history
Many pastors look at the dying churches around them, beset with congregational divisions and antiquated practices, and see nothing but problems. They see their congregation's often rocky history, and the church's long-standing traditions as chains that bind the congregation and prevent renewal.
But replanting requires pastoral vision that can see beyond all that to recognize that history and tradition can be allies in forging a path toward revitalization. Many times these churches have a valuable gospel DNA, a theological tradition lost that needs to be recovered and a history of God's faithfulness that needs to be retold.
The very buildings they occupy, while often outdated and in need of repair, speak to decades of faithful stewardship on the part of past congregations. Focusing on that heritage can turn history into an asset and tradition into argument for change.
The intersection of multiplication and renewal: evangelism
The mission of God is more than church planting, but I think that church planting and multiplication should be part of every church's mission statement. The mission of God is also more than replanting existing churches, but saving churches from death and decline must be of value to pastors who are passionate about bringing the gospel to communities in need. What unites these two paths of planting is the mission of evangelism.
Evangelism, declaring the saving gospel of Christ is and should be the driving force of every Christian and the engine of church growth and church renewal.
Both traditional church multiplication and church replanting are motivated by evangelism.
Both traditional church multiplication and church replanting are motivated by evangelism.
Evangelism is an important part of the newly planted church's mission, and it is essential for the revitalization of established but faded churches in need of renewal. The passion for outreach and a practice of evangelism run like an artery, providing the lifeblood for church multiplication and church renewal.
So is there a way to unite the interests of churches looking to plant and churches in need of replanting and renewal? I would argue that there is a way.
Churches looking to multiply and plant are in need of additional space and footholds in new communities. Churches and pastors seeking renewal and looking to replant are often in need of resources and a new influx of gospel-centered individuals and vision. Replant provides us with the opportunity to see the first-hand account of this intersection of multiplication and renewal.
If churches are going to multiply and share the gospel of Jesus Christ throughout their communities and around the world, they must have a passion for evangelism and a true love for both planting new churches and replanting established churches in need of renewal. Evangelism is the catalyst for church multiplication and the renewal of the body of Christ worldwide.
-Ed Stetzer and the LifeWay Research team
A Visit to Redeemer Fellowship
The first picture is from my side vantage point—a transitional church filled with young families and a church seeking to live on mission in their community. What looks like simple plywood behind the band is actually a Lenten art installation.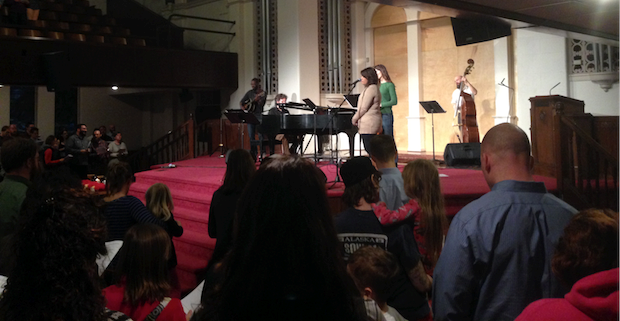 I took a panorama shot of the congregation—you can see more of an age mix there.

Here Kevin explains that Lent does not equal penance, while sporting a beard he did not have when I saw him last!

And, yes, that's ash.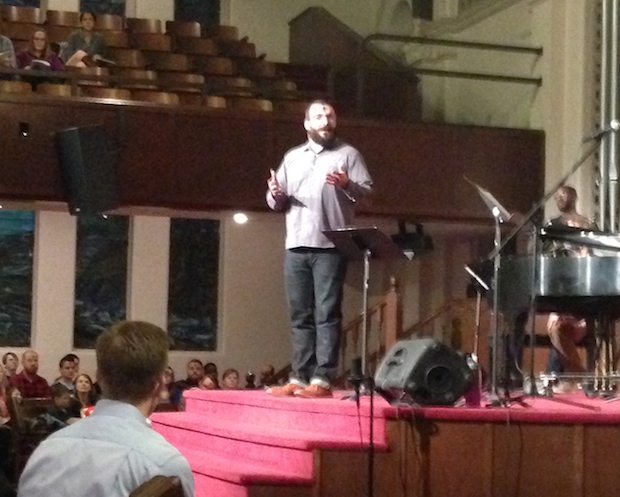 It's a great story from a great book. Get the book here, and pray for Kevin and Redeemer Fellowship.
Support our work. Subscribe to CT and get one year free.