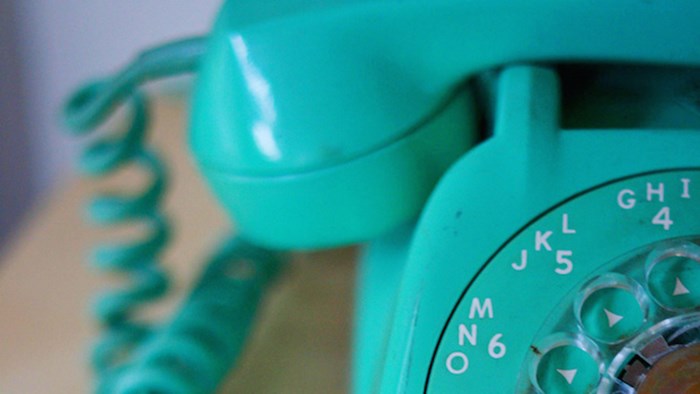 Image: splityarn / flickr
When I am on a long drive, I will sometimes tweet out an offer.
Basically, I say, "Hey, if you are a small church pastor (or church planter, college leader, student, or whatever else in that tweet), and you need some advice, encouragement, and prayer, send me a Direct Message."
Then, though I normally don't read Direct Messages, I monitor them and call in the order received.
So, here is why.
1. First, I cannot take all advice calls I'd like to.
I cannot keep up with DMs (since they are filled with spam), and most phone calls have to be handled by my staff.
I mostly encourage pastors and give advice through conferences and books. It's the only way I can do my job and stay happily married and be a good dad.
However, I love taking the time to randomly serve pastors and church leaders. I trust that the Holy Spirit has set up the divine appointments. And, I assure you, He does.
2. Second, I am surprised at how encouraged people are at my call.
Since I put the tweet up and take it down quickly, I can usually manage the 15-20 numbers that show up in an hour or two.
I've prayed with a pastor in a hospital room as his wife was dying next to him. I've given advice to seminary students about how to take their next step into a ministry role. And, almost all the time, they are blessed, but I get way more blessed by their response.
I took a late night snapshot (note the time) of the last time I did this.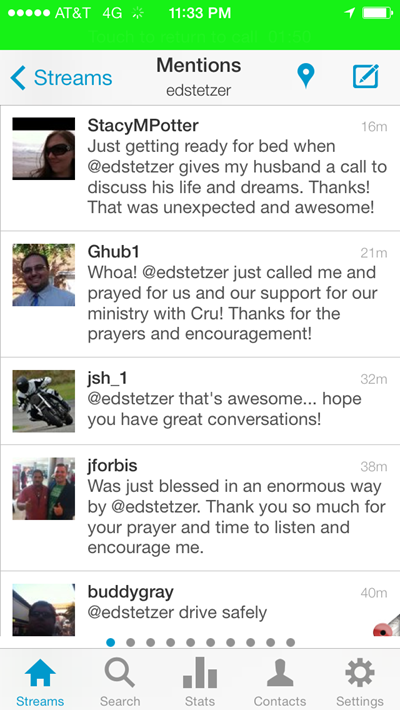 3. Third, it reminds me that ministry is often hard but Jesus is always enough.
Most of the people I call are in a tough spot. Maybe they need advice or prayer, since that is often how I couch the offer.
The fact is, it is easy to get detached from real-world pastoring (and it is easier to get detached from people in general). This is not enough, but it is a small way to help with that.
When you hear the stress or fear in their voice, and you can pray and talk them through it, there are few things that are better.
4. I want to use every moment I can to glorify God.
Sure, I could listen to NPR, but I'd rather talk to and encourage pastors. No, pastors are not all miserable and on the verge of divorce, but the fact is that ministry can get lonely, and sometimes you just need someone to talk to.
5. Everyone needs room for the Spirit to move.
That's right. I get blessed and I can bless others. How? By being used by God and trusting where he might take the conversation.
So, I know you are not probably doing what I do, but how could you make space in your life like this? Maybe just go see a neighbor and ask, "Is there anything I can pray for you?" Maybe call someone and say, "Is there anything that it might help to have a friend talk through?"
Leave some room for the Holy Spirit and you'll be blessed and you'll bless others.