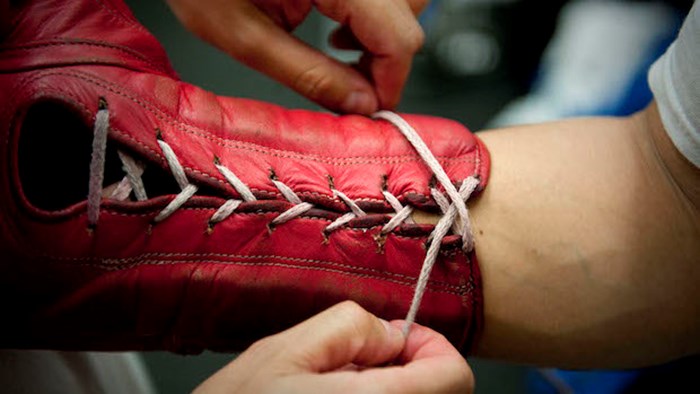 Image: Sean M. Worrell / Wikimedia
One of the reasons many churches struggle is they're not a friendly place for men.
Think about the worship service at your church. More than likely, there's a lot of talk about loving each other, but not much about fighting against sin or fighting for each other. There's holding hands when we sing, but not much locking arms as we get marching orders for the mission.
One of the reasons many churches struggle is they're not a friendly place for men.
Yes, I'm stereotyping. But, that's what I often hear from many critics of churches. Regardless of its universal application, men need to be challenged to act like men—that's what the Bible does. We need to live out our callings as men, to be and do what God has called us to be and do.
Act Like Men
This is the first article in a series called "Act Like Men." In this post, I'm going to talk about the spiritual life of a man. The next three will deal with the three basic life stages most men experience: singleness, married life, and being a father. Let's build a foundation for thoughts on those areas of life by talking about what makes a man.
I'm not saying this is not often applicable to women. I am a man writing to men in a world where manhood is often confused. I lead a mentoring group for women leaders and regularly seek to elevate women leaders. But, for this brief series, I want to talk to men about being godly, gracious, and discerning.
Paul says in 1 Corinthians 16:13 (HCSB), "Be alert, stand firm in the faith, act like aman, be strong. Your every action must be done with love." The Greek word here is defined, "to make a man," "to make brave," or "to be brave." Notice, as Paul shows, there is no dichotomy between being loving and being men. We are called to love through or who we are as men, not despite it. All the other actions described – be alert, stand firm in the faith, be strong – are summed up at the end, that every action is to be done with love. Our love is expressed through acting like men. That can be a freeing thought.
What It Means
Despite accepted cultural norms, acting like men doesn't mean being macho, arrogant, overbearing, rude, or harsh. That's immaturity and sin. Men are to love and serve through controlled strength. The power of godly men is wrought through the redemptive work of Christ in our hearts and lives. To be a man in our world-- a biblical man-- will look different than much of what passes for manhood in the world and even in contemporary Christian cultural expressions.
This is what God redeems men to be: We aren't afraid to act like men, to be courageous and to be godly examples in our home and in our community. It means standing firm in the faith when waves crash and when the beach erodes around us and around those we are called to lead, love and protect. Being men means building the lives of those we are responsible for on the bedrock that is Christ. But that can't happen unless our own lives are founded on Christ. So let me briefly explain some ways we must act like men regardless of our current life stage.
We fight
Second Timothy 4:7 says, "I have fought the good fight, I have finished the race, I have kept the faith." The sign of a good end to the Christian life is a life well fought, a race well run, a faith well kept. We can't grow in godliness unless we are fighting. The passive Christian life is no Christian life at all. There are things Christian men will have to fight for and fight against. That means we need to be well equipped for battle. We need to wear the armor of God, as explained in Ephesians 6:
Put on the full armor of God so that you can stand against the tactics of the Devil…so that you may be able to resist in the evil day, and having prepared everything, to take your stand. Stand, therefore, with truth like a belt around your waist, righteousness like armor on your chest, and your feet sandaled with readiness for the gospel of peace. In every situation take the shield of faith, and with it you will be able to extinguish the flaming arrows of the evil one. Take the helmet of salvation and the sword of the Spirit, which is God's word.
There are times we'll be on defense as temptation comes, needing faith to quench the flaming arrows. There are times we'll be on offense as we penetrate our dark world with God's word. What we don't do is abandon the actual fight by fighting for things that don't last. Men love to fight over which college football conference is the strongest, who caught the biggest fish, made the most sales, or has the most successful ministry.
Men need to be challenged to act like men.
We fight the good fight "of faith" according to 1 Timothy 6. It's faith in Jesus Christ, in the Gospel, and for the sake of the Gospel in the world. We aren't fighting to do good deeds that God might be pleased with us. We are fighting because God was and is pleased with the work of Jesus on our behalf. That's the Gospel, and it creates men who act like men.
We flee temptation
Every day we face inestimable temptations that require the fight. The Devil is working on you and wanting you to fall, to fail those you have been called to lead, love and protect. Peter says in 1 Peter 5:8, "Be serious! Be alert! Your adversary the Devil is prowling around like a roaring lion, looking for anyone he can devour."
Because I take this seriously, I sometimes make rules that offend people, or at least make them think I'm a little weird. But I avoid some things to protect myself, my family, and my ministry. The secular world doesn't understand that. But when you act like men, you'll understand the temptations around you are real and so are the consequences of failing.
There are all sorts of temptations. Some are common to most men. Some depend on your personality or disposition toward certain sins. We need to fight against pride, lust, abusing power, apathy, and more than I have time to name. But you probably know what they are. Wherever the war rages, men are to fight.
We pursue God
Too many Christian men see the fight as only about avoiding sin. That's crucial, but there's also a positive fight that we must embrace. We fight as a pursuit of God, that we may know Him better, more deeply. He is our greatest treasure. Knowing Jesus is our greatest joy. This is why knowing Scripture, a devotion to prayer and the spiritual disciplines, walking in the Spirit and the communion of the saints in the local church are so important. We have been bought with a price (1 Corinthians 7:23), we are His, and knowing Him better is our eternal pursuit and the source of our eternal blessing.
The passive Christian life is no Christian life at all.
We pursue the fruit of the Spirit: things like righteousness, godliness, faith, love, patience, and gentleness. We pursue the full expression of our love for God through being living sacrifices of service to the church and world through using our talents and spiritual gifts. 1 Peter 4:10 says, "Based on the gift each one has received, use it to serve others, as good managers of the varied grace of God."
If we act like men, we fight as a pursuit of God and the things God wants in the world.
We worship
One sign I've noticed in healthy churches—the men sing (along with the women who often already are!). I love to walk into a church and see and hear men singing loud praises to our God. Men should be, an example to others of what praise looks like. They shouldn't be ashamed or embarrassed. If we are, that says a lot about what we don't know about the Gospel.
Of course worship is so much more than singing. Paul says in Romans 12:1 that our spiritual worship is the giving over our whole lives on His altar. But there's something important about the vocal praise of men who have gathered to give glory to the Savior. When men act like men, they make it known that they aren't the point, Jesus is.
When you act like men, you'll understand the temptations around you are real.
Men, let's worship.
Are you fighting?
Look at your life, men. Is your life characterized by courage, strength and love? Are you fighting against temptation, and in the pursuit of God? Would brothers and sisters in Christ say you sing like a man who loves the Savior? Maybe you need to step up right now. It's time for men to act like men. Will you become the man God made you to be?
The Exchange is a part of CT's Blog Forum. Support the work of CT. Subscribe and get one year free.
The views of the blogger do not necessarily reflect those of Christianity Today.