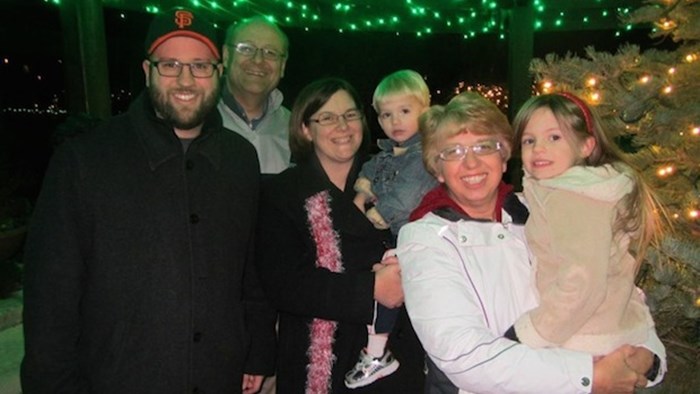 Image: Courtesy of the Writebol Family
Why was your mother in Africa?
Jeremy: Mom and Dad have been career missionaries for the last 15 years in various countries in South America and Africa. About a year ago they joined SIM (Serving in Mission) to go to Liberia to help serve the Liberian people through the ministries of ELWA Hospital, ELWA radio station and other avenues of ministry that SIM is involved with in Liberia. Mom helped coordinate hospitality for incoming short and long-term missionaries as well as assisting as a nurse's assistant at the hospital. Mom and Dad have always wanted to use their lives to serve Christ and help those in need in whatever way they could.
Brian: My parents where following the call in their lives to serve others through cross cultural ministry. They had served in Ecuador and Zambia and felt that the Lord was leading them to use their gifts of hospitality and management to encourage and build the Church.
What was your reaction when you heard your mother had Ebola?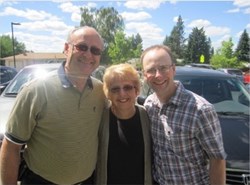 Jeremy: Devastated. With mortality rates of 65-90% of infected patients I knew the statistical odds of her survival were not good. Add to that the way in which a person dies from the virus it can be one of the most terrible ways to die. When we heard that mom had the virus I could only imagine the worst.
Brian: I was in a bit of shock due to knowing that Ebola has no cure and that it is a virus with very serious symptoms. It also seemed a bit surreal as we knew they where taking the proper precautions when doing their jobs.
Has your mother shared any thoughts about the whole situation?
Jeremy: It was overwhelming for her. Very difficult for my dad to call us and give us the news. I think it was the hardest for both of them to be apart with Mom having to be in isolation to contain any spread of the virus.
Does your mom regret going to Africa and fighting the virus?
Brian: No, I don't sense any regret in going to Liberia or following what they (my parents) are called to do. My folks knew to some extent what life there was going to be like as they were familiar with life in Africa, however no one could predict an event such as this. I feel they were happy to be involved in the ministry of caring for others at the SIM compound and ELWA Hospital.
Do YOU regret that she went over to Africa to fight Ebola?
Jeremy: No. We know Mom and Dad's motivation for going was to serve and glorify Christ. There are always costs associated with that call. We've read and been familiar with missionary biographies in our house for a very long time. Christians go, they suffer, some die, and that's part of the call.
Christians go, they suffer, some die, and that's part of the call.
Brian: No, having lived in Africa ourselves for a time we knew some of the hardships they where likely to face. We also knew that Mom and Dad have a heart to serve, a heart for Africa, and that they where using that Christ-like love in glorifying the Lord.
Tell me about the connection to Steven Curtis Chapman and why it matters.
Stephanie: Nothing changes a relaxing Saturday evening than to get the news that Nancy had, in working with other Ebola patients, had contracted this horrible virus that kills so many. As we have said many times, our lives will never be the same. On the Tuesday following the news of her contracting the virus and trying to process all of it, a friend of mine sent me Steven Curtis Chapman's song, "Glorious Unfolding." She said, "I was riding in my car and heard this song and couldn't get your family out of my mind. I feel like you need to hear it as I believe it will be a Glorious Unfolding." That song resonated in my heart from the moment I first heard it. The words to that first verse was where we were—this is not how we thought life would be and it did feel like an end was coming.
Oh how we needed to be reminded in that moment that there was so so much more of the story to tell—that God could and would use it to continue the gospel story. I shared that song with my father-in-law, who was in Liberia at the time and also with the rest of our family. It resonated with each of them as well and we decided at that moment that "Glorious Unfolding" was going to be the theme song for our family. I can't even tell you the number of times we have listened to the song—in times of tears and fear as well as in times of joy and seeing glimpses of grace and mercy.
No matter what happens in this whole situation, it will be a glorious unfolding because Jesus is enough and that is the story we want the world to see and hear through our lives.
We want to thanks Steven Curtis Chapman for being faithful to the calling God has placed on his life and using his music to put forth the gospel. God has used him greatly to impact our lives and through our story, the lives of many many others. We eagerly wait to see all God does through this and in our lives as we make much of Christ.
"We will watch and see and we will be AMAZED" at this glorious unfolding. While this isn't how we would choose things, we are humbled that God would take us down this road and our prayer is that all people see is Him!
What do you want to come from this?
Jeremy: I think the perspective that we hope others will gain from this is that in suffering there is hope, namely Jesus himself. Often we are tempted to think "why me" when suffering comes about and unless we see it in the larger picture of God's glory and the unfolding and revealing of his character and nature to the world we will miss the joy that it is to be part of God's great story.
In suffering there is hope, namely Jesus himself.
Brian: I think I would like those who look into our lives through this time to see Christ and see He alone in our refuge in trying times. This "strong tower" comes in the form of prayer, Scripture, and the Holy Sprint providing comfort and peace in our hearts in the darkest moments. Through this peace we are able to worship and glorify him no matter the outcome.
Esther: I want people to see Christ lifted high and to see that God's plans for each of our lives is always for our good and His glory. God is Sovereign, he is Holy and he is good- all the time, no matter what the circumstances in our lives are- we can trust him to lovingly walk us through the dark and scary times as well as the joyful times of our lives.
How has this affected her faith?
Brian: In conversations with Mom I've picked up a sense that she has a deeper understanding on Christ sufficiency in all circumstances. He really is able to give peace and comfort when we have no where else to turn.
Some people... ok, only one named Ann Coulter... criticized Dr. Brantly for going to Africa to help instead of, if I understand her argument, helping and reaching an American in need. How do you respond to such arguments?
Jeremy: Well I think Ms. Coulter has failed to take a couple of important things about Christianity into consideration. First, the gospel isn't just for one nation, or one people group. Jesus called us to go and make disciples of all nations (Matthew 28:19-20). This requires that people leave their own culture and context and cross cultures to go and make disciples. Yes that can be done in the United States, and should be, but it isn't an either/or command. We are all called to make disciples, some are called to stay within their own culture, some are called to go to far away places. For my parents and the Brantly's that call was to go to Liberia.
Secondly, the Scriptures are clear that "Religion that is pure and undefiled before God, the Father, is this: to visit orphans and widows in their affliction" (James 1:27). Jesus constantly affirmed those who worked among the poor, ill, and marginalized. The ethic of the Bible is to care for those who are in need as a way to display the gospel so that we can also declare the gospel.
Is there anything that your mother would want to convey?
Jeremy: Mom's statement to me over and over again is that she didn't all this attention drawn to herself in this situation. She really wanted to keep quietly and anonymously serving Christ in Africa. But in light of all the attention she continues to say to me, "I just want Christ to be glorified. I want his name to be made famous."
Stephanie: I had a wonderful conversation with my mother-in-law one day while she was laying in the bed at Emory University—looking at her through glass. She said:
"Steph, I have asked myself many, many times in my life, Is Jesus enough? I wasn't always sure how I could really answer that. When I was being put on that plane to come to the US, I knew I was leaving my home where all my things would be destroyed. I was saying goodbye to David, not knowing if I would see him again. I was getting on that plane unsure if I would be alive when I got to the US to see all of you. It was that moment when I cried out and knew, 'Jesus, you have to be enough. Jesus, you are all I have - you are enough.'"
Oh how perspective changes—He really is enough!
Here is the Steven Curtis Chapman Song:
The Exchange is a part of CT's Blog Forum. Support the work of CT. Subscribe and get one year free.
The views of the blogger do not necessarily reflect those of Christianity Today.