Morning Roundup 8/4/14
Cambodia's shocking trade; Announcements in Worship; My God
Ed Stetzer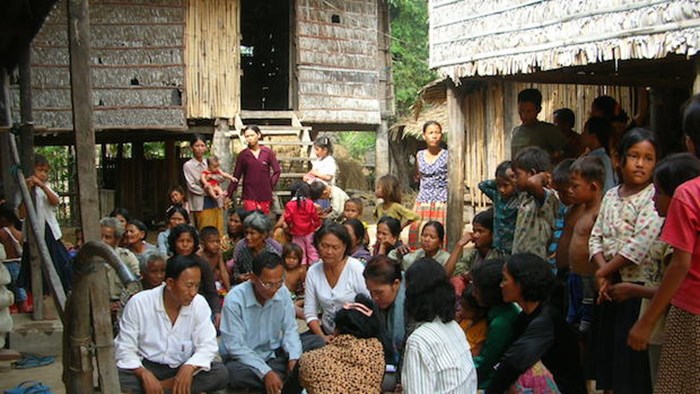 Image: Brett Matthews / Wikipedia
Virginity for sale: inside Cambodia's shocking trade—Abigail Haworth
Heartbreaking story about sex trafficking.
Vannith Uy is the owner of what translates from Khmer as a "mobile nail salon", although the word salon is a stretch. It's a bicycle with a plastic crate on the back filled with hand lotions and nail polishes. Uy, 42, rides it around her Phnom Penh neighbourhood – a tangle of alleys near the river where the residents' domestic lives spill out of their open front doors – until a customer flags her down. She performs a manicure or pedicure on the spot, sitting on a plastic stool by the side of the street.
Three years ago, when she arrived from the countryside, Uy had a different plan. She wanted to open a hair and beauty salon on proper premises in the Cambodian capital. "But my family could find only dirty jobs," she says. "I wanted a place where my daughter and I could work together." So Uy did something she describes as her "only choice": she sold her 18-year-old daughter Chamnan's virginity to a wealthy local man for £900.
The man was a police general who frequented the beer garden where Uy worked as a kitchen help, she says. He bought Chamnan for six days and nights. He installed her in a hotel room on Phnom Penh's outskirts and visited her many times to have sex. She was allowed to call her mother once a day. By the third day, Uy recalls, Chamnan was so weak and distressed that the man summoned a doctor on his payroll to give her painkillers and a vitamin shot "so she had the strength to keep going until the end of the week".
Uy received cash payment in full, but her planned salon never materialised. The money that had represented a life-changing sum – equivalent to around five years' salary in her home village in Kandal province – soon trickled away. After she'd paid her sick husband's medical bills, given cash to her ageing parents and bought Chamnan a gold necklace to "raise her spirits", there wasn't much left. Uy had greatly underestimated the task of clawing her way out of hardship; her stricken expression as she talks suggests she also miscalculated the personal costs of selling her daughter's body to try.
Why Your Church Needs More (Often) Announcements in Worship—Sam Rainer
Sam Rainer drops some counterintuitive wisdom. I like it.
Most of us have entered the twilight zone of worship announcements at some point. A person approaches the pulpit with the same gait as one walking the plank. A piece of paper unfolds, multiple times. The throat clears… loudly. What follows is usually awkward, many times painful, and sometimes memorable in all the wrong ways. In one of my churches I had to kill the death announcements. Historically, the church began worship services by announcing all member-related deaths. Nothing screams "Let's worship!" like announcing Aunt Geraldine's funeral.
Those minutes are valuable. Every moment in a corporate gathering is important and should bring glory to God. Church leaders should guard the congregation from the black hole of endless droning about next Thursday's fish fry. Additionally, church leaders should guard less skilled communicators from the undeserved pressure of performing in an area they are not gifted. There are times when it is edifying for an unskilled communicator to share something with the entire congregation. Such moments can be powerful. Making an announcement is not that moment.
The horror stories make many church leaders want to cut the announcements out of a worship service entirely. But I believe such a move is a mistake.
Churches don't necessarily need more announcements. They need important announcements more often. Here's why.
Attendance frequency is declining. Until church leaders solve the problem of people attending less frequently, they will have to figure out ways to communicate to these infrequent attendees. Thirty years ago, pastors could get away with making an announcement once or twice over a couple of weeks. People attended more often. Today it's likely a good portion of people in your church attend much less than a generation ago. If it's important and you want most people to hear it, then announce it for several weeks.
I thought this was fascinating… and, yes, the last name might give you a clue that this is the daughter of Justin Welby, Archbishop of Canterbury.
I feel like I am at the bottom of a cliff. I'm in the water and the waves are crashing over me one after another. It seems to never end. I guess it's tidal because every now and then I get a couple of months pause, where breathing is temporarily easier. Like the waves are smaller and I can keep my head above the water. Generally though, I feel as though I am drowning but never dying. It's exhausting.
I have so much to be thankful for, and there is a part of me which feels horribly guilty for the fact that I – who has so much – should still feel so hopeless. And I find myself despairing when, so often, I don't recognise the God so many other people seem to know. I often wonder why no one else appears to be drowning. The testimonies never end with 'and I still don't have a job' or 'and I still have chronic back pain'. The preacher never says 'I don't know how to get through the week' or 'life really is pretty rubbish most of the time'. My experience is that it is in the darkest places that we find the most hope – even if the darkness doesn't appear to have the testimony ready ending. This doesn't mean that there are not tons of people that feel the same way as me, but it seems that the God who lets me be bashed against the base of a cliff, tossed about by the waves, gasping for breath, is not the God that I am meant to know.
The thing is, I can understand why! What use is a hero who lets us take hit after hit with no relief? I mean isn't God meant to make it all a bit easier? Isn't he meant to make it a bit more bearable? Doesn't the bible say that God will not give us more than we can bear?
This idea though, has always slightly jarred with me. The idea that God does not give us more than we can bear seems so at odds with the bible. The story of David or Job, the cries that come out favouring death over continuing in that pain. Were the women of Bethlehem strong enough to bear their sons being slaughtered? The bible is the book which tells me suffering is normal, it tells me that I am normal. The often quoted verse – 1Corinthians 10:13 – seems at odds in so many ways with the rest of the book:
No temptation has overtaken you except what is common to mankind. And God is faithful; he will not let you be tempted beyond what you can bear. But when you are tempted, he will also provide a way out so that you can endure it.
Kevin Myers is the Senior Pastor of 12Stone Church in Gwinnett County, Georgia, and he joined me on The Exchange a few weeks ago. In this clip, we talk about church planting and endurance. Don't forget to join me every Tuesday at 3:00 PM Eastern for The Exchange.
The Exchange is a part of CT's Blog Forum. Support the work of CT. Subscribe and get one year free.
The views of the blogger do not necessarily reflect those of Christianity Today.