Morning Roundup 8/6/14
Being a Bridge Builder; A Church for Exiles; Church Attendance
Ed Stetzer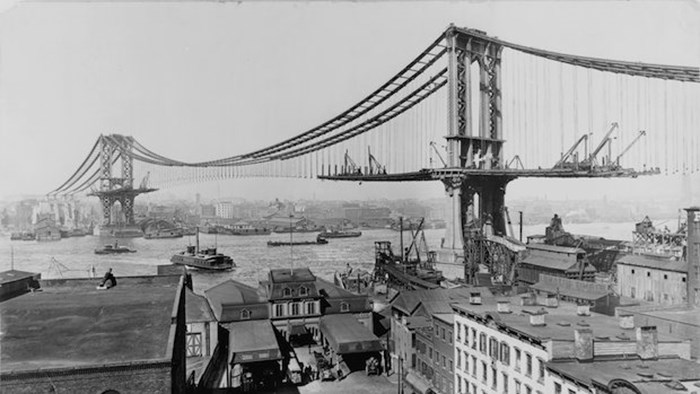 Image: Irving Underhill / Wikimedia
7 Ways to be a Bridge Builder—Brad Lomenick
Good article from my friend Brad Lomenick, who, might I add, is a bridge builder.
Building a bridge is an art. Not literal bridges that you drive over, although those are incredibly important….
I'm referring to building bridges in business, friendships, co-workers, mentors, and key partnerships. I'm referring to building a new relationship with your neighbor. I'm referring to connecting with someone that you've wanted to meet with for a long time and only having 15 minutes for a meeting. How do you turn that meeting into an hour or more, and then eventually into a friend?
Many folks just think that showing up is half the battle. Well, sort of. But there's more. When it comes to winning a client, or inking a new partnership, or developing a new friendship, there are some key things I've learned over the years that might be helpful.
A few thoughts:
1. Love people until they ask why. Let your actions speak so loud that people can not help but pay attention. Let them see your authenticity, and ultimately demand an explanation for the reason you do what you do.
2. Prove your craft before asking for something. Excellence, skill and know how is key on this. Show that you are competent before you demand that they should partner with you.
3. Ask more questions than they do. I love this one. Many times asking great questions is way more strategic than giving great answers.
4. Spend lots of time listening. Once you've asked a great question, listen. And listen more. And listen more.
5. Find points of connection and shared interests, and be intentional. A crucial part of great bridge building. Find out what motivates someone, what their interests are, what they enjoy. Is it sports? rock climbing? history? Whatever it is, find out and then build on those areas of shared interests.
A Church for Exiles—Carl Trueman
Somber words from Carl Trueman.
We live in a time of exile. At least those of us do who hold to traditional Christian beliefs. The strident rhetoric of scientism has made belief in the supernatural look ridiculous. The Pill, no-fault divorce, and now gay marriage have made traditional sexual ethics look outmoded at best and hateful at worst. The Western public square is no longer a place where Christians feel they belong with any degree of comfort.
For Christians in the United States, this is particularly disorienting. In Europe, Christianity was pushed to the margins over a couple of centuries—the tide of faith retreated "with tremulous cadence slow." In America, the process seems to be happening much more rapidly.
It is also being driven by issues that few predicted would have such cultural force. It is surely an irony as unexpected as it is unwelcome that sex—that most private and intimate act—has become the most pressing public policy issue today. (Who could have imagined that policies concerning contraception and laws allowing same-sex marriage would present the most serious challenges to religious freedom?) We are indeed set for exile, though not an exile which pushes us to the geographical margins. It's an exile to cultural irrelevance.
American Evangelicalism and Roman Catholicism start this exile with heavy baggage. Evangelicalism has largely wedded itself to the vision of America as at heart a Christian nation, a conception that goes back to the earliest New England settlers. An advertisement for The American Patriot's Bible (2009) proudly boasts that it "connects the teachings of the Bible, the history of the United States and the life of every American" while "beautiful full-color insert pages spotlight the people and events that demonstrate the godly qualities that have made America great." Yet a nation where the language of "choice" and "freedom" has been hijacked for infanticide, the deconstruction of marriage, and a seemingly limitless license to publish pornography is rather obviously not godly. That's a hard truth for those who believe America belongs to them by right.
Dear Mona, How Many Americans Go To Church Every Sunday Like I Do?—Mona Chalabi
Here's a helpful look from Nate Silver's people. I endorse these stats. ;-)
From here on, this column won't only answer "Am I normal?" questions. You guys might be pondering "What are the odds?" "Is this old wives' tale true?" or even "What's the optimum number of x to have?" — questions that are no less interesting or relevant to real life. Ah, real life— there's another reason to break free of the "Am I normal?" formulation. Here are three occasions when I've used those three little words in my life:
To the nun who played the guitar at my friend's birthday party: "I steal money from my dad's wallet. Am I normal?"

To the teacher who told me my grade at school: "I got a 75. Am I normal?"

To the doctor who gave me the diagnosis at the clinic: "I have focal vitiligo. Am I normal?"
In the first of those (asked, I hasten to add, when I still had some of my baby teeth), I was seeking moral guidance about my behavior. Based on my chances of getting into heaven, I won't be dishing out advice on moral normalcy in Dear Mona. In the second example, I was seeking statistical guidance about how I performed relative to others in my class. Based on the fact that I will rarely know how your classmates, siblings or teammates are doing, I also won't be looking at the normal distribution of a small group in a Dear Mona column either. In the third and last example, I was seeking information about prevalence — I just wanted to know how many other people were like me. And that's where I hope I can offer readers some useful information. But if there's a risk that the word "normal" might be misinterpreted to be about anything other than prevalence, I'll steer clear. It's what Sister Rosemary would want.
OK, now back to the column.
Dear Mona, I go to church almost every Sunday (I am also a Protestant). How many other Americans do the same?
John, 18, Longmont, Colorado
Dear John,
Despite the constant prognoses that the United States is becoming less religious, plenty of people say they attend religious services. Gallup has been asking the question for more than 70 years, and attendance is virtually the same now as it was in 1939: Four in 10 Americans say they've been to a church, synagogue or mosque in the past seven days. Except for a jump in the 1950s, that figure hasn't changed much in the intervening years either. Sounds like there are plenty of people like you.
Pastor and author Dr. James "Jim" Emery White joins me live via Skype for this fascinating and fact-filled episode about the cultural trend called by Pew Research "The Rise of the Nones." In this clip, we talk about the rapid acceleration in the rise of the nones. Don't forget to join me every Tuesday at 3:00 PM Eastern for The Exchange.
The Exchange is a part of CT's Blog Forum. Support the work of CT. Subscribe and get one year free.
The views of the blogger do not necessarily reflect those of Christianity Today.