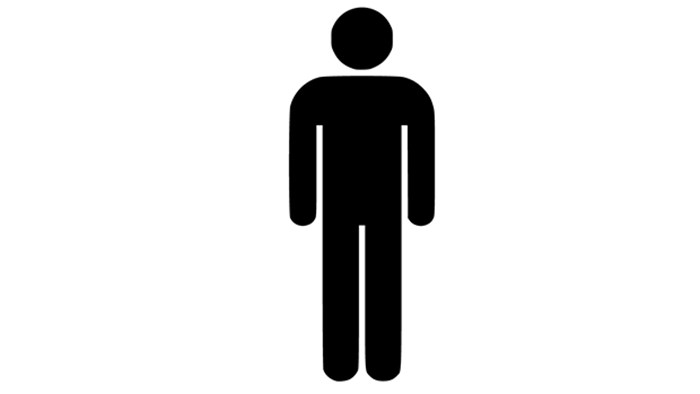 A few weeks ago, I began a blog series on being a godly man with a post entitled, "Act Like Men: What It Means to Fight Like a Man."
Before I continued the rest of the series, I want to address a bit of the criticism that arose.
When I published the post, I wasn't really expecting much controversy—I added caveats to be clear in what I was not saying and what I was saying. I quoted biblical texts that say "act like a man" and to "fight the good fight." And, I applied them to men.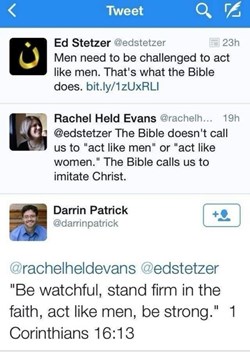 So, what caused the ruckus?
Part of it may be that some people argued outside of the post. For example, a tweet conversation between me, Rachel Held Evans, and Darrin Patrick ended up being retweeted and passed around, well, a lot.
I appreciate that, after reading the post, Rachel posted, "I apologize for assuming the worst about @edstetzer's series on masculinity. Need to work on hearing people out better before I judge." I'm thankful and appreciate her kindness.
However, in her defense, not all translations translate that verse as "act like men" and some of the responses she received were from people NOT acting much like men... but that is another story.
Either way, that retweeted conversation seemed to garner a lot of attention. While some were arguing and yelling, in other cases people were writing thoughtful rebuttals.
Thoughts on Lynn Cohick's Response
Probably unrelated to the Twitter conversation, Lynn Cohick, a professor at Wheaton College, wrote a response blog post on Scot McKnight's blog. Dr. Cohick is a brilliant scholar with whom I had the privilege to speak alongside at the Pastorum Conference. I've benefitted from her new commentary, so her thoughts were of great interest to me.
Scot and I actually communicated about Dr. Cohick's post before it went up. He thought I would probably agree with the response. And, I do agree with much of its content—but my concern is its necessity.
In Lynn's case, she wanted to be sure that the exegetical situation was clear—and for that I am thankful.
But, my bigger concern is the idea (clearly held by some of the louder voices) that we cannot apply this exhortation to men without controversy.
We should say to a world where men are acting like boys, "Act like men."
Some Background
Simply put, I don't want to live in an evangelicalism where we cannot tell men to "act like men" using a verse that says, well, "Act like men."
The reality is that if your theology does not allow you to call men to act like men, your theology will fail in inner cities, high schools, bars, and, well, everywhere there are men.
The passage I referenced (1 Corinthians 16:13) is clearly masculine in focus and I intended to apply it to men. This is not "anthropos" which is easily used can refer to men or women. It is "andros."
As such, some actually think it refers only to men. I'm not making that case here. Actually, I made that clear in the post when I explained:
I'm not saying this is not often applicable to women. I am a man writing to men in a world where manhood is often confused. I lead a mentoring group for women leaders and regularly seek to elevate women leaders. But, for this brief series, I want to talk to men about being godly, gracious, and discerning.
Unfortunately, instead of reading the exhortation I wrote, "Act like men—be a man of God," some seemed to read, "You should adhere to some cultural norm of hyper masculinity and this verse does not apply to women." I get that—and thought some might feel that way—which is why I included the caveat about women and men.
However, the constant (and not unimportant) gender debates must not prevent you from calling men to act like men.
Why It's Still Important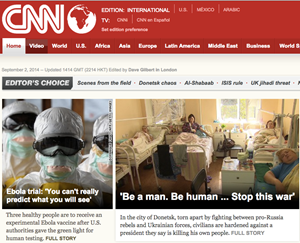 This week, video was released showing a football player punching his fiancé and the world said, "Act like a man." As they should.
Because of his bullying tactics toward Ukraine, CNN's headline says to Putin, "Be a man." And it should.
At 5:30 a.m. this morning, I met with a group of men at my church and we exhorted one another to act like men. And I should.
In my response to Lynn's thoughtful critique, I explained:
I hope we never get to the place in the Christian world where a man cannot, citing scripture, exhort men to "act like men" in an occasional devotional article. There is no question such a word is needed today, particularly in the sacrificial and discipleship-oriented way I am describing...
I also responded a bit to Scot, who posted the blog:
[I]t's a devotional series, written to men, encouraging them to live godly, sacrificial, and Christ-centered lives. And, that's a very appropriate application of that verse and the others I've used (and will use in the series).

It's not an exegesis — it's an exhortation. To men.

It's not a commentary on every use and application of the passage. It's one application. And an important one that we should not be unable to make because there are also other applications and debates.

Lynn would be much better equipped to write the commentary. I'm just making an exhortation in this culture that is quite an appropriate application of the verse.
In a world where too many men are too busy playing video games to take responsibility and their porn addiction is running rampant, they need to be called out to act like men.
The Bigger Issue
Lynn's critique was well done and you should read it. Rachel Held Evans and I had a nice chat and all is good there.
But, I was just left dissatisfied with all the shouting this caused in blogtown.
So, instead of breathlessly proclaiming (as some did), "Oh no, someone mentioned gender in the Christian blogosphere," we should say to a world where men are acting like boys, "Act like men."
If you create a world where men cannot challenge men, you undermine what is part of the obvious intent and application of that verse (and many others).
I like how my friend Eric Mason, author of Manhood Restored, puts it while writing a guest post here at the blog: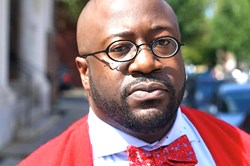 Perhaps, then, men are so unclear about who they are supposed to be because we in the church have failed to give them a true picture of the ultimate man Jesus Christ. This man alone was unflawed and untouched by the destructive properties of sin. Yet this man was still born with all of the limitations and temptations of humanity (Heb. 4:15). Jesus, and Jesus alone, has exemplified manhood. If we want to be conformed to His image, most especially as men, we need to understand this example more deeply.
Yes, women need to become more like Christ as well. (And, to my women readers, thanks for putting up with a small sliver of my blog for a devotional series from a man to men! I appreciate you.)
But, after all is said and done, I think it is important to call men to "act like men" and will be returning to the series next week.
The Exchange is a part of CT's Blog Forum. Support the work of CT. Subscribe and get one year free.
The views of the blogger do not necessarily reflect those of Christianity Today.