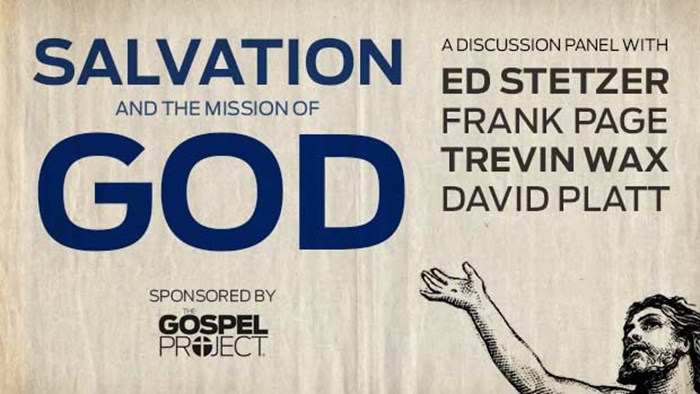 In June 2014, David Platt, Frank Page, Trevin Wax, and I discussed the topics of salvation and the mission of God.
The panel was sponsored by The Gospel Project, an intentionally Christ-centered and mission-driven curriculum that Trevin and I edit. We think that conversations like this matter—people need more theological discussion, not less. In fact, The Gospel Project 2014-15 winter study for adults and students is titled "The God Who Saves" and explores the biblical doctrines of election, calling, conversion, and our union with Christ.
The purpose of our discussion was to address some debates about how Christians, who disagree on the order of salvation or the extent of the atonement, can work together (or not).
Now, we are not saying that (for example) Calvinists and Wesleyans should, necessarily, be in the same denomination. The fact is, doctrinal statements and standards matter. And, the beliefs we have (and sincerely hold) need to be passed on in our church plants and our mission efforts. (Thus, Arminian Pentecostals like the Church of God I was with last week should plant, well, Arminian Pentecostal churches. You would not hear me making a case there they they should plant Calvinist cessationist churches. More on that here.)
However, in my denomination, Calvinists and non-Calvinists (the new word is traditionalists), have always been in the same denomination. The doctrinal statements have just about always been accommodating to both groups. So, the question is, in this case, can traditionalists and Calvinists exist in the same denomination, if the doctrinal statement so allows, or is it doomed to failure?
The panel participants included Frank Page, who was writing against Calvinism before it was cool to do so. His book, The Trouble with the Tulip, was provided to all the attendees of the panel. Frank is now the President of the Executive Committee of the SBC. Yes, the President of the SBC's Executive Committee wrote a book against Calvinism. Let that sink in.
David Platt is, well, a Calvinist. And, he has riled people up saying some Calvinist-y things, like criticizing the Sinner's Prayer (and then clarifying here). He is crazy about missions, too, but he definitely thinks he's going out to find and gather the elect.
Trevin Wax is an Amyraldian, an obscure position that makes him sound smart, but really means he just can't pick a team. I'm obviously just a confused hybrid, as my drug-induced comments will make clear to you in the audio.
I hosted the panel and, explaining my comment about drugs, I had just broken my tailbone and was one not one, but on two, narcotics. So, I was—shall we say—a bit loose. (Listen to where I called Frank Page "Pelagius," made fun of David Platt's teenage face, and said offensive things to Trevin.) I am sure that it will give some listeners something to include on their blogs—enjoy.
But, seriously, these kinds of discussions are relatively useless if you won't ask hard questions and push the respondents. I did—I assure you! And, I think it was a good discussion.
I think it is time that people both acknowledged differences and then talked about how they can, or perhaps cannot, work together.
Here are some of the things we addressed.
Does one's belief on the extent of the atonement affect their understanding of mission and the offer of the gospel?
Can two Christians disagree on soteriology and partner in ministry?
Does the order of salvation affect how one does evangelism?
When it comes to the theological particulars of salvation, what is the difference between compromise and cooperation?
We did our best to approach the issues in the most respectful manner we could. You be the judge—and a few of you go rant on your blog post about how terrible it was. We are here to help.
For the rest of you, we hope you are encouraged and challenged by the audio of this important discussion.
Click here to listen to the panel discussion.