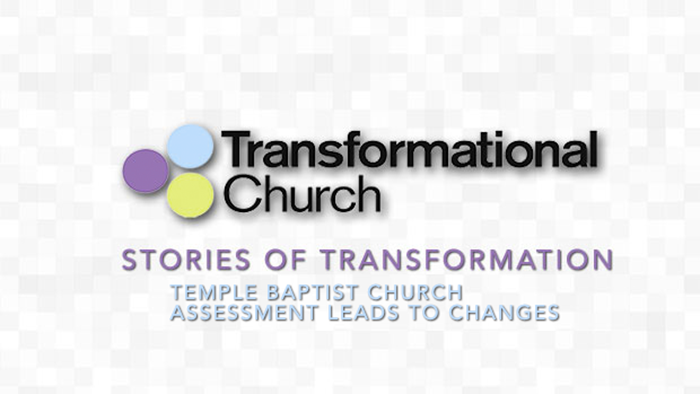 For H.D. Jones, pastor of Temple Baptist Church in White House, Tennessee, using the Transformational Church Assessment Tool (TCAT) a few years ago was like getting a physical.
It was a change to get an outside expert's view of how the church was doing.
"We found out we are a pretty healthy church," Jones said. "That didn't surprise me. But it gave us a few things to work on."
It was a change to get an outside expert's view of how the church was doing.
About 75 members of the church, which has a weekend attendance of about 500, took the 80-question online assessment, and then attended a Friday night dinner to review the results.
The TCAT is based on a long-term, research study of effective discipleship that included surveys of 7,000 pastors and 20,000 church members from 123 denominations, along with in-depth interviews with hundreds of pastors. It gives churches feedback in seven areas of spiritual vitality.
Jones first heard about the TCAT while reading "Transformational Church" by Ed Stetzer and Thom Rainer. The staff had read through the book and wanted to apply some of its principles to their ministry.
"We wanted to make sure that we were doing the right things, and that we had a good assessment of where we were," said Jones.
The report was mostly good. Church members wanted to be more active in the community and to focus more on prayer. They also wanted more input into how the church's programs are run, so Jones started a new group called the "think tank," to get more input from lay people. The idea came from a consultant who helped them work through the TCAT.
"He told me, you need some folks you can just sit down and talk with," said Jones. The group allows Jones to bounce ideas off them and gives him feedback from folks who aren't on the church staff.
As part of the assessment, church members also gave feedback on worship. They felt Sunday services had become too predictable at times. People told him, "Sometimes we come into worship, and we know exactly what's going to happen when,'" he said.
That's led to a little more variety to the order of Sunday worship. They've held what Jones calls a "reverse service," which starts with the sermon and then gives time for prayer and singing. And, more lay people have been invited to share their testimony or lead prayers on Sundays.
There have been other, smaller changes in the day-to-day life of the church. During the assessment, church members said they wanted to be more deliberate about prayer. Nowadays, it's common to find people praying together in the halls before a service, rather than just saying, "I'll pray for you," said Jones.
There's also been one change in the church's finances. Church members wanted to focus on becoming debt-free, so that they could give more money to missions in the future.
"They felt like our indebtedness was getting in the way of their missions giving," he said. The church is now debt free. "That has opened up some new opportunities in missions," he said.
More information about the TCAT can be found online at tcat.lifeway.com.
This post was written by Bob Smietana, senior writer for Facts & Trends.
The Exchange is a part of CT's Blog Forum. Support the work of CT. Subscribe and get one year free.
The views of the blogger do not necessarily reflect those of Christianity Today.