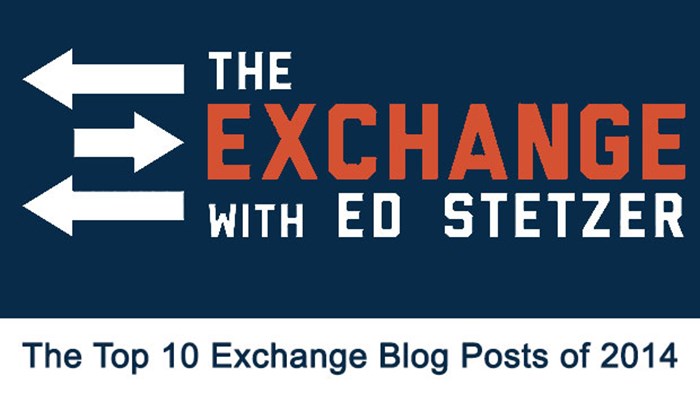 We are in the final days of 2014, which means blogland is chocked full of year-end "Top Blog Posts" lists. We've got our own list here at The Exchange, and there is a pretty clear theme: controversy.
Every one of our top 10 blog posts of 2014 has some element of controversy related to it, except maybe "The Real Reasons Young Adults Drop Out of Church," but even elements of that are controversial.
Here are our top 10 blog posts of 2014 with links and excerpts. They are in order of popularity, with a bit of commentary before each.
1. Noah: Five Negative Features about this Film (by Dr. Jerry Johnson)
My friend Jerry Johnson (and new president of the National Religous Broadcasters) wrote a two part pre-release review of Noah. Note: My favorite part about this review was that the official Chrisitanity Today review (by Alissa Wilkinson) took a swipe at this one, saying:
The other myth is that this is a work of "environmental propaganda" (or, as Glenn Beck apparently put it, that Noah is a drunk who is worried about climate change). Some (even here in CT) have suggested that this film portrays Noah as the worst stereotype of granola-eating tree-hugger who thinks man should be wiped out because he impacts the environment.
I enjoy reading Alissa Wilkinson's reviews, but that made me chuckle. (If it was a different review in CT, my apologies.)
Oh, and there was an enviornmental agenda in the film. Everyone sees that—the question would be if it was overblown.
Here is an excerpt of Jerry's review:
2. A Decision in Ferguson: How Should Evangelicals Respond?
Needless to say, I was suprised at how widely this was read. It led to a broadcast at the National Civil Rights Museum called #ATimeToSpeak.
I'd actually rather have you read from African American evangelical leaders from our "It's Time to Listen" series.
Here is an excerpt of that article:
3. Deconversion: Some Thoughts on Bart Campolo's Departure from Christianity
This post was not really "breaking news" as I was simply commenting on a video on YouTube (which is not exactly a secret). However, it introduced the deconversion to the evangelical conversation, I guess.
Many people were grieved. Some were upset. Some where upset at me—including this bizarre rant from Frank Schaeffer, son of Francis Schaeffer. (Language—and bizarreness—warning.)
Here is the article on Bart:
4. InterVarsity "Derecognized" at California State University's 23 Campuses: Some Analysis and Reflections
I was at a private meeting in Colorado Springs with a bunch of evangelical leaders. While there, one of them mentioned their recently-released newsletter, sharing their recent "derecogniztion."
With their permission, I wrote this up—again, not really breaking the news, but soon after it became national news.
Here is the article:
5. Why Do These Pentecostals Keep Growing?
I just saw that ChurchLeaders.com ran this article on the front page of their site. When I posted it here, I had to delete about two thirds of the comments since people could not stay on topic. Good luck to ChurchLeaders.com on moderation!
6. Noah: Five Positive Facts about this Film (by Dr. Jerry Johnson)
More from Jerry on Noah.
7. Saved from Hate: An Interview with Mark Phelps, Son of Westboro Founder Fred Phelps Sr.
One of the more fascinating interviews this year had to be my interview with Mark Phelps.
I have a little history with Westboro. They have picketed my church, called me a "lying whore false prophet," and I've written a widely read obit on Fred Phelps.
Well, after I wrote that obit, Mark Phelps reached out, which led to this interview. And, you can keep up with Mark at his blog here.
Here is the interview:
8. The Real Reasons Young Adults Drop Out of Church
This was just a simple post about young adutls and why they drop out. At its core, they did not have a faith of their own.
9. Hate and How to Overcome It: How Should We Respond to the Tragic Death of Fred Phelps?
Here is the obit I mentioned earlier:
10. The Grammys, Grace, and the Gospel
I commented—like many others—on the Grammys. I think the Grammy's were, indeed, a symbol of a culture shift, and I weighed in here:
What post was most interesting or helpful to you in the past year?
The Exchange is a part of CT's Blog Forum. Support the work of CT. Subscribe and get one year free.
The views of the blogger do not necessarily reflect those of Christianity Today.