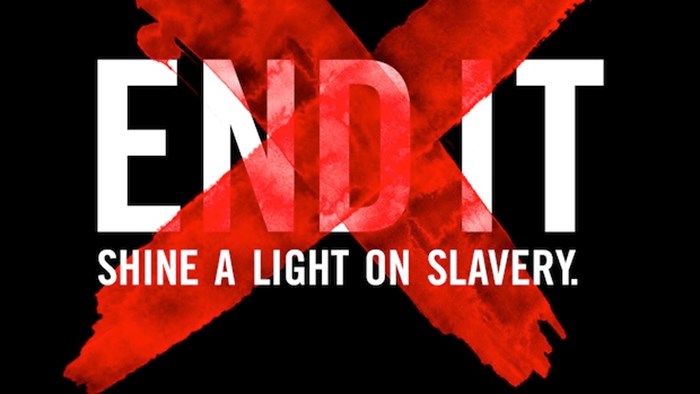 Around the world, there are presently almost 30 million people in slavery—a truly staggering number, quite possibly the largest number of slaves the world has ever known. You can see where they are held right at this Washington Post article.
Carrie Underwood, Matt Chandler, Selma Wilson (President of B&H Publishing and in the picture with me), me and so many others have taken a moment to draw a red "X" on their hands and share a picture. So why? Well let me explain.
My friend Louie Giglio reached out and asked me to use my social media to get the word out. I'm glad to do so because of the confidence I have in Louie and the End It Movement.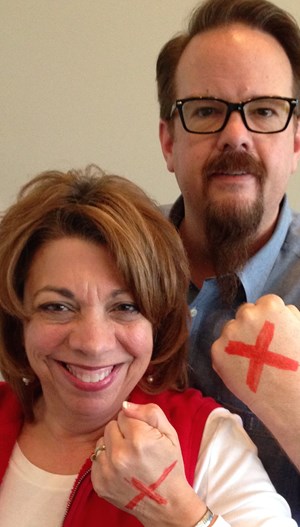 We all know that simply drawing an X on our hands doesn't free 30 million people from their forced labor in mines, brothels, factories, and otherwise, but it raises awareness and unifies around the cause of freeing the world's slaves.
And, yes, awareness does matter. Just ask SeaWorld.
So how can we help? We can write Xs on our hands, post and share content on social media, and all sorts of other helpful things, but what steps can we take to free the almost million enslaved men, women, and children in the world today?
1. Pray
God is good, and He has given us a way to communicate with Him and pray on behalf of others. If our faithful prayers truly have the ability to move mountains, surely our faithful prayers can free slaves.
Pray for freedom and justice. Pray for strength for those who have not yet found justice and are still enslaved. Pray for them to find peace in Christ in the midst of a horrible situation.
Pray that the hearts of those who have enslaved others would be softened to the gospel of Jesus and that they may see the horrors of their sin and release the people they have in captivity.
Pray for the boots on the ground—the people actively traveling the world finding and freeing slaves from all sorts of horrifying situations. Pray that God would use his people to end slavery.
2. Give
One of the ways you can help encourage the efforts of those who are working hard to free the almost 30 million slaves of the world is by giving some of the money the Lord has given you by way of getting some hats and shirts. Check out the #EndItMovement store, get a couple of new t-shirts and help end slavery all at the same time. The t-shirts can help foster conversations so that people will ask—and you will answer—about the issue of modern day slavery.
Or, better yet, give. Selma and I did not just mark our hands but we are also giving to the movement. I hope you will join us.
3. Join the Fight
Stop by the End It Movement website and sign up for their email list to get updates about how the fight is going and how you can join in on a deeper level.
The video below explains a little bit more about the #EndItMovement and how you can help:
The Exchange is a part of CT's Blog Forum. Support the work of CT. Subscribe and get one year free.
The views of the blogger do not necessarily reflect those of Christianity Today.