Feb 11, 2014
Roundup
Morning Roundup 2/11/14
Religious Freedom and Foreign Policy; Sneering Calvinists; Religious Persecution |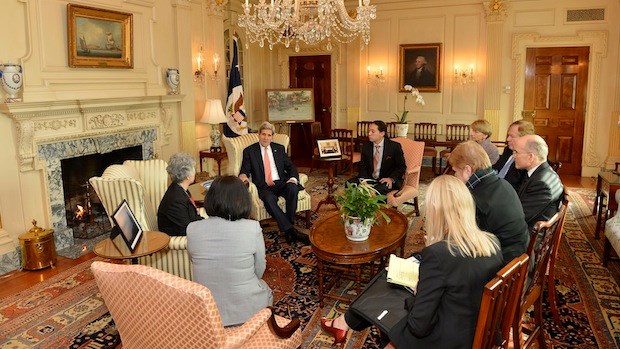 Image: United States Government / flickr
Religious Freedom Is a Tenet of Foreign Policy, Obama Says—Peter Baker
One of the great struggles of the next few decades will be over religious liberty. I hope that President Obama will speak more and often on the subject.
Sneering Calvinists—Derek Rishmawy
I've often expressed my concern about angry calvinists… and here is some helpful input on the issue.
Religious Minorities In Islamic Pakistan Struggle But Survive Amid Increasing Persecution—Jaweed Kaleem
This is an important long-form article that is really worth reading. Just a few weeks ago, I shared a meal with Haroon Bhatti, national leader for the Foursuare Church in Pakistan who shared powerful stories of what God is doing and some of the challenges that it involves. This article from Jaweed, who actually went to Pakistan and engaged these contexts, explains.
Here's a real face from a real religious minority: http://instagram.com/p/jnlw06ktNj/
Best-selling author and evangelist Jefferson Bethke joins me in studio to discuss his ministry approach to Millennials and his book Jesus>Religion. In this clip, Bethke shares his thoughts on millennials and the real Jesus. Don't forget to join me every Tuesday at 3:00 PM Eastern for The Exchange.
Also, Jefferson was great on TBN as you can watch here, along with Matt Chandler, Priscilla Shirer, Chris August, and Josh Wilson.
Support our work. Subscribe to CT and get one year free.