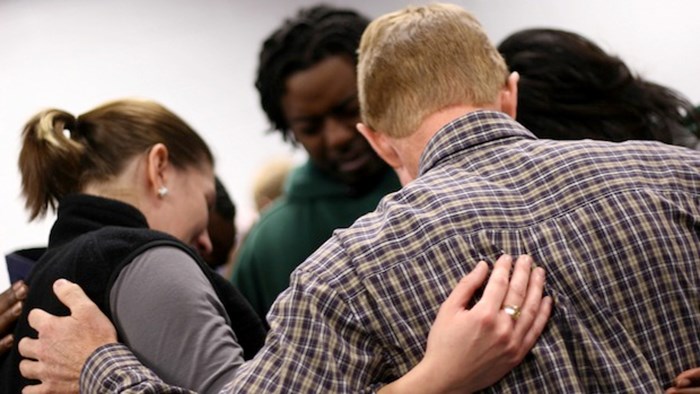 Image: Wesley Biblical Seminary / flickr
I am preaching up at Sojourn Church in Louisville today.
I'll be preaching on mission (surprise!), but related to John 17 (and in light of John 20:21). Here are some powerful quotes about how community really matters.
I'm struck by the idea that we need—and I need—to be in community. I'm struck by not just by our need, but how God uses community for mission.
First, some Francis Schaeffer:
"And if we are surrounded by a world which no longer believes in the concept of truth, certainly we cannot expect people to have any interest in whether a man's doctrine is correct or not. But Jesus did give the mark that will arrest the attention of the world, even the attention of the modern man... Because every man is made in the image of God and has therefore aspirations for love. There is something that can be in every geographical climate, in every point of time, which cannot fail to arrest his attention. What is it? The love that true Christians show for each other, and not just their own party" (Francis Schaeffer, The Mark of the Christian).
What makes this community so powerful is that Jesus doesn't just pray that believers would generally like each other, but that they would be "one as You Father are in me and I in You." Jesus prays that His church would be a family of deep, loving relationships. And He knows that if this happens, then the world will truly know that Jesus is real.
Jesus prays that His church would be a family of deep, loving relationships.
We don't want to discount the importance of hard questions and theological ponderings, but don't we know this experientially? Are you more influenced by a strong theological argument or by the people with whom you interact? Both are important, but without relationships, theology alone is not very influential.
Keller points to the negative influence of experience with bad churches/believers:
"Many people who take an intellectual stand against Christianity do so against a background of personal disappointment with Christians and churches" (Tim Keller, The Reason for God, Chapter 4).
Then, he explains just how the church itself helps make a case for faith:
". . . if you have seen churches that are devout in belief yet civic-minded and generous, you will find the intellectual case for Christianity much more plausible. If, on the other hand, the preponderance of your experience is with nominal Christians (who bear the name but don't practice it) or with self-righteous fanatics, then the arguments for Christianity will have to be extremely strong for you to concede that they have any cogency at all" (Tim Keller, The Reason for God, Chapter 4).
And, Chester and Timmis explain why and how:
"Jesus came to create a people who would model what it means to live under his rule. It would be a glorious outpost of the kingdom of God, am embassy of heaven. This is where the world can see what it means to be truly human" (Tim Chester & Steve Timmis, Total Church, 50).
I've written before (in response to Donald Miller) about why we should choose to be a part of this thing called church. These quotes help us to understand how God uses the church for His mission purposes.
The Exchange is a part of CT's Blog Forum. Support the work of CT. Subscribe and get one year free.
The views of the blogger do not necessarily reflect those of Christianity Today.