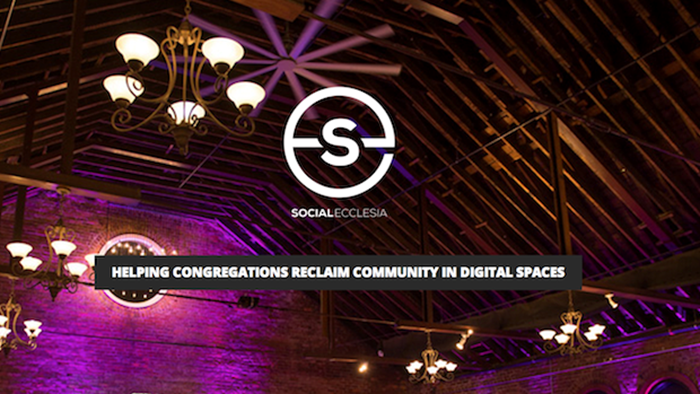 In the Summer of 2013, thirty-or-so social media geeks met for a small conference at Saddleback's Rancho Capistrano retreat center to discuss best practices and strategies for social media managers. Carrie Kintz, Haley Veturis, and I (Benjamin Clark) felt a kindred spirit during this time in Orange County. Out of this new found friendship we realized that God crossed our paths for a purpose. A few weeks after the gathering at Saddleback, the three of us wanted to collaborate in creating a resource for churches and faith community leaders. Something to help them understand that social media and digital communications, at their core, are nothing more than talking with other human beings through new technology mediums. We also wanted to establish a new community of leaders and learners who are seeking connections, confidence and practical steps in digital communications.
[Social media] is a tool for interaction and connection, not merely a megaphone to announce the next church program and party.
Social Ecclesia was birthed a short time later, a micro-conference designed to promote Spirit-led digital presence in churches and non-profits. We founded the conference on three principles. One, in order to minister, Jesus has to remain at the center of our forward progress. If we are not resting in Him and in His word, we cannot do His work effectively. If the content of our messaging is not faith, hope and love, then social platforms are merely social. Two, God uniquely calls churches to local communities Instead of encouraging churches to grow their social media following; we wanted to renew awareness about the communities where they are planted. Communities made up of broken, hurting people who need the Gospel and who spend more time on social media than in church. If we are called to go where people are, then we must remember that "real people" are now connected to us digitally seven days a week. They read our posts, our tweets and see our Instagram pics at the local coffee shop. Three, social media is not going away. It is a tool for interaction and connection, not merely a megaphone to announce the next church program and party. Social media opens doors and opportunities to engage with people who rarely, if ever, step foot in a church building.
We desire to foster Spirit-led digital presence in the Church.
As we worked to shape the first Social Ecclesia micro-conference, we knew what we didn't want the conference to be — and that was every other conference we've attended. We wanted to create an atmosphere where real connections would be formed and new skills would be learned. The intent was to keep Social Ecclesia small because we wanted any leader who attended to feel affirmed, known, and equipped. That's when we reached out to a leading thinker and digital strategist in the church, Justin Wise. Justin brought much wisdom and application to our team as we even further expanded our reach. Justin is a pilgrim in social media strategy for churches and non-profits. Justin's new book, The Social Church, comes out in February and is sure to be a huge resource to pastors and leaders across the nation.
Our team learned that flexibility is paramount when it comes to creating an event and resource like Social Ecclesia. While there were a number of small things that went wrong — speakers whose flights got delayed (thanks a lot, Polar Vortex), and sickness — our commitment to being authentic and flexible for what the Lord wanted to accomplish was key. With less than 100 attendees we measured our reach and impressions, via TweetReach, at over 3 million at our first event in Chattanooga, TN this month! Click here to see that report: #SocialEcclesia
In the aftermath of our first conference, we received feedback that affirms the fact that leaders want to be equipped. They shared that they feel overwhelmed, ill-informed, and drowning when it comes to digital communications overload. The church is full of leaders who know, messaging matters, and truly desire to learn in the context of a micro-conference are ideal candidates for Social Ecclesia. With one end in mind, we desire to foster Spirit-led digital presence in the Church. Our team believes that our practical niche is helping churches reclaim community in digital spaces because social media is really simple — talking to other people through new technology mediums.
If you would like for us to come to your city or community, please visit our website and leave us your email address. We will keep you informed on future events because we truly desire to help your church/organization.
Follow us on Twitter: @SocialEcclesia
Carrie Kintz || Focus on The Family || @CarrieKintz @FocusFamily
Haley Veturis || Saddleback Church || @HaleyVeturis @Saddleback
Clark Campbell || Pathway Press || @BenjaminClark @COGHQ
Justin Wise || Think Digital Academy || @JustinWise
The Exchange is a part of CT's Blog Forum. Support the work of CT. Subscribe and get one year free.
The views of the blogger do not necessarily reflect those of Christianity Today.