Feb 3, 2014
Worship
What Should Worship Look Like? 3 Questions to Ask When Planning a Worship Service
We serve a God who is worthy of worship and praise, and we must wisely consider three factors in planning worship. |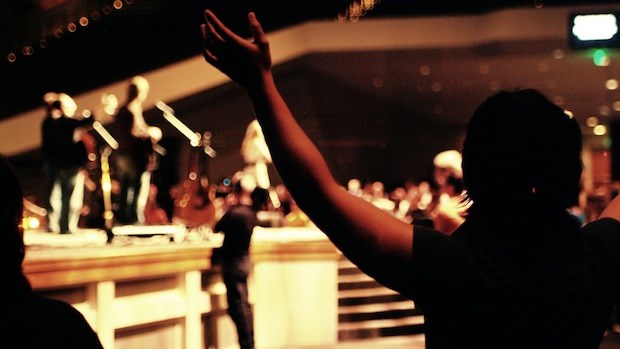 Image: Ani's Photography / flickr
I've always loved worship.
As a failed worship leader (every church planter has to play guitar, right?), I found worship both meaningful and powerful. Some of those times are when I am by myself—worship dominates my personal prayer time. Then there is corporate worship, which can be a great opportunity, but also a great challenge at times.
For many of us, few things are as meaningful and formative as moments spent in corporate worship. Churches spend countless hours and dollars to create environments where voices can be raised in song and hearts lifted in prayer.
My church intentionally plans and, probably, so does yours.
The prominence of worship in our churches is no accident.
The prominence of worship in our churches is no accident. We serve a God who is worthy of worship and praise. In the Old Testament, they prepared and planned for worship and we should do no less. Often, though, these times of praise and worship become forums driven by consumerism rather than gratitude, and opinion rather than orthodoxy.
Much can be said about worship and I won't say it all here, but I've been thinking about some of the challenges in planning worship services. In my view, churches that embrace God-centered worship are thinking through ways to encourage people to engage in biblical worship.
To do that, I encourage you to consider three questions:
1. What does the Bible say to include in your worship?
Instead of asking, "What could we include?" start with what must be a part of corporate worship according to the scriptures (singing, teaching, reading of scripture, ordinances, etc.) and go from there. Worship is not just our whim—the Bible gives us instruction about what should be a part of our gathered worship expression.
Certainly, part of that includes the music we include and sing. That, too, requires consideration.
In seeking to determine what is the right music for a church, it is important that we apply biblical principles to evaluate our music. That is not always easy, as the Bible contains no music notes and God indicates no musical preferences.
It seems odd to hear Christians today insist that a certain style of music is best or act as if the recent "Worship Wars" were an anomaly in church history. Any Christian who knows our past would know that neither of those is the case.
One way we can avoid some of these conflicts is to educate our churches on exactly what the Bible says about worship and move from that shared foundation.
2. How can I engage in biblically commanded worship in culturally appropriate ways?
Rather than asking, "What would be trendy?" consider what would be appropriate for the culture in which God has placed you. Don't do a thing just because you can or because you always have, but do what you do in culturally relevant ways—musical style, timing, format, etc.
I appreciate pastors and worship leaders who find ways to incorporate creative elements into a worship service.
As one who enjoys worship in its many forms, I appreciate pastors and worship leaders who find ways to incorporate creative elements into a worship service. They find what is biblcal and commanded, do that, and then think through how to best lead people to engage in those practices. I appreciate efforts that hold history in one hand and current culture in the other, lifting both hands up to the One who was and is and is to come.
When you or your church is crafting worship and music, it is important that you think through the issues or contextualization and theology. There must be a balance in your music and your methodology. You may have the freedom to choose, but use discernment to choose wisely.
3. What will help people in this culture and time worship in Spirit and Truth?
Don't ask, "What do I like?" because it is impossible to please everyone. Ultimately, someone in your church is going to sacrifice their preferences so ask what fits best in your community and (after answering questions 1 and 2) go with that.
Disappointingly, music can be one of the most controversial issues in the body of Christ. Each person has his or her own unique taste. Christians listen to, enjoy, and are edified by all types of music. Yet when they demand their preferences over the preference of others, worship becomes about me rather than He.
In addition, many 21st century churches are torn between the generations present in their congregation and the culture outside of their walls. They strive to appeal to both, and often in their zeal to be relevant they lose sight of the object of their worship. Others choose comfort over culture and are content to turn a blind eye to the call to contextualize. It's a tricky balance, but one worth finding.
The purpose of our worship services
Any musical style or worship model must take into account that the audience of Christian worship and the object of Christian worship should be the same. If we craft our worship for a human audience rather than a Divine audience we often fall into worshipping the human rather than the Divine.
To avoid the pitfalls, connect with culture, remain biblical and point to Christ, it takes work. It's worth the time and planning, however, to do worship right. With a humble spirit focused on others, and a worshipful spirit desiring to honor God, worship can (and will be) biblical, meaningful, and powerful.
Support our work. Subscribe to CT and get one year free.