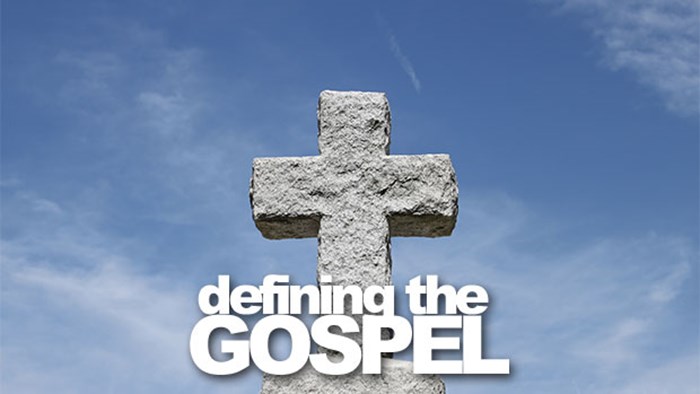 Back in 2009 I wrote an article about definitions of the gospel. At the time I had recently completed teaching a course during which we examined various understandings of the gospel. In that original article I referenced a number of various definitions of the gospel that Trevin Wax had compiled on his blog. Trevin has since authored another post that highlights and emphasizes a broad picture of gospel definitions. You should check it out.
Here's the definition I've used:
The gospel is the good news that God, who is more holy than we can imagine, looked upon with compassion, people, who are more sinful than we would possibly admit, and sent Jesus into history to establish His Kingdom and reconcile people and the world to himself. Jesus, whose love is more extravagant than we can measure, came to sacrificially die for us so that, by His death and resurrection, we might gain through His grace what the Bible defines as new and eternal life.
This past week I revisited that conversation during a week long graduate class that I taught in partnership with The Billy Graham Center at Wheaton College. During the class I asked the students to attempt to provide a definition of the gospel (after some rather lengthy discussion of gospel, mission, kingdom, etc.). They reviewed the definitions that I listed in the previous article, and then attempted to articulate the gospel themselves. Here are a few of their definitions (with their names if they wanted to include them):
The gospel is the good news that the one and Holy God has promised to restore all things, including you, through the sending of himself through his one and only son Jesus Christ into history to reconcile you to himself by bearing our judgment as cursed and sinful people, defeating evil, and transforming you through his Spirit - and in consequence - redeeming you and all of creation towards the consummation and restoration of all things to his Glory.
—Todd Warner, Stephen Feith & Eric Rafferty
The Gospel is the Good News that under God's good and sovereign rule, the world and people are as God intended them to be. But people tried to rule themselves and because of their rebellion, they experience sin and death in their lives and in the world. God came into the world in the person of Jesus, lived among us, died on our behalf and rose again, breaking the power of sin. Through repentance and faith and by the power of the Holy Spirit, people are restored to God, enter the community of Christ followers, and become partners with God on his mission of restoration. Ultimately, Christ will come back and restore all things to the good and sovereign rule of God.

— Marion Medina, Dustin Mahoney & Kerilee Van Schooten
The gospel of Jesus Christ is not just good news but an 'announcement of transformation' from the King of All Creation that He cares for everyone and everything he has created in the universe.

All of humanity has rebelled against their king, which has caused the deterioration of his creation and the separation of all individuals from God. To redeem each of us and the world he sent his son Jesus Christ to die on the cross. In his resurrection he defeated death and sin in order to reconcile each of us to Himself in this life and in eternity. Those who respond with faith and repentance will be redeemed and become ambassadors for this king, experience new life through real community.

— Luis Fernando & Kenny Woodward
The Gospel is the good news of God's sovereign plan to reconcile all of creation to himself through the sacrificial love of Jesus completed in his death on the cross and confirmed in His resurrection from the dead. God offers all people who respond in repentance and faith forgiveness from sin and death. The Gospel is the announcement of God's Kingdom breaking into the world to bring his shalom in and through His church and empowered by the Holy Spirit.

— Mike Sotski, Jake Kirchner & Patrick O'Connell
God loved the world, but sin had pushed the world far from God, so through the person of Jesus, God pursued his creation. This God-man, Jesus, lived, demonstrating for us a new way to be human, and died on the cross to reconcile all things back to God. In doing so he established a community of followers who join him in making his Kingdom known. We join this community when we, by faith, respond to Jesus and follow his example.

— Matt Miller
Of course, one of the biggest issues surrounding a definition of the gospel has to do with your view of the gospel.
Do you primarily view the gospel as "God, man, Christ, response" or do you prefer to view the gospel in more narrative form, as "Creation, fall, redemption, restoration?"
The students—perhaps influenced by their professor—often sought to tie those things together, though in varying degrees.
I would suggest that we need both understandings of the gospel—that they are not in opposition to each other—but are instead different views of the same gospel. In a recent sermon, Matt Chandler also makes the case that both understandings are appropriate descriptions of the gospel.
In this video I sat down with Mark Dever a few years ago at The Whiteboard Sessions, to discuss the nature and definition of the gospel. I think you might find it helpful to the conversation.
So, what do you think? I would love to hear from you concerning your own definition of the gospel. Who knows, I might even use your definition in the future.