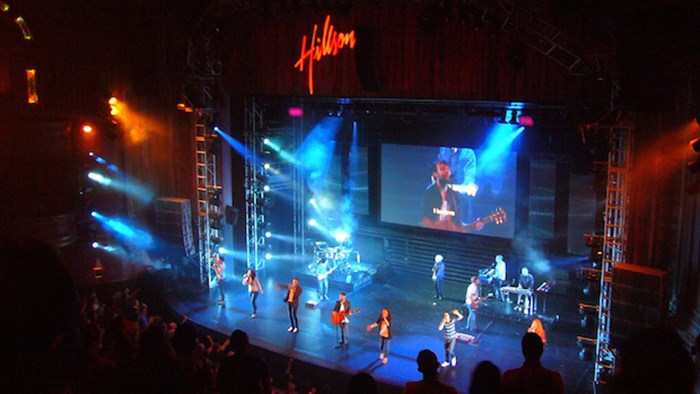 Image: Michael Keen / flickr
The 30-year story of Hillsong Church is fascinating.
I've had several reporters ask about the lately as they celebrate their 30th. In prep for some of those interviews, including for this story, my team has been putting together something of a fact sheet. I'll probably add more thoughts on Hillsong later, but feel free to add your own thoughts in the comments in the mean time.
Here is what my team included at the top of the briefing, focused on the high points, and edited into an article.
Brian and Bobbie Houston founded Hills Christian Life Centre in Sydney in 1983 as a congregation of 45. With the popularity and brand of the world-famous Hillsong music, the church changed its name to Hillsong Church in 1999—the music renamed the church.

Currently, almost 100,000 people worship at Hillsong campuses around the globe.

It's quite a fascinating phenomenon that warrants a discussion of what they've done to see such dramatic growth.
The Numbers
Hillsong looks like many other megachurches: contemporary worship, informal preaching, specific strategy for their vision, multiple locations, state-of-the-art technology, and a dynamic leader. What's remarkable about Hillsong—among other things—is that Hillsong is in Australia, which is not exactly an evangelical bastion. Having 30,000 people on a weekend in Dallas is noteworthy. Having 30,000 people in Australia was inconceivable—until Hillsong.

In 2011, nearly one out of every three Australians said their religious affiliation was either "no religion" or not stated (it's about 20% in the U.S.). As I said in the RNS article, "In a country where 55,000 people indicated 'Jedi' as their religion (2006 census), and most denominations are in decline, Hillsong's continual growth is stunning."

Hillsong adds professionalism and positivity to their Pentecostalism.

They are Pentecostal, which is not surprising given that most of the largest churches in Australia are. Denominationally, they are affiliated with the Australian Christian Churches, the fastest growing Protestant denomination in Australia and part of the global Assemblies of God family.
Hillsong is clear: they seek to be a large, world-impacting church. It is a part of their vision: "To reach and influence the world by building a large Christ-centered, Bible-based church, changing mindsets and empowering people to lead and impact in every sphere of life."
Doctrine
"Discovering Christianity" is a six-session course that Hillsong offers to lay foundations of what they believe. It looks like what you'd see in most evangelical churches—Jesus, the Son of God, is the only way one can have a relationship with God.

They declare that Jesus died on the cross for sinners, and through His resurrection, one has eternal life by accepting the free gift of salvation by grace through faith.
Music
You can't talk about Hillsong without talking about music. Even churches that are not like Hillsong Church—or even dislike the church—use and love their music. That's a key part of the global growing influence of Hillsong.

It's simple. Books change minds, but songs change hearts, and that's central to Hillsong's influence. The music elevates the preeminence of God with songs like Mighty to Save, God is Able, How Great is Our God, and God is in the House. They've focused their music on a universal idea that God is worth praising, and since all Christians agree on that, Christians around the world embrace Hillsong Music even if they don't know much about Hillsong Church.
You can't talk about Hillsong without talking about music.
Production
In sensory stimulation, Hillsong's productions rival any other contemporary form of entertainment. You can see the church YouTube site, for example (particularly the Colour Conference and Annual Conference). Hillsong uses lighting, décor, and stage effects along with a rigorously rehearsed live band supported by a world-famous choir of 20 to 30 members.

Needless to say, people respond accordingly. According to Brian Houston's stated desire, the church has wanted to see their altars filled with repentant sinners responding the Christ's call to salvation since the beginning of Hillsong.
The Poor
"God tells us that standing against injustice and speaking up for disenfranchised is the responsibility of every Christian," Pastor Brian Houston told the Sydney Morning Herald. Hillsong has done that through numerous means.

They raised awareness for poverty and AIDS in Africa and are involved in long-term programs of outreach and social justice as well. They work with troubled youth through Teen Challenge and Mercy Ministries (for pregnant girls) and they have "Street Teams" that help people in the marginalized neighborhoods with random acts of kindness.

I-Heart is a Hillsong program that elicits a grassroots effort among the church family to address the top 20 needs in Australia. This includes drug abuse, human trafficking, homelessness, health care, and suicide. The church is making people aware of the problems and inspiring them to take action to "become the hands and feet of Jesus."
Global
Hillsong has over 30 worship services in Australia, plus extension services in multiple languages, including Mandarin, Cantonese, and Spanish. They also have more than ten other independent sites in London, Kiev/Moscow, South Africa, New York City, Paris, Stockholm, Germany, Amsterdam, Copenhagen, Barcelona, and Los Angeles.

These independent campuses are interesting in that they are more than just a site, but they are less than an autonomous church. Each of them draws from the experience, branding, style, theology, and practices of the Australian churches, although indigenous pastors preach and teach.
What are you thoughts?
I am aware that not all churches are enthusiasic about Hillsong—they were publicly criticized at a conference where I was speaking last year in Australia, after we sang a Hillsong composition, if I recall correctly (though it may have been the conference before that one). Regardless, the fact that churches that criticize Hillsong while using their music is, in and of itself, fascinating and worthy of a blog post.
As I told RNS, if I had to boil down what makes them unique, Hillsong adds professionalism and positivity to their Pentecostalism, and they combine it with a passion to change the world.
I've not been to Hillsong, though Brian and I connected over Twitter last year and we tried (unsuccessfully) to pull off a meeting.
For now, I am still learning about them and waiting for my preaching invitation. :-)
The Exchange is a part of CT's Blog Forum. Support the work of CT. Subscribe and get one year free.
The views of the blogger do not necessarily reflect those of Christianity Today.