What does "missional" mean?
What's in a word? A look at "missional" and its history of meaning.
Ed Stetzer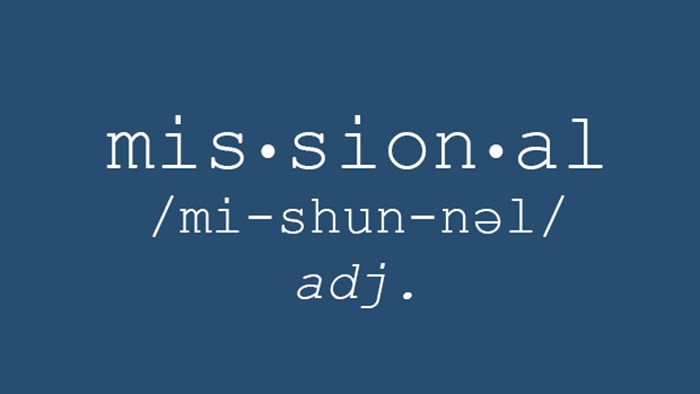 Back in 2007, I ran a series on the meanings of the word "missional." I came across these blogs the other day and thought it may be helpful to run excerpts of them again. Below are a few excerpts from a number of blog posts on the meanings of "missional."
I was originally planning to post "part 1" today, but I spent too much time on the phone with Francis Dubose. He was gracious enough to take the time to talk with me at length about all things missional.
Dubose is the first person I can find to use the word in the sense we use it today. Dubose, who is 85, wrote God Who Sends back in 1983.
He was a professor at Golden Gate Baptist Theological Seminary where the Francis M. DuBose Award for Excellence in Kingdom Missions is given in his honor.
My friend Jeff Iorg, president at Golden Gate, helped me track down Dr. Dubose at his assisted living facility. It was a great honor to be able to talk to a man who has influenced so many.
Dubose does not think he coined the word "missional," but he could not recall who might have done so before him. Our talk was a great help and I will share some of his thoughts tomorrow.
I want to add up front that I will start this project from an historical perspective. My Ph.D. is in missions and my ideas are shaped by the historic ideas about church and mission. So, I won't post on this every day, lest some of you get quite bored on the subject. But, I would encourage you to read along anyway-- the missional conversation is an important one and I hope this series will add to the dialogue on the issue.
Finally, I should add that I don't think I can "define" the word. Simply put, it means what people intend it to mean when they use it. For me to say, "No, missional means this and you are using it wrong," is silly (and that goes for all "users" of the word).
Part 1: The Debate over a Definition
Missional.
Depending on your perspective, it brings warmth to your soul or a shiver down your spine. Yet, there is no question the word is gaining traction. Is this the case with the church word of the day or is it here to stay? And... oh yes... what does it mean anyway?
The answer to the last question depends on who you ask. Some words become so quickly enmeshed into our Christian subculture that the definition is an active, evolving target, that is being changed and defined on the move.
The genesis of this paper came from a week of meetings that illustrated the different meanings.
First, before the meetings, I received an email from blogger "Brother Maynard" expressing his concern about the Wikipedia definition. His concerns can be found by looking in the Wikipedia history page near the bottom. Maynard has since been seeking to find a common definition of the word "missional."
As a missiologist concerned with the history, I was surprised to see the debate proceed without any reference to the origin of the word-- just to its current usage. So, I started doing some research and contacting people about their use of the term and the influences that shaped their ideas. I will reflect some on the answers I have received from Dubose, Guder, Hirsch, Keller, Van Engen, and others in the coming weeks.
...
So, if the word does not have a clear definition, should we even use it?
Obviously, I think so, though I have seen the term be used in some ways that concern me. Even though I might disagree with some emphases, I believe we can learn from the ideas of others in the missional conversation without having to agree with them on every point.
Part 2: More Thoughts on the Definition of "Missional"
People use the words mission, missions, and missional in different ways. Thus, any discussion of missional cannot be complete without asking the question, "which missional?"
Also, and to be fair, it is quite probable that most of those who use the term would not have the need to understand the background. If you, as a follower of Christ in interaction with scripture, you determine that you want to be "missional" as best as the Spirit leads you, it it certainly fine to do so.
Yet, as the term has grown in prominence, it has also grown in opposition. In some of the places I have spoken, I have specifically been asked to not use the word "missional," as it is a "liberal word." (I am not sure how a word gets an ideology, but that is another story.)
Now, before you get offended by their concern, there is a reason. Obviously, their concern has not pushed me away from using the term, but it is helpful for us to understand their worry... and it might be a surprise to know the problematic history that causes some evangelicals to reject the word "missional." And, the word "missional" is much less important than the emphasis it brings.
By the way, the objection has nothing to do with the Leadership Journal article "Dangers of Missionalism" which I have read several times and (I think) it is about the danger of having a mission (or goal) rather than the danger of "missional."
However, to understand the objections and the nuances it will be necessary to go through the history, which we will in depth next week. But, let me briefly explain why some evangelicals are concerned about the word missional and its roots in missio dei theology.
We probably need to pay the word missional extra for all the work we make it do. A missional church is not any one thing. It is not simply a new style or model of doing church. And there is not one formulaic amalgamate (that means "word") that sums up its meaning. The landscape of the missional debate is filled with questions, assumptions, and opinions - along with hard pressed critiques on wider issues such as leadership styles, congregation sizes, vocational/bi-vocational ministry, building church-based or house church-based as well as core theology.
One thing the debate about the word illustrates is the statement "Words don't mean, people do."
So what does that mean?
What it means is rooted in the word "mission" in one of several forms.
It means in order for us to use the word missional (and it's a perfectly good word) we're going to have to understand what different people have meant by it, and settle upon how we might use it constructively in the future. A useful way to get at this is to determine what people have meant by it in the past.
Part 4: The Mission of Missional
It was Chuck Van Engen who directed me to the 1972 study prepared by H. H. Rosin entitled "Missio Dei: An Examination of the Origin, Contents and Function of the Term in Protestant Missiological Discussion" (Interuniversity Institute for Missiological and Ecumenical Research. Leiden 1972). This was a Dutch study commissioned to help resolve just the kinds of issues that have arisen around our current term 'missional.'
In it Rosin cites the meaning of the term in Latin, but points out that the Latin term was used far more in German texts than in English, and that it had already been invested with so much new content that the original meaning(s?) of the word had already been altered by usage. He attributes the first real usage of the term to Georg Vicedom, who used the term constantly in his book entitled (appropriately enough!) Missio Dei (1958).
It's interesting that Vicedom attributed the term to Willingen, when in fact the term missio dei can't be found in any articles or documents of that conference. But Willingen did not use the terms missional or missio dei, it was there that a minority position began to emerge which swelled into a majority position.
What was this position, exactly?
In essence, those espousing the missio dei concept understood mission as our participating in the sending of God. Fine, one might counter, but isn't that what the church had been doing for 1900 years? Not to this view. Instead, the concept of the sending (missio) became focused as being derived from the very nature of God, and not from the church. That is, mission was put in the context of the Trinity, as opposed to ecclesiology or soteriology. Mission is not, therefore, primarily an activity of the church, but an attribute of God. Mission is a movement of God to the world, the church being the instrument for mission.
There is church because there is mission, not vice versa.
Part 5: Defining and Living the Missional Mandate
I must confess I have taken a longer hiatus than intended from my Meanings of Missional series. Now, I'd like to return to the meat of the discussion as we seek together to define - and more importantly to live - the missional mandate.
Theological Understanding of the Sending
We have talked together about the way many of those who embraced the concept of the missio dei - or at least, embraced the expression - seemed to propel the church out of the missionary conversation entirely. Needless to say, those were extreme views. And it would be silly to assume that proponents of the missio dei hold such views today. But, it is also silly not to consider what happened when the missio dei got confused. This was not a theoretical happening. In the 1950s and 60s this view shipwrecked much of the world mission enterprise. We need to be careful to avoid the error by taking the best of the discussion and guarding from the errors.
In my last post, I talked a lot about H.H. Rosin. Interestingly - and I will just touch on it here and come back to it in later posts since the topic is becoming increasingly important - H. H. Rosin and some others expressed concern about the Trinitarian nature of mission, which is resurfacing in modern missional conversations. In his analysis of the missio dei, Rosin seems to take issue with the assumptions surrounding God's nature and his mission. He is concerned about the Trinitarian rooting of some of the ideas.
Rosin wrote:
in Trinitarian terminology mission must be distinguished clearly from (aeterna) procession:

One understands the sending to be a message stemming from an inner-divine order, from one divine person through another to creation. (H H Rosin, Missio Dei, Interuniversity Institute for Missiological and Ecumenical Research, 1972: 2.9).
Thus, you can see the controversy when Hoekendijk defines, "Mission, sending, is first of all an intra-Trinitarian term. Mission is a movement within God Himself.' (Feier der Befreiung, "Was ist Mission?" In: Kontexte 4, 1967, 126; as cited in Rosin)
The Exchange is a part of CT's Blog Forum. Support the work of CT. Subscribe and get one year free.
The views of the blogger do not necessarily reflect those of Christianity Today.