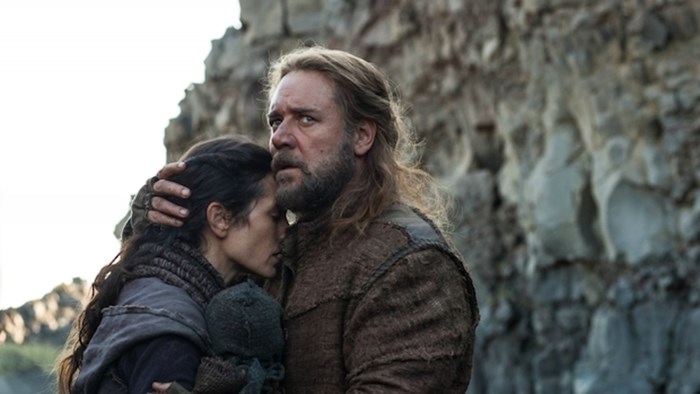 Image: Paramount Pictures
From someone who has actually seen it.
So, do we buy up block tickets for our church or do we boycott this new movie? Consider these factors. Last week we praised the film's positives, such as context, doctrine, biblical story line, and biblical details. This week we critiqued the movie's negatives because Aronofsky gets important features wrong: Noah's character, the environment, evolution, angelology, and scriptural details. Considering this plus-minus mix, what is the proper reaction to the Noah movie? Here's my take, for Christians and for Hollywood.
Application for Christians
This is not a "buy up a block of tickets" moment for churches, not in the same category as The Ten Commandments, Passion of the Christ, or Son of God. Noah, the film, may be inspired by the biblical character and events—but it is not a straightforward retelling of that story. Churches who are looking for that kind of movie will not find it here.
So, do we buy up block tickets for our church or do we boycott this new movie?
However, many people will go to this film and enjoy it. The main events from the Noah story are depicted in a powerful way on the big screen by name brand actors and quality production. Christians should be ready to engage moviegoers in conversation about biblical and cultural themes that are portrayed in this movie. For instance, if you want to talk ethics, discuss the pro-life/anti-infanticide moment. If you want to set up a robust dialog or debate, use the film to contrast creation vs. evolution or biblical stewardship vs. radical environmentalism. Most importantly, you can have healthy gospel discussions about some of the positives, and even the negatives, as identified earlier. Let's consider two different kinds of examples.
On the surface, take one of the positives. From beginning to end Noah takes sin and judgment seriously. That is a somber theme, one you can ask your neighbor or friend about after they view the film. Take it, and them, to the cross and the gospel. Go for it.
Below the surface, ask others to think about these two negatives. Note the extreme portrayal of Noah and the environmental agenda. While the wicked masses have been wrecking the world, Aronofsky sets Noah up as an antediluvian version of Euell Gibbons, some kind of poster boy for the environmentalist-Grape Nuts lifestyle (if generationally challenged, see this YouTube video for reference).
From beginning to end Noah takes sin and judgment seriously.
Before you reject this Al Gore set up, play it out for a moment. If the standard in the film is environmental responsibility, Noah holds to this value and seems to exemplify it. But when he goes into the evil city to find wives for his sons, he sees darkness, sin, and corruption of every kind. Ultimately, he sees the back of a hooded character in the shadows. When the creature turns to face him it is his doppelganger. Noah sees himself in the sin and sees the sin in himself. He returns to tell his wife that no wives are to be found for their boys, because the city folk are too evil. Then he adds that their three boys are sinful. Next he identifies her sin. Noah finishes the scene by admitting his own guilt.
Add this to the larger story line of human sin and divine judgment. Noah begins to wonder if anyone should survive judgment, including his kin. He thinks his family's sin means that their descendants would mess up the new world. Maybe God is just using them to save the animals. Noah's little clan must be the terminal generation. Pushing it to the extreme, maybe Noah should kill any new baby girls to keep the human race from starting over and cursing the world with their sin.
At this level the set-up is, "Since everyone is corrupt, is it possible for even the best of human beings to be delivered from sin or survive the judgment of God?" Put personally, "How can I be saved from the penalty of my sin and its power over my life?" We see the ark was God's instrument of salvation in Noah's story. But the cross of Jesus Christ is the ultimate answer to that question. This is why the Bible compares the ark to the death and resurrection of Christ, which atones for sin and provides salvation, as pictured by baptism (1 Peter 3). Many of our friends sense the weight of their own moral failure before a holy God and wonder if there is a way out. This is a conversation worth having and you can have it if you engage with this film and those who see it.
Application for Hollywood
Contrary to the growing Islamic ban on Noah, this is not a boycott moment for Christians, but a time to engage. Paramount reached out to National Religious Broadcasters, inviting me to screen it with Phil Cooke and to host a discussion about it at our NRB national convention. We did. The result of that engagement is positive. We are grateful that Paramount wants to make Bible-themed films and reached out to NRB and the Christian community for feedback. Furthermore, we hope Hollywood would always strive to realize the proper balance between artistic creativity, character development, and honoring the sacred Scripture. When that mix seems uneven, we recommend that studios follow the example of DreamWorks which prefaced their 1998 film The Prince of Egypt with the following disclaimer:
The motion picture you are about to see is an adaptation of the Exodus story.

While artistic and historical license has been taken, we believe that this film is true to the essence, values and integrity of a story that is a cornerstone of faith for millions of people worldwide.

The biblical story of Moses can be found in the book of Exodus.
We appealed respectfully to Paramount to consider including a similar and appropriate disclaimer regarding Noah. On February 27th, they did, and we thank them for it. Read about it here. You can decide for yourself on March 28th.
The Exchange is a part of CT's Blog Forum. Support the work of CT. Subscribe and get one year free.
The views of the blogger do not necessarily reflect those of Christianity Today.