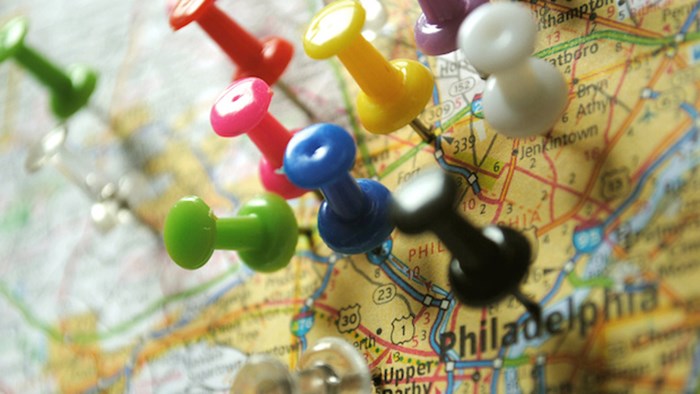 Image: Amanda Oaks / flickr
I'm a missiologist, which is basically a fancy way of saying I talk to churches about their need to join God on His mission by understanding their context and by being faithful to the mission He has given them. You can read more about what a missiologist is here.
One of the newer expression of church that continues to gain traction is multisite. It's not without challenges and I've written on them before. However, we need to have more research on multisite and, because they are on the rise, every bit is helpful.
Just a couple of days ago, my friends at Leadership Network partnered with Generis to provide a Multisite Church Scorecard. I found the PDF to be informative and helpful. You can get a copy of it here.
After reading through the document, my team found a number of points worth sharing regarding the starting, staffing, and supporting of a multisite church.
Starting a Multisite Church
According to the Leadership Network/Generis Multisite Church Scorecard, multisite churches affect over five million people every week, about the same number of people that make up metropolitan Atlanta, Georgia.
Obviously, this is no passing ecclesiastical fad. I've called it the new normal for large and growing churches. (Full disclosure, I pastor a multisite church.)
But perhaps one of the most burning questions when it comes to multisite churches is, "How do they start?" Which comes first, the chicken or the egg? Do large churches plant new campus and become multisite, or do small churches plant more campuses and, thus, attract a greater number of people?
The Leadership Network/Generis report says that the likelihood of a church being a multisite church increases with its size:
Our survey confirms that the larger the church, the more likely to be multisite and the more campuses and services it has. In fact, drawing from Leadership Network's database of large churches, independent of this survey itself, the trend lines are unmistakable as Chart 1 illustrates.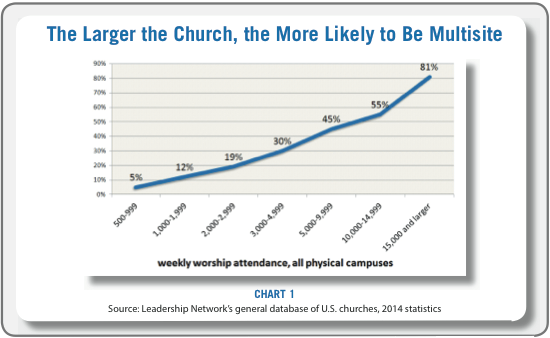 The report goes on to say:
85% of multisites in our survey are growing—as measured from the year they became multisite to the present. 9 This is a very significant number because the typical U.S. Protestant church is not growing. In any given year, various denominations report that roughly four out of five of their churches are plateaued or in decline, while only one in five are growing. Among multisites, the larger the church's overall attendance, the more likely to be growing.

Multisites grow at an impressive 14% per year. While many churches were growing when they became multisite—and growth was a trigger for many to become multisite—the average growth rate from the year a church went multisite through 2013 is an impressive 14% per year. That growth rate does not change by overall size of church.
A common question that arises for churches that are considering the idea of becoming a multisite congregation is this: "How many people need to make up the core group at the new site?"
Generally speaking, the Leadership Network/Generis document reports, this number ranges anywhere from two to 25 percent of the sending church's overall attendance, and that there is an inverse relationship between the percentage necessary and the size of the congregation.
A multitude of other questions could be asked as it relates to the initiation of a multisite church, but once the new location is established, one of the most pressing concerns is how to staff the new site.
Staffing a Multisite Church
Church staffing can be difficult, even with only one location. Not everybody was made to minister to middle school girls or rascally third grade boys, and it can be hard to fill a number of positions within the local church, especially for small churches in more rural areas where not as many volunteers or eligible pastors are available.
Even more so, when beginning a new site of an existing congregation, staffing the new location can be a stressor. What position is more important? How do we convince people to volunteer?
Regarding the matter of layperson involvement, the Leadership Network/Generis Multisite Scorecard reports:
88% of churches report that going multisite increased the role of lay participation. Even more significant, only 1% said it decreased. The rest (11%) said it remains the same. These numbers affirm the idea that that the launching of new locations fosters an increase in the congregation stepping up in more widespread participation. The responses provide solid evidence to those who wonder, "Will going multisite increase or decrease the role of lay participation?"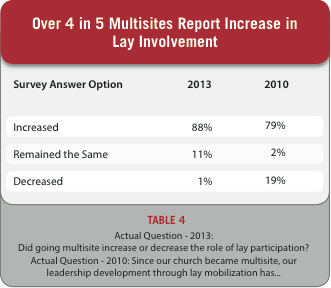 This does not surprise me (though I am concerned that often the number of teaching pastors is reduced—particularly when video venues are the focus.) The research presented in the Leadership Network/Generis report seems to show that layperson involvement shows a widespread increase and almost no decrease. This is important, but understandable as joining a church location on the ground floor may produce a greater attitude of ownership in the average member than if the average member were to simply join a pre-existing gathering.
One of the most important questions a sending church must ask when starting a new congregation is, "Who do I hire first? What role is most important to fill at a new site?"
The Leadership Network/Generis report says:
Campus pastors serve as the "face with the place." Almost all campuses have a staff person who is focused on that particular campus, making sure the people there are pastored, discipled and trained. This person goes by many different names: campus pastor is the most common, but other titles are campus director, site pastor, and sometimes simply pastor.
According to Leadership Network's survey, 82% of multisite campuses have such a pastor (whether paid or volunteer) who devotes at least 3/4 time to that location. The percentage increases with the overall size of the church: so for those with 5,000 or more in total attendance, 92% have a campus pastor of 3⁄4 time or more, and for those less than 1,000 in attendance, 76% had a campus pastor of 3⁄4 time or more.
A "campus pastor" may be the most important role to be filled at a new church site, but what do the stats say about the roles that are filled? The report goes on:
We asked, "What paid roles were essential to be in place before you launched?" The top three options were campus pastor (91%), worship leader (62%) and children's leader (46%), as Figure 1 depicts. The likelihood of hiring a campus pastor moves to almost 100% when overall attendance is 2,000 and higher.

What other roles are likely to be hired? The ranking follows the three listed above: administrative assistant to the campus pastor—and perhaps to others (28%), technical/production director (19%), youth leader (17%), musicians (11%), person assigned to logistics and/or connections between campuses(10%), operations director if a different person from above (8%), small group leader (6%), hospitality coordinator (6%), and outreach/missions leader (2%).

Supporting a Multisite Church
Finally, the question must be asked, "How much money is this going to take?" Very few churches have the money for a second, third, or fourth campus just sitting around in the church offering plates, so it is imperative for a sending church to wisely consider how it might support a new site for its congregation.
So what does it cost? Leadership Network and Generis researched this as well:
Costs vary according to where the church meets. We asked churches to describe their newest campus based on three options: 52% said "we're strictly renters (school, theater, etc.), 34% said "we've bought or constructed something, including a church merger," and 14% said "we're leasing something we can modify (leased commercial building, etc.)".

We then asked the start-up costs for the entire first year of a church's newest campus based on five categories. As an overall average (using medians), 48% goes to staffing costs (salaries, benefits), 28% to equipment including technology, 17% to facility purchase or rental, 4% to central services and 3% to marketing/advertising.

In dollar amounts, the median total cost of launching a new campus is $145,000. This amount varies by church size as Table 5 illustrates.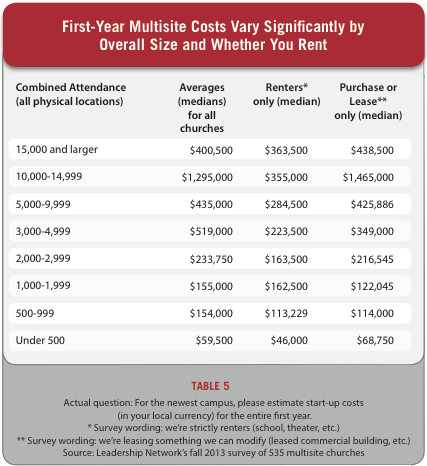 So much more could be said about starting, staffing, and supporting a multisite church. Just as is the case with single-site churches, multisite churches are complicated organisms that require the bright minds of gifted individuals and the wise counsel of the Holy Spirit.
The Leadership Network/Generis Multisite Church Scorecard is a good step in understanding numerous aspects of the multisite phenomenon, and I encourage you to download it here, read through it, and consider how it might affect your local church.
Analysis and contributions from Chris Martin.
The Exchange is a part of CT's Blog Forum. Support the work of CT. Subscribe and get one year free.
The views of the blogger do not necessarily reflect those of Christianity Today.