Morning Roundup 5/15/14
#Blessed; Dad of Teenagers; Pentecostalization and Pluralism
Ed Stetzer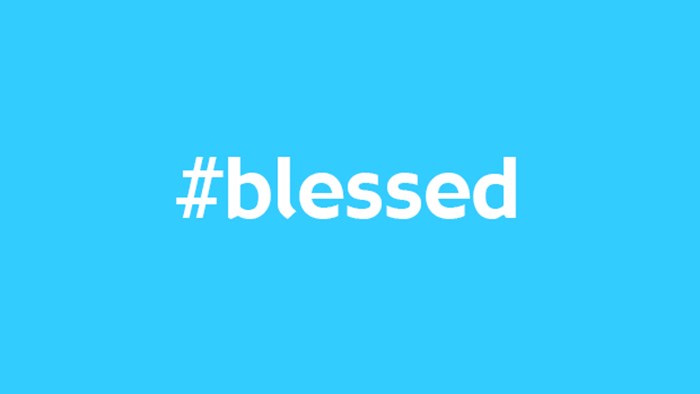 They Feel 'Blessed'—Jessica Bennett
I was #blessed to read this article!
Here are a few of the ways that God has touched my social network over the past few months:
• S(he) helped a friend get accepted into graduate school. (She was "blessed" to be there.)
• S(he) made it possible for a yoga instructor's Caribbean spa retreat. ("Blessed to be teaching in paradise," she wrote.)
• S(he) helped a new mom outfit her infant in a tiny designer frock. ("A year of patiently waiting and it finally fits! Feeling blessed.")
• S(he) graced a colleague with at least 57 Facebook wall postings about her birthday. ("So blessed for all the love," she wrote, to approximately 900 of her closest friends.)
God has, in fact, recently blessed my network with dazzling job promotions, coveted speaking gigs, the most wonderful fiancés ever, front row seats at Fashion Week, and nominations for many a "30 under 30" list. And, blessings aren't limited to the little people, either. S(he) blessed Macklemore with a wardrobe designer (thanks for the heads up, Instagram!) and Jamie Lynn Spears with an engagement ring ("#blessed #blessed #blessed!" she wrote on Twitter). S(he)'s been known to bless Kanye West and Kim Kardashian with exotic getaways and expensive bottles of Champagne, overlooking sunsets of biblical proportion (naturally).
"There's literally a chick in my Facebook feed right now who just posted a booty shot of herself — and all it says is 'blessed,' " said Erin Jackson, a stand-up comedian in Virginia. "Now wait. Is that really a blessing?"
I'm the Dad of Teenagers and They are Awesome—Brady Boyd
If you are not reading Brady, you should be—but this article was particularly good. And, let me add, that pastors' kids are awesome, too.
Stop talking about kids in bad ways and maybe they will live up to your comments.
"The tongue has the power of life and death, and those who love it, will eat its fruit."
Proverbs 18:21
It seemed the moment I became a dad, well meaning people warned me of a turbulent time that lay ahead. Pam and I would introduce our wobbly toddlers to people and inevitably they would say something like this, "Enjoy them now, because one day they will be teenagers." With a plethora of proof, these older adults would raise the flag of impending doom for the seven-year period that was ahead for our two kiddos.
Pam and I never believed them, though. We started telling ourselves that our teenagers were going to be a great joy to us just as they were when we took them home from the hospital after adopting them both. These harbingers of gloom apparently forgot that babies and toddlers were challenging in their own right. Late night feedings, exploding diapers, vomit on carpet, and tantrums at Wal-Mart could not be the best of times, right?
So, we inched toward the 'terrible teen" years with guarded hope that we were right and the negative parenting prophets were wrong. We were right. Our two teens did not transform into sub-human droids of destruction when they turned 13. Puberty was not the apocalypse, after all.
Now, before you dismiss me as the pastor painting his kids as perfect, allow me to digress. Our kids are normal and they are teenagers, which is indeed, possible. Our kids test the boundaries of our rules, like your kids. Our kids would rather gorge on junk food than healthier options, like your kids. Our kids do not like early morning school routines, like most other kids. Our kids have spiritual questions and even doubts, like most other kids.
Pam and I could write volumes on what we have learned NOT to do as parents, but one thing we have done well is not believe that our teenagers would be problems without solutions. Every stage of parenting is a challenge that requires more prayer than we think, more wisdom than we can muster, and tons of patience. We have leaned into godly mentors as often as possible and we have certainly paid attention to what our kids watch and listen to in the public media.
Pentecostalization and Pluralization: The New Latino Religious Landscape—R. Andrew Chesnut
Helpful look at new Pew data.
Pentecostalization and pluralization stand out as the two major trends shaping the Latino religious landscape of the United States. The new Pew survey, for which I was a consultant, contains a treasure-trove of intriguing data on Latino religiosity, including such fascinating nuggets as St. Jude's (the patron saint of lost causes) status as the hands-down most popular Catholic saint. Here, however, I'd like to focus on the big picture of the dynamic and rapidly shifting Latino religious landscape.
The most salient trend, by far, is the impressive pluralization of Latino religiosity. On one hand, Catholicism is no longer the hegemonic faith among Latinos. Today only 55 percent identify as Catholic, a stunning decline from 67 percent just four years ago. If current trends continue, Latinos will no longer be majority Catholic by 2020 or so. This, of course, reflects shifts in the Latin American landscape where Uruguay and several Central American nations are no longer majority Catholic and even Brazil, home to the largest Catholic population on earth, faces the same fate within a decade or two.
Undoubtedly the driving force of pluralization is the rapid growth of Protestantism. 22 percent of Latinos now identify as Protestant, the great majority belonging to Pentecostal and Charismatic denominations. Reflecting further, Latin American influence, almost half of foreign-born Latinos were already Protestant in their native countries when they immigrated to the U.S.. As I've pointed out elsewhere Pentecostal denominations from Mexico, Brazil and Central America have followed their flock and founded vibrant churches in many U.S. cities with sizable immigrant communities. Their success has contributed to the other great trend, Pentecostalization, a theme to which I'll return shortly.
Mirroring patterns both in Latin America and the U.S., the third element of pluralization is the rapid growth of the religiously unaffiliated. 18 percent of Latinos, the majority of whom were raised Catholic, do not belong to any religious organization. The trend is most accentuated among Latinos under age 30. The majority of the unaffiliated, or nones, however, retain some degree of religious belief as only three percent of Latinos claim to be atheists or agnostics. The Pew survey wasn't able to explore this group in depth, but it's probably the case that a significant number of them engage in non-institutional practices, such as New Age, Latin American folk religion, and African diasporan faiths, such as Santeria.
Download this week's edition of The Exchange Podcast with Larry Osborne.
Elizabeth Drury, Mark DeYmaz and DJ Chuang joined me in studio to discuss multi-ethnic and multi-cultural church, ministry opportunities and missteps and other issues on this episode of The Exchange. In this clip, we discuss how being far from diversity makes people fear diversity. Don't forget to join me every Tuesday at 3:00 PM Eastern for The Exchange.