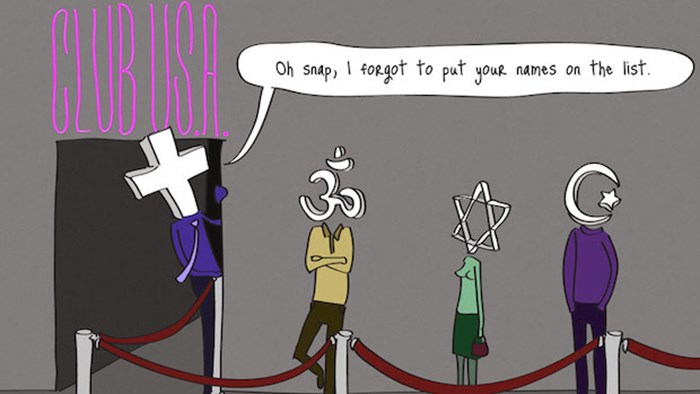 Image: Courtesy of Sam Killermann
30+ Examples of Christian Privilege—Sam Killermann
I think that more and more people are beginning to understand (or at least argue about) the concept of privilege. I've talked to Christena Cleveland a bit about this on an episode of The Exchange (and, congrats Dr. Cleveland for your appointment to Bethel College).
I found this list to be helpful and thought provoking, particularly when Christians in the West say they are being persecuted. (See Anglican Archbishop Welby on such "persecution.")
You might not agree with all the list, but take a moment and listen to a non-Christian explain the privileged position that he believes Christianity—or at least (as I would see it) a sanitized version of Christianity—holds in our society. It might make you think.
An Explosion of Joy—Krish Kandiah
Krish Kandiah, from the U.K. Evangelical Alliance and an all-around good guy, writes a helpful article for Christianity Today's Global Gospel Project, not to be confused with the Gospel Project, that Trevin Wax and I help create.
Oh, and I took Krish to lunch at a local Nashville place once—trying to broaden his Brit sensibilities.
The Bible's Unequivocal 'No' to Domestic Violence—Rachel Marie Stone
Justin and Lindsey are doing such great work. I've had them both at the blog (here, here, and here). Now Justin is serving at the Episcopal Cathedral in Orlando, with Greg Brewer (who has known me longer than my wife). It's great to see them together and I am excited for his new book.
BTW, we are also working on some research right now that I will present in a few weeks at Georgetown University.
Make sure you don't miss this article.
Evangelism expert, author and seminary professor Dr. Alvin Reid joins me in studio to discuss evangelism, church history and student ministry. In this clip, Dr. Reid shares thoughts on how we can be bold in evangelism without being mean. Don't forget to join me every Tuesday at 3:00 PM Eastern for The Exchange.
The Exchange is a part of CT's Blog Forum. Support the work of CT. Subscribe and get one year free.
The views of the blogger do not necessarily reflect those of Christianity Today.