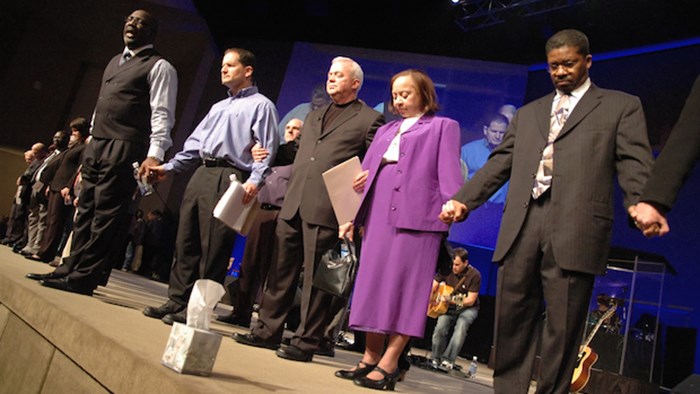 Image: JusticeRevival / flickr
Even though we weren't aiming for it, my first church was a multicultural church. It wasn't necessarily intentional—we just reached our poor neighborhood and that's who lived there.
My church today would not fit the definition of multicultural. It's not because we don't want to be, but it is impacted by the location where we meet, which is 93% Anglo.
However, having just recently opened a campus in a more diverse area, we are excited about the opportunity to seek to become a more multicultural church.
But our excitement should not blind us to the issues that are involved in developing a multicultural church. While the results are worthwhile, it takes work. Previously, I shared a few thoughts on multicultural church after attending a related conference. Here are three more thoughts to consider in moving toward having your church better represent the diversity in your neighborhood.
Multiculturalism reflects the Kingdom of God.
The church is called to be both a sign and an instrument of the kingdom of God. It's an instrument in the kingdom of God, and it's God's agent in the world showing and sharing the word of Jesus to a broken and hurting world.
A multicultural church is a foretaste of the family of God we will experience in eternity.
But it's also a sign in the kingdom of God, a draw to the kingdom, a credible witness to the kingdom, etc., because people are supposed to look into the church and say, "That's what the kingdom of God looks like."
A multicultural church is a foretaste of the family of God we will experience in eternity. Doing multicultural ministry is a gift because it gives us a glimpse of forever.
Revelation 7 says men and women will gather around the throne of God for eternity, and they will be from every tongue, tribe and nation. Scripture goes to great lengths to point out the diversity around the throne. Here is a bit of the passage:
After this I looked, and there was a vast multitude from every nation, tribe, people, and language, which no one could number, standing before the throne and before the Lamb. They were robed in white with palm branches in their hands. And they cried out in a loud voice:

Salvation belongs to our God,
who is seated on the throne,
and to the Lamb!

All the angels stood around the throne, the elders, and the four living creatures, and they fell facedown before the throne and worshiped God, saying:

Amen! Blessing and glory and wisdom
and thanksgiving and honor
and power and strength
be to our God forever and ever. Amen.
(Rev. 7:9-12 HCSB)
Thus, it seems only right and pleasing to God that our churches might be signs of the kingdom of God today in increasing multiculturalism.
Multicultural ministry is difficult.
As I just wrote, multicultural ministry is a gift because it is a foretaste of our future fellowship with the family of God.
If you're going to engage in multicultural ministry you're going to hurt somebody's feelings or have your feelings hurt. Different cultures have different pressure points that are often unknown to those on the outside. Conflict is inevitable, but when it occurs we can apologize and move forward.
The fact of the matter is, when you do something that causes people offense, you have to take responsibility for that offense. You could spend all day long parsing the percentages of people who were and who were not offended. Or you could say, we should have done better.
So it will be in any form of a multicultural ministry. People will get their feelings hurt and apologies should flow quickly (and forgiveness should flow quickly as well).
Racial diversity and cultural diversity are different.
If a local church truly wants to reflect the people of God, it must seek to invite and involve people outside of the predominant race or ethnicity that fills its pews. The people of God is a diverse people, and our local churches ought to reflect this reality. Racial diversity, though, is far different from cultural diversity.
The people of God is a diverse people, and our local churches ought to reflect this reality.
For example, a church in Brooklyn may be made up of 100 white-skinned people. On the surface, such a church looks rather homogenous. It is not until you learn that those 100 people are made up of people from the United States, South Africa, Germany, Spain, and a number of other countries that you realize diversity exists despite similar skin tones. The same example works with lots of different ethnicities and cultures.
A multicultural church is not simply about skin tone, but about the intentional, effective engagement of cultures. Racially diverse churches may be as culturally homogeneous as churches that lack racial diversity.
A multicultural church is not one that simply engages a variety of people from different parts of Asia. A multicultural church is one that not only engages with a variety of Asian peoples, but also a variety of Asian cultures.
You can't do multicultural ministry alone.
If multicultural ministry was easy, I wouldn't have to write this blog post. Pastors, as we consider how we shepherd the people of God, we must not forget who it is that make up the people of God. As we pursue a local church that reflects the family of God, we must understand we cannot do it alone. Here are three ways to be in prayer about engaging in multicultural ministry:
1. Pray for patience.
Doing multicultural ministry may be frustrating at times. Ask the Lord to give you the patience to love others that live and work differently than you.
2. Pray for wisdom.
Understanding a variety of cultures can be confusing. Remembering which cultures have a strict view of time and a relaxed view of time, or other distinctives can be tough. Ask God to give you the wisdom to juggle the diversity.
3. Pray for leaders.
If you're going to have a multicultural church, your church leadership must be made up of a variety of cultures. Ask the Lord to provide a diversity of leaders to encourage multicultural ministry.
Chris Martin contributed to this post.
The Exchange is a part of CT's Blog Forum. Support the work of CT. Subscribe and get one year free.
The views of the blogger do not necessarily reflect those of Christianity Today.