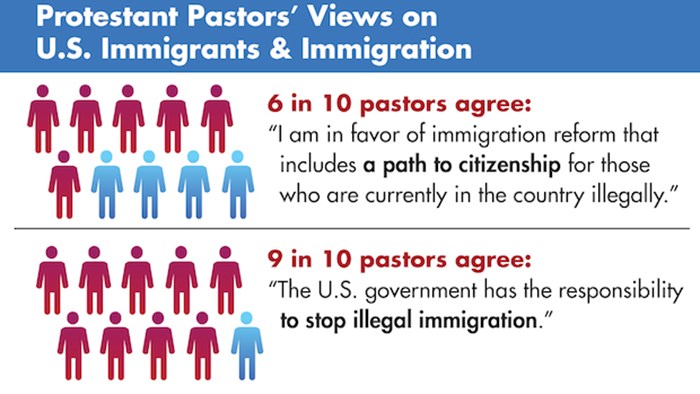 Tonight, President Barack Obama is speaking in prime-time on the issue of immigration. Many think he is going to explain and enact an executive order protecting approximately five million people from being deported out of the United States.
Like many other evangelical leaders, I support immigration reform. However, probably like many, I'm very disappointed as to how this is playing out.
Regardless, I've written extensively on immigration in the past, specifically in light of how pastors view it and how it affects churches, particularly in the United States.
Here are just a few posts on it from the past:
4 Ways (Im)migration Impacts the Mission of the Church
The Passion of Christ and the Plight of our Undocumented Neighbors, a Guest Post by Noel Castellanos
Immigration Reform and the Church: Are Churches Responding with Care for the Sojourner?
Immigration plays a significant role in the life of churches around the world, especially in certain parts of the United States near borders or in areas where refugees are being brought in from dangerous areas of the world. Here in Nashville, for instance, we are not near the border of Mexico or Canada, but we have a significant Kurdish refugee population because of violent conditions in the Middle East.
Just this week, LifeWay Research released some data on how Protestant pastors view the issue of immigration and the government's involvement in reforming it. This time last year, LifeWay Research released similar data on immigration and what pastors are doing about it.
On perhaps the most controversial matter, nothing changed among Protestant pastors between 2013 and 2014. In other words, protestant pastors support the reform that includes a "path to citizenship" which is significant in the current debate.
In 2013, 58% of Protestant pastors agreed with the statement: "I am in favor of immigration reform that includes a path to citizenship for those who are currently in the country illegally." That number stayed exactly the same in 2014, which is pretty remarkable considering the current debate and the fact that pastors lean much more Republican than Democrat.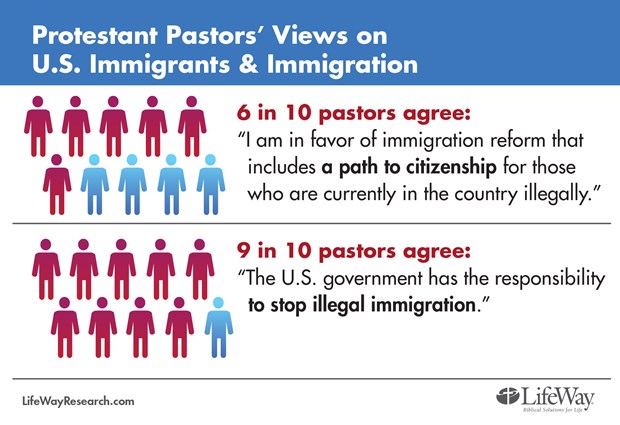 Here's a bit of a breakdown of that data from Bob Smietana:
Nearly 6 in 10 of Protestant senior pastors (58 percent) agree with the statement: "I am in favor of immigration reform that includes a path to citizenship for those who are currently in the country illegally." About a third (34 percent) disagree. Seven percent are not sure.

Most African-American pastors (80 percent) agree, as do a majority of white pastors (59 percent). Two-thirds (68 percent) of mainline pastors and more than half (54 percent) of evangelical pastors also favor a path to citizenship.

Pastors of mid-sized churches are more likely to agree than those from small churches. Two-thirds (66 percent) of pastors of churches with between 100 and 249 attenders agree. About half (54 percent) of pastors with less than 50 people in their congregation agree.

Two-thirds (63 percent) of pastors under age 45 favor a pathway, as do a little over half (55 percent) of those ages 45-54.
One of the numbers from 2014 is pretty encouraging. Seventy-nine percent of pastors think Christians have a responsibility to assist immigrants, even ones here illegally.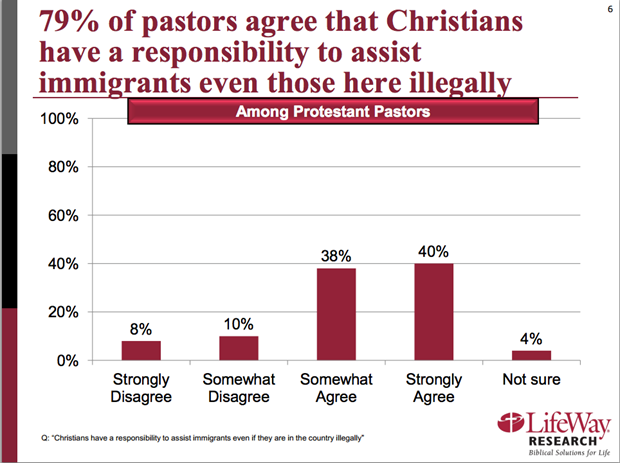 While it's encouraging that 79% of pastors think it's important for Christians to care for the immigrants in their communities, the percent of pastors actively leading their churches to do so is a bit discouraging.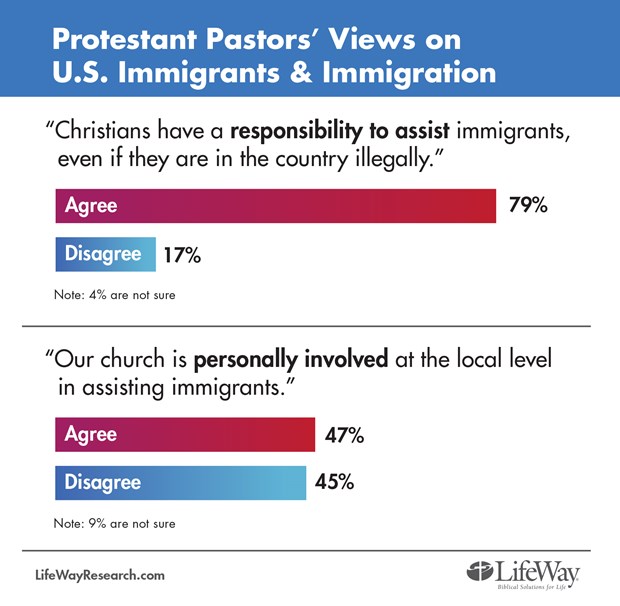 Even though 79% of pastors think it's important for Christians to care for the immigrant, a significantly smaller percentage of pastors are leading their churches to be involved in doing so.
In 2010, only 31% of churches were personally involved helping immigrants in their local communities. Thankfully, that number is on the rise. In 2011 it only rose to 33%, but in 2012 it jumped to 41% and this year, approximately 47% of churches are helping immigrants in their local communities.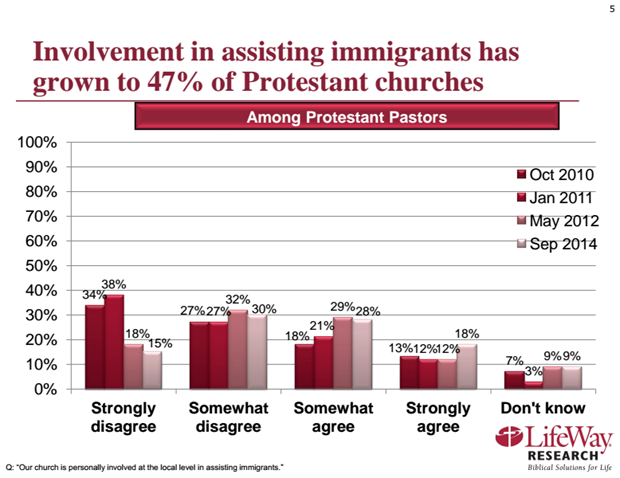 Pastors understand the need to care for the immigrant, but only about half of them are doing anything about it.
Noel Castellanos said in a blog post earlier this year:
When we speak about God's love for the stranger, it is not a conversation that is based on any one particular verse pulled randomly from an ancient text, but a striking truth that is rooted in the entire revelation of God's salvific activity that culminates on the cross. This indeed is Good News to the poor, and to all believers redeemed by the radical love of Jesus.
Research shows that pastors agree that the government must do something about reforming our immigration policies. We can (and probably will) peaceably disagree about the way the government should act.
But, regardless of what President Obama does tonight, Christians must agree that we have a responsibility to love and care for the immigrant.
The Exchange is a part of CT's Blog Forum. Support the work of CT. Subscribe and get one year free.
The views of the blogger do not necessarily reflect those of Christianity Today.