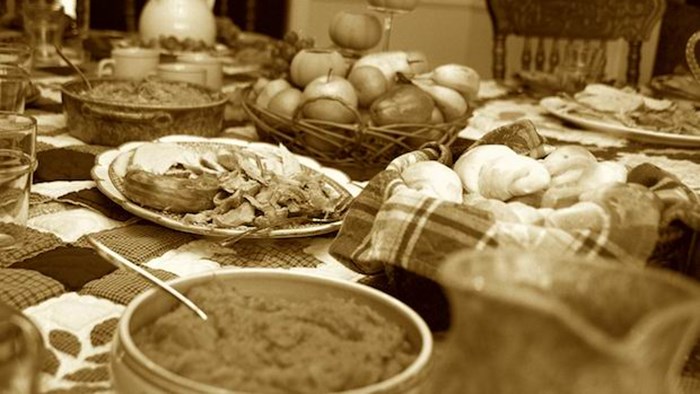 Image: Ben Franske / Wikipedia
I'm home today, after spending far too much time on the road this fall.
I just spent a week with Kaitlyn on her 10-year-old trip. (I describe that family tradition here.) Kristen, her older sister, joined us for a day to tour Biola University-- and she is well on her way to a good launch into adult life.
Now, we are home for Thanksgiving with all the family. I hope you are as well, though I must say I am thankful for those serving far away from home-- missionaries, public servants, those in the military, and more.
So, my hope is you are with those you love and those that love you today, particuarly if you are an American on Thanksgiving. (The rest of you, enjoy your work day in England, Indonesia, and everyone else!)
So, if (and as) you spend time with friends and/or family today (no matter where you are), remember what God has done for you, specifically through the life, death, and resurrection of his Son, Jesus Christ.
The Valley of Vision is a book published in the 1970s made up of nearly 200 prayers from Puritan Christians throughout history. These prayers were compiled by Arthur Bennett, a Bible scholar fascinated by Puritanism. The Valley of Vision only sold 20,000 copies in its first 20 years, but since 2004, the volume has sold more than 200,000 copies. Tony Reinke writes an informative guest post on The Gospel Coalition explaining the work of Arthur Bennett.
The Pilgrims at the first Thanksgiving were likely a subset of Puritanism and possibly prayed a prayer like this one from The Valley of Vision:
O My God, Thou fairest, greatest, first of all objects, my heart admires, adores, loves thee, for my little vessel is as full as it can be, and I would pour out all that fullness before thee in ceaseless flow.

When I think upon and converse with thee ten thousand delightful thoughts spring up, ten thousand sources of pleasure are unsealed, ten thousand refreshing joys spread over my heart, crowding into every moment of happiness.

I bless thee for the soul thou hast created, for adorning it, for sanctifying it, though it is fixed in barren soil;

for the body thou hast given me, for preserving its strength and vigour, for providing senses to enjoy delights, for the ease and freedom of my limbs, for hands, eyes, ears that do thy bidding;

for thy royal bounty providing my daily support, for a full table and overflowing cup, for appetite, taste, sweetness, for social joys of relatives and friends, for ability to serve others, for a heart that feels sorrows and necessities, for a mind to care for my fellow-men, for opportunities of spreading happiness around, for loved ones in the joys of heaven, for my own expectation of seeing thee clearly.

I love thee above the powers of language to express, for what thou art to thy creatures. Increase my love, O my God, through time and eternity.