Nov 26, 2014
Church Planting
Toward Viral: What Exponential Growth Might Look Like: Allison Park Church
Take a look at how Allison Park Church sacrificially plants churches. |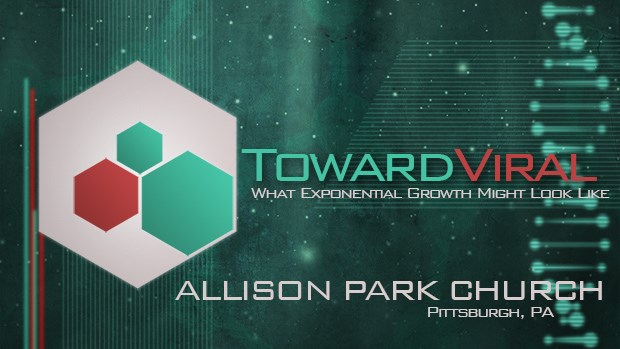 Allison Park Church has planted forty-five churches over the past decade within North America, and several others internationally; the number of churches could not be verified.
Here is a bit of what Allison Park shares about themselves on their website:
1. Warm, inviting and friendly greeting - A hug and a hand shake is a great way to express God's love to each other.

2. Live band that leads us in worshipping God - The music is different from the traditional organ and choir that many are used to. You'll also see some people raising their hands as a biblical expression of worship towards God.

3. Biblical talk, relevant to your life from one of our pastors - We use multiple verses and translations of the Bible to better understand how to apply God's word to our lives so that we can live a BIG Life (Find out more about our BIG Life vision).
Their church planting strategy centers on what they call a Parent Church strategy; one church plants another church and oversees it until it is a fully mature church. They also do pastoral development and mentoring within their church leadership. This has lead to not only their own church plants, but also several church plants planting churches.
Allison Park sacrifices financially in order to see their new plants thrive. They give $30,000 to each church they plant directly, and $15,000 to each church planted by an existing plant of Allison Park.
Allison Park sacrifices of their leadership, talents, and people to see these new churches survive as well. They plant these churches with their staff pastors, and pastors who have been trained in their ministry school. Traditionally, when the church is planted in the same city they will send between 15-100 people. The average number of people who go with each plant is 30 from the sending church. Thus, they are sending their leaders along with regular attendees, tithers, and volunteers with these plants.
The pastors at Allison Park sacrifice their time coaching and shepherding these church planters along with their wives. They continue the relationships with the pastors whom they send, and continue to help oversee the church plants until it is able to stand-alone.
Allison Park has a goal to continue in their church planting efforts. They desire to plant 100 new churches in the Northeast by 2021. This goal was launched back in 2001, and they have now planted 38 new churches in the last three years. These plants have all been in major cities in the Northeast and in Ohio. Allison Park is always looking to train new leaders for these future plants, and at a rate of 12 plus churches a year they should exceed their goal.
Support our work. Subscribe to CT and get one year free.