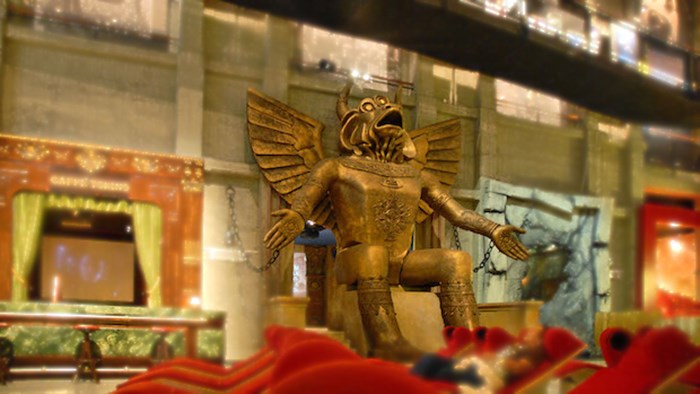 Image: Nevertime / Wikipedia
Some readers likely saw the headline on this blog and decided they didn't need to read an article about the Old Testament, perhaps opting to read a blog on leadership instead.
After all, you probably don't have a carved stone statue in your house, and you've never traveled to Asia and purchased a totem or some other representation of a false god. So why would a conversation about idolatry be of any importance to you, right?
Nothing New Under The Sun
Well, believe it or not, the most common warning about sin in Scripture does not deal with lying, gossip, adultery, stealing, or murder. The most common sin in all of Scripture that we're told to avoid, reject, and move away from is idolatry.
And that's not just Asherah poles in the Old Testament.
In fact, in the New Testament, 1 John 5:21 says, "Little children, guard yourselves from idols." So apparently idolatry is still trying to work its way into our lives and distract us from worshipping and obeying God.
Idolatry is still trying to work its way into our lives and distract us from worshipping and obeying God.
Idolatry is not just a pagan issue. It is not just an Old Testament or Jewish issue. It is a human issue.
Is it that a 12-inch tall piece of wood or bronze can do something bad to us? Or is it that we do something awful to ourselves when we place adoration and attention that should go to God in other things?
When it comes to idolatry, the danger is not in an item… it is in us.
It was John Calvin who said our heart is an idol factory. In a fallen world, people constantly seek things they can worship, even though the Creator is before us in plain view.
We are all looking for something to worship and serve. Idols come easy, but go hard.
There is a consistent theme about idolatry throughout the Scriptures—and in our lives as well.
In 1 Thessalonians 1:9-10, the Bible describes our new life, our new birth in Christ in this way: "You turned to God from idols to serve the living and true God." Of course, in comparison to a dead and false idol, serving a living God seems like a no-brainer.
Idols Know No Boundaries
Does becoming a worshiper of the one true God mean we no longer have to contend with the issue of idolatry? I wish it were that simple.
Everything that is not of God raises itself up against God, even in the life of a Christian. So we constantly have idol pop-ups in our lives. We have to cast them down, but they will be there as long as we live here on earth.
What about leaders? Does leadership mean we get an exemption from the threat of idolatry in our lives? Uh… no. Some of us have "ministry idolatry" in our lives—things that we pursue in the place of God.
Idolatry is not just a pagan issue. It is not just an Old Testament or Jewish issue. It is a human issue.
If you're going to be a faithful pastor or a faithful Bible teacher in your ministry context, you're going to have to recognize the draw that we all have toward the idols of the world. Every culture creates idols, and we must be vigilant at turning from them, even destroying them.
Be Troubled By Your Own Idols
Acts 17 tells the story of Paul in Athens, and how his spirit was "troubled within him when he saw that the city was full of idols" (Acts 17:16). It is a fascinating passage that we often miss. Are our spirits troubled within us because of the idols of our culture?
I'm not referring only to the idols "out there." This isn't just about our neighbors' idols. We must recognize that we're all drawn to some of those idols. And the people in our churches are all drawn to those idols, as well.
Seeing people trapped in idolatry should inspire compassion for their souls, as they are trapped in foolishness. But it also should spark detest for anything that would set itself up against the one true God.
Pastors, Preach Against Idols
Idols don't leave on their own. In the power of the gospel, we have to tear them down-- to destroy them. We need to remove them from our lives and depart from them. Pastors need to identify and preach against idols.
As our love for God increases, our tolerance for idolatry will decrease.
What are some of the great idols of our broader culture? What are some of the idols in the church culture? And what specific idols are built in the context of ministry leadership?
The Exchange is a part of CT's Blog Forum. Support the work of CT. Subscribe and get one year free.
The views of the blogger do not necessarily reflect those of Christianity Today.