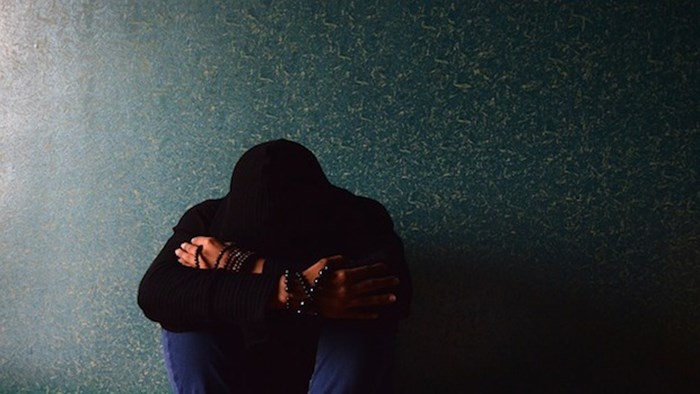 Just over a year ago, a Christian family that has struggled with severe mental illness in their family circles for many years decided to donate a large sum of money to fund research into acute mental illness and the Christian faith. Their burden and passion was to help sufferers, but also to help families and churches minister more truthfully, graciously, and effectively to the mentally ill.
The first installment of that research was recently published by LifeWay and many media organizations have reported the results, much to the family's joy. They are also looking forward to the next steps: an academic paper that will help seminaries and churches train pastors and a popular-level book that will help Christians everywhere understand mental illness better and serve those suffering with it more skillfully.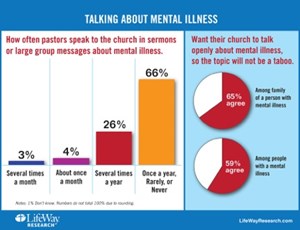 In this article I want to comment on a few of the more general findings from the research and in a second article, I'd like to zoom in on the core issue of the research, which concerned salvation and the mentally ill. But first, here are some of the research results that intrigued me.
"59% of pastors have counseled one or more people who were eventually diagnosed with an acute mental illness."
Only 59%? Given the prevalence of mental illness in society (somewhere between 15-25% of the population will suffer an acute mental illness at one point in their lives), I was stunned that this figure was not 100%.
Does this imply that many people do not trust their pastors to offer reliable counsel when suffering in this way, and therefore turn to non-pastors for help instead? If so, perhaps some pastors need to ask themselves, "What can I do to equip myself better?" and also "How can I communicate understanding, sympathy, and compassion to such people so that they will come to me for counsel?"
"22% of pastors agree that they are reluctant to get involved with those dealing with acute mental illness because previous experiences strained time and resources."
I admire the honesty of the 22% (the real figure is probably higher), and I sympathize with the desire for time-efficiency, but I do not agree with the response (or lack of it). These are the bruised reeds and the smoking wicks that God sends to us to strengthen and fan into flame; and we say, "Sorry, not enough time"?!
Thankfully Jesus didn't think like this when He came to save us from our sins. No one is asking pastors to have all the answers or to provide all the counsel that's needed, but an engaged and informed pastor is a vitally important part of any care plan, as is the Christian community.
"23% of pastors indicate that they have personally struggled with mental illness of some kind."
This figure did not surprise me. It's on the high end of estimates of mental illness in the wider community, but given the mental, emotional, and spiritual strains of the ministry, we should expect that. I want to ask these pastors: "Who are you reaching out to for help?" From what I've seen, I fear that only a few percent would have said, "Another pastor," or "My elders."
It is possible that a significant number of pastors and church leaders hide their own mental illness. How can we make it easy and natural for Christian leaders to get help also from within their own community?
"53% of individuals with acute mental illness say their church has been supportive."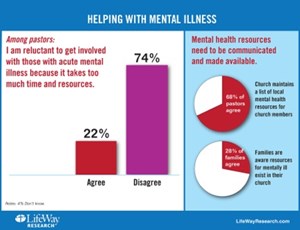 I was massively encouraged by this figure. It's even higher (67%) for adults who attend church regularly. The figure confirms my encouraging sense of where the church is at as I've discussed mental illness in many Christian settings. There does seem to be a growing awareness of mental health issues and an increased Christian sympathy and sensitivity towards sufferers.
Caregivers report even higher satisfaction as "75% of family members in a household of someone with acute mental illness say their church has been supportive." And "among individuals who attended church regularly as an adult, 57% agree that their local church has specifically helped them think through and live out their faith in the context of mental illness." I'm sure you'll join me in praising the Lord for such wonderful Christian love being evidenced and experienced in the body of Christ.
But, before we get too carried away, on the negative side, as the next stat proves, there's still an alarmingly large number of individuals whose experience at the hands of fellow-Christians is so bad that they leave their church.
"The response of people in the church to individuals' mental illness caused 18% to break ties with a church."
This is utterly heart-breaking. Almost 1 in 5 left their church due to the negative or non-responses of their spiritual family. I've heard many of the stories behind these stats and grieve at how ignorant, misinformed, and insensitive so many Christians are towards those who are so fragile and vulnerable. There's only one thing that can change this and it's more education in our churches. That's confirmed by the next stat.
"90% of pastors, 74% of individuals with acute mental illness (and 85% of their family members) agree that local churches have a responsibility to provide resources and support to individuals with mental illness and their families."
As you can see, a significant percentage of pastors agree that the local church has a responsibility to support those with mental illness and their families. This is encouraging!
But how can they help? The research returned answers like: helping families find local resources for support, maintaining lists of experts to refer people to, talking about mental illness openly in church, and friendships with other local church members.
"49% of pastors rarely or never speak to their church in sermons or large group messages about acute mental illness."
There's the gaping hole. Given all these statistics about the prevalence of mental illness, and the vital role the church could play, half of all pastors either rarely or never mention it.
Even if pastors do not feel personally equipped to speak about it, they can refer people to reliable and helpful books, articles, sermons by others, and so on. Or why not bring in an experienced counselor to talk about it?
Additional Resources
Here are some additional resources you should check out:
Full LifeWay Research study on mental illness and the church

Christians Get Depressed Too by David Murray and the corresponding films

Bible Studies for Life—Free Bonus Session: Ministry in the Face of Mental Illness
Focus on the Family and Mental Illness videos
More Focus on the Family resources for mental illness
Feel free to share any resources you may have in the comment section below.
The Exchange is a part of CT's Blog Forum. Support the work of CT. Subscribe and get one year free.
The views of the blogger do not necessarily reflect those of Christianity Today.