Morning Roundup 9/25/14
New research suggestions pastors feel ill-equipped to address mental illness.
Ed Stetzer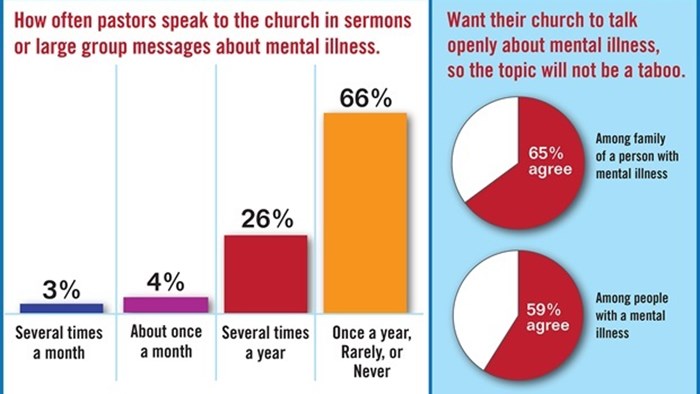 Here is some of the recent overage of our mental illness research release in addition to the articles excerpted below. Thanks to:
The Blaze
KLOVE
Crosswalk
U.S. Catholic
Charisma
and so many others for carrying the story. Here are a few
Mental illness rarely addressed by churches—Adelle M. Banks
(RNS) Protestant clergy rarely preach about mental illness to their congregations and only one-quarter of congregations have a plan in place to assist families of the mentally ill, a new LifeWay Research survey found...
When it comes to mental illness, researchers found:
66 percent mention it rarely, once a year or never

26 percent speak about it several times a year

4 percent mention it about once a month

3 percent talk about it several times a month.
"When we look at what we know statistically — the prevalence of mental illness and the lack of preaching on the subject — I think that's a disconnect," said Stetzer.
The survey taken among evangelical and mainline churches was funded by Colorado-based Focus on the Family and an anonymous donor whose family member suffered from schizophrenia. It included the perspectives of pastors, churchgoers who have suffered from mental illness — depression, bipolar disorder or schizophrenia — and family members of the mentally ill.
Author Kay Warren commended the survey's findings and said she and her husband, megachurch pastor Rick Warren, have been vocal about the "terrible scourge." Their 27-year-old son, Matthew, suffered from mental illness and killed himself last year.
She urged church leaders to not only preach about it but allow those struggling with mental illness to give testimonies to their congregations.
Survey: Most protestant pastors don't address mental health issues—Coshandra Dillard
A Nashville-based evangelical research center released data Monday, which shows that while protestant pastors are aware of issues surrounding mental illness, most do not address it regularly.
The survey also showed that nearly a quarter of pastors surveyed — 23 percent — have struggled with some form of mental illness.
The survey is by LifeWay Research with funding from Focus on the Family. It was compiled from a survey of 1,000 protestant pastors, 355 protestants who have been diagnosed with a mental illness and 207 protestant family members of those diagnosed with acute mental illness.
Ed Stetzer, executive director of LifeWay Research, announced the findings Saturday during a conference on mental health and the church in Tyler before it was made public Monday.
"Sixty-six percent (of pastors surveyed) said once a year, rarely, or never have they mentioned in any way mental illness in a message or sermon," Stetzer said Saturday. "Yet, when you talk to a person who struggles with mental illness and family members, they actually want their church to talk openly about mental illness, so the topic will not be taboo."
He added, "We are increasingly in a conversation that we need to have more conversation. It's not to say pastors aren't aware of the actual issues that are going on."
According to the survey, 68 percent of pastors indicate their church provides care for the mentally ill or their families by maintaining lists of experts for referrals. However, only 28 percent of church members surveyed were aware of such resources.
Some pastors contend that they already are handling mental health issues in their congregations. Forty-one percent of pastors strongly disagree that they are "reluctant to get involved with those with acute mental illness because previous experiences strained time and resources."
Stigma of Mental Illness 'Still Real' Inside the Church, LifeWay Research Reveals—Alex Murashko
Talking openly about mental illness remains a struggle within the Christian church community despite the fact that pastors often become first responders when a crisis in the family hits, according to a on Monday.
Experts say pastors and churches do want to help, but too many are unprepared and blame the stigma still attached to mental and emotional problems.
"One in four Americans has suffered from some kind of mental illness. Many look to their church for spiritual guidance in times of distress. But they're unlikely to find much help on Sunday mornings," writes LifeWay's Facts & Trends magazine senior writer Bob Smietana.
The study revealed that most Protestant senior pastors (66 percent) seldom speak to their congregation about mental illness. Almost half of the pastors surveyed rarely speak on the topic (39 percent) or never (10 percent).
About 1 in 6 pastors (16 percent) speak about mental illness once a year. And about a quarter of pastors (22 percent) are reluctant to help those who suffer from acute mental illness because it takes too much time, according to the LifeWay study.
"Our research found people who suffer from mental illness often turn to pastors for help," said Ed Stetzer, executive director of LifeWay Research. "But pastors need more guidance and preparation for dealing with mental health crises. They often don't have a plan to help individuals or families affected by mental illness, and miss opportunities to be the church."
During a press conference to release the findings, Stetzer added that after researchers talked to many mental health experts they found that the stigma attached to mental illness "is still felt, is still real inside the church."
Michigan group looks to end stigma attached to mental illness—MyFoxDetroit
(WJBK) - As much as we talk about mental illness there's still a stigma attached.

No place is that more obvious than at most churches and how one organization is changing that.

In Health Works, the more we talk about mental illness, the more people can get much needed help. Often many people turn to their church for help, yet they consider mental illness a taboo topic.

There is a sense of uncomfortableness within churches that goes across all faiths speaking about mental illness.

For Kevin Fischer, the executive director of National Alliance on Mental Illness Michigan, the battle to turn mental illness into a kitchen table topic is both professional and personal.

"I lost my oldest son, Dominque, to suicide after he had be diagnosed bipolar/schizophrenic," Fischer said. "In 2007 and three years later, we lost him in 2010."

The numbers show one in four adults are affected by mental illness, but LifeWay Research finds most pastors are reluctant to speak about mental illness.

That's why the national alliance on mental illness is reaching out to churches through their faith net program teaching clergy how to minister to those with mental illness.
Download this week's edition of The Exchange Podcast with KP Yohannan.
Dr. Tim Clinton, president of American Association of Christian Counselors, met with me to discuss the important topic of mental illness and the church. In this clip, we talk about assessing depression. Don't forget to join me every Tuesday at 3:00 PM Eastern for The Exchange.
The Exchange

(Weekly)
The Exchange newsletter is a weekly digest of coverage, research, and perspective from Ed Stetzer.
CT Books

(Weekly)
Each issue contains up-to-date, insightful information about today's culture, plus analysis of books important to the evangelical thinker.
The Exchange is a part of CT's Blog Forum. Support the work of CT. Subscribe and get one year free.
The views of the blogger do not necessarily reflect those of Christianity Today.