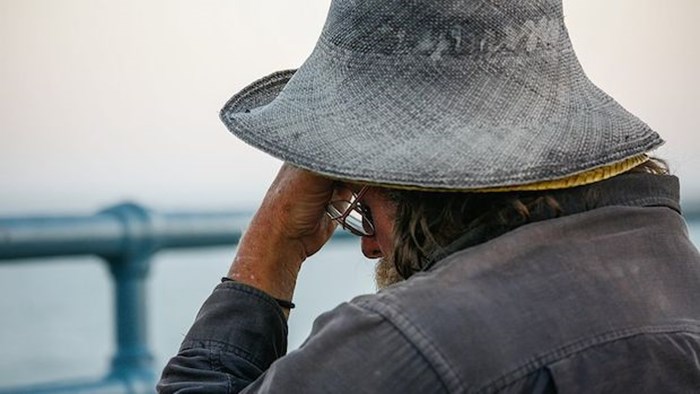 Image: Alex Proimos / Wikimedia
Recently at LifeWay Research, we've been doing an extensive series of studies on mental health and the church. Working with various organizations and churches, our hope is to better equip the people of God to minister to those struggling with mental illness. To download the full research report, click here.
This afternoon, Christianity Today reported our new research findings on pastors and mental illness. Sarah Zylstra writes:
Your pastor is just as likely to experience mental illness as any other American, according to a LifeWay Research survey commissioned by Focus on the Family.

Nearly 1 in 4 pastors (23 percent) acknowledge they have "personally struggled with mental illness," and 12 percent of those pastors said the illness had been diagnosed, according to the poll. One in four U.S. adults experience mental illness in a given year, according to the National Alliance on Mental Illness.

Recent deaths by suicide of high-profile pastors' children, including Rick Warren's son Matthew and Joel Hunter's son Isaac, have prompted increased attention to mental illness from pastors' pulpits and pens. Warren launched "The Gathering on Mental Health and the Church" this past spring. High-profile pastors, including NewSpring Church pastor Perry Noble, have publicly documented their struggles with mental illness.
Christians are not exempt from struggling with mental illness. Pastors and church members alike grapple with a variety of mental illnesses, and our new research shows that pastors often feel ill-equipped to help lead other believers through these struggles.
According to pastors, only 27% of churches have a plan to assist families affected by mental illness.
One of the sponsors of the research is Focus on the Family. I recently visited my friends at Focus in Colorado Springs, and we are continuing our work toward equipping churches and Christians in general to minister to the mentally ill. Check out the video at the bottom and this list of videos to hear our conversation.
At the Thriving Pastor site, specifically ThrivingPastor.Com/MentalHealth, Focus explains:
Focus on the Family, working with LifeWay Research, conducted a Study of Acute Mental Illness and Christian Faith. The objectives of the research were to 1) equip family members and church leaders care for those suffering from mental illness 2) help family members and church leaders discern the spiritual state of loved ones suffer from mental illness.
Professor and Pastor David Murray will be on a future episode of The Exchange discussing the research. David has often written on mental illness—see this post as an example—and has been an important part of the research process. He explains a bit of that journey in this post, sharing:
Over the last couple of years, I got to know a Christian family who had seen family members suffer with mental illness, including schizophrenia. A close relative died from schizophrenia-related issues and left a substantial sum of money in his estate. After much prayer and consultation, the family decided to donate the money for research into mental illness and how it affects Christians, pastors, and churches.
Here are some statistics from the study released today by LifeWay Research:
38% of pastors strongly agree they feel equipped to identify a person dealing with acute mental illness that may require a referral to a medical professional

40% of pastors, 46% of family members in a household of someone with acute mental illness, and 54% of individuals with acute mental illness believe medications should be used any time they can ease symptoms of acute mental illness

53% of individuals with acute mental illness say their church has been supportive
65% of family members in a household of someone with acute mental illness believe local churches should do more in talking about mental illness openly so that the topic is not so taboo
I talked with a number of young pastors late last week who feel ill-equipped to address matters of mental illness, should (and when) they may have to face them.
The church's silence on the issue of mental illness doesn't help anyone, and in fact, it may only make matters worse.
Here's a bit more from our research:
That silence can leave people feeling ashamed about mental illness, said Jared Pingleton, director of counseling services at Focus on the Family. Those with mental illness can feel left out, as if the church doesn't care. Or worse, they can feel mental illness is a sign of spiritual failure.

"We can talk about diabetes and Aunt Mable's lumbago in church—those are seen as medical conditions," he said. "But mental illness--that's somehow seen as a lack of faith."

Most pastors say they know people who have been diagnosed with mental illness. Nearly 6 in 10 (59 percent) have counseled people who were later diagnosed.

And pastors themselves aren't immune from mental illness. About a quarter of pastors (23 percent), say they've experienced some kind of mental illness, while 12 percent say they received a diagnosis for a mental health condition.
When we did our survey, we also took the time ask some more open-ended questions. The responses to our questions were certainly mixed. Some were devastatingly sad, and some were encouraging:
Those without support from the church said they struggled.

-"My faith has gone to pot and I have so little trust in others," one respondent told researchers.

-"I have no help from anyone," said another respondent.

But others found support when they told their church about their mental illness.

-"Several people at my church (including my pastor) have confided that they too suffer from mental illness," said one respondent.

-"Reminding me that God will get me through and to take my meds," said another.
Here are a couple of infographics to illustrate some key findings: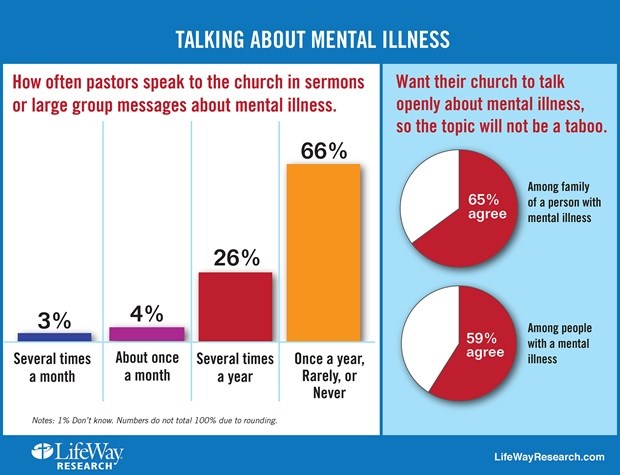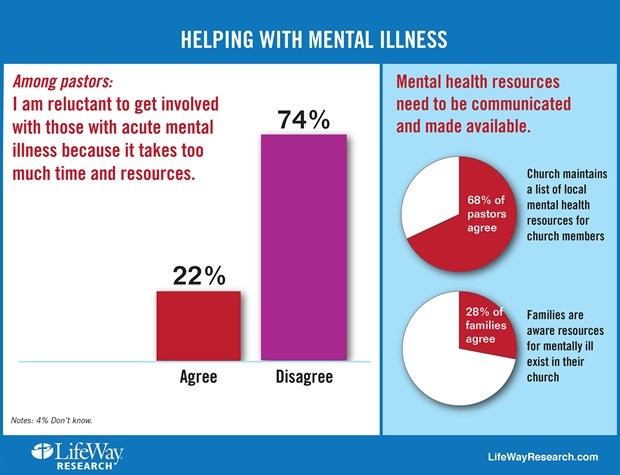 Below is a clip of a conversation I had with Kelly Rosati, VP of Community Outreach for Focus on the Family, and Dr. Jared Pingleton, Director of Counseling Services at Focus on the Family. You can download the entire episode of the Focus on the Family Daily Broadcast here, or you can check out their YouTube list here.
Remember to download a copy of the full research report here if you haven't already.
The Exchange is a part of CT's Blog Forum. Support the work of CT. Subscribe and get one year free.
The views of the blogger do not necessarily reflect those of Christianity Today.