Sep 13, 2014
Seminars
Saturday is for Seminars: Wesleyans, Houston, Tyler, TX, Nashville, and NRB Defending Truth Apologetics Conf.
Join me in Nashville, TN on November 1, 2014 for a conference on apologetics. |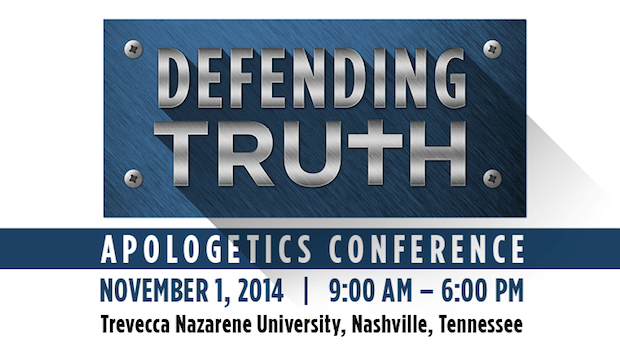 I'll be speaking at several different conferences in the next few weeks and I'd value your prayers.
They include:
September 18-19, 2014, New Room Conference, Franklin, TN, where my topic will be, "Why We Need More Wesley in the Mission of Evangelicalism and We Need More Mission in the Heart of Wesleyanism."
September 20, 2014, Peace of Mind Conference, Tyler, TX, talking about the church and mental illness.
September 23, 2014, FiveTwo Wiki Church Planting Conference for Sacramental Planters, Katy, TX, where I'll be talking about the gospel, mission, and church planting.
September 24, 2014, Oklahoma Baptist University Chapel, Shawnee, OK, where I'll be preaching from the parables of Jesus recorded in Luke.
You can find more events at my speaking page here.
But, let me point to a future event on apologetics right here in Nashville.
November 1, 2014, Defending Truth Apologetics Conference, Nashville, TN.
Why an apologetics conference?
Well, culture is changing, and Christians have to learn how to engage an ever-changing culture with an unchanging gospel.
Amidst our changing culture, it is imperative for Christians to be ready to "give a reason for the hope we have," as 1 Peter 3:15 says.
So, on November 1, I will be at Trevecca Nazarene University for the Defending Truth Apologetics Conference hosted by the NRB Network.
From 9am to 6pm on Saturday, November 1, we'll gather on the campus of Trevecca Nazarene University to discuss how we can share our faith in a culture that is becoming increasingly hostile to evangelical beliefs.
In the afternoon, I'll be hosting a Q&A with a number of the keynote speakers.
If you'll be in the area, or if you'd like to come to Nashville, take a minute, register here, and join us as we work together to better defend the Christian faith.
Support our work. Subscribe to CT and get one year free.