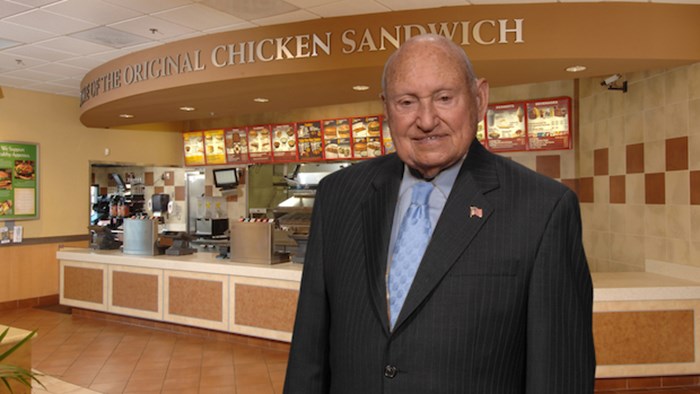 Image: TruettCathy.com
Truett Cathy was much more than chicken and controversy, he was a man of Christ-like values who lived his life on mission, even when it was difficult.
CNN reported:
The deeply religious founder would go on to open location after location, eventually building an empire with more than 1,800 restaurants in 40 states and the District of Columbia.

The company now boasts more than $5 billion a year in sales.
He had a clear witness to the world, not just through his words, but in his practices:
Under the religiously conservative founder, the chain gained prominence for its Bible Belt observance of Sunday — none of its hundreds of restaurants are open on that day, to allow employees a day of rest. Its executives often said the chain made as much money in six days as its competitors do in seven.
He taught a Sunday School class most of his life at a church in South Atlanta. My friend and co-author Philip Nation was his Minister of Education. I once had the opportunity to train the Sunday School teachers at his church. Truett was not there that day, but he often was, and his passion was. Those teachers wanted to learn the Bible and knew it was important—if a billionaire could find the time to do it, so would they.
Truett didn't stop working as he got older. His longtime pastor, Mel Blackaby, said this of Truett in 2012:
One of the examples that he's been to our older adults is that as long as God as given you life, live it well. You don't just stop living because you get older. Perhaps when you get older, you have more time, more resources, and more to give. You've got a wealth of wisdom if nothing else.

He's been a great example to our older adults to keep living while you still have life.
Truett said in the same video from 2012: "We'll never know what we are capable of doing until we can start performing at our best."
In a time when many in the business world ignore morality and character for the sake of success, Truett Cathy saw character as the key to business success. There's no secret to success, he often said, just doing things right. He said in an interview with CNN in the early 2000s, "I see no conflict between biblical principles and good business practice."
Truett Cathy and Chick-fil-A have never required that their employees be Christians, but Cathy made it clear that Chick-fil-A asks its employees to make business decisions based on Christian values, not only because they're biblical, but because they are foundational to good business practice.
The Chick-fil-A corporate purpose is: "To glorify God by being a faithful steward of all that is entrusted to us. To have a positive influence on all who come in contact with Chick-fil-A."
Truett, I'm thankful that many others have heard and heeded that call with you. Your uncompromising Christ-like business leadership will serve as a model for young Christian entrepreneurs for decades to come.
Here is a short video from a couple of years ago that gives a bit of insight on the life of Truett Cathy and how his character remained unchanged despite his great success and wealth:
The Exchange is a part of CT's Blog Forum. Support the work of CT. Subscribe and get one year free.
The views of the blogger do not necessarily reflect those of Christianity Today.