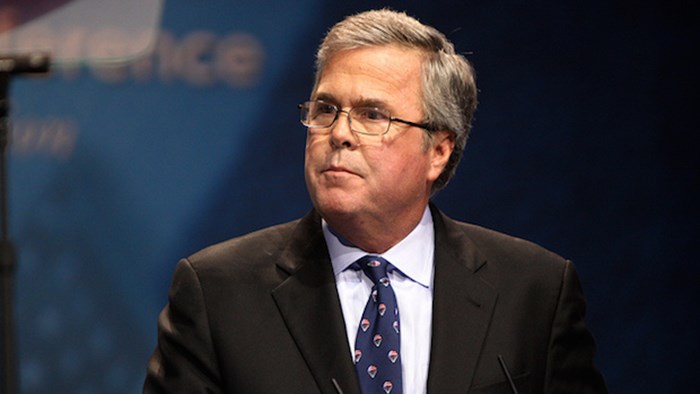 Image: Gage Skidmore / flickr
Jeb Bush Speaks to Hispanic Evangelicals About Faith, Family, and Political Failure—Michael Bender
Here is a report from the meeting I spoke at yesterday. I spoke after Jeb Bush, reminded everyone that Jesus is not coming back on a donkey or an elephant, and encouraged people to follow Jesus on mission. But, I must say, listening to Bush talk was fascinating (as was seeing his father, President Bush, who looks great).
Jeb Bush, Catholic, Faith-Guided—Mark Silva
I was intrigued by the fact that Governor Jeb Bush talked about his "conversion" to Catholicism. (That was particularly fascinating considering this was before a group of evangelical Latinos.) Bloomberg tells more about his faith here.
(I'll be highlighting the candidates' faith as I see the stories. Tweet me @edstetzer if you see stories I should highlight.)
Manny Pacquiao Interview with Matt Crouch
On a totally unrelated note, the biggest fight in the world is coming up… and this interview with Manny Pacquiao is simply fascinating. They talk about faith, conversion, Israel, and more. Just fascinating. And, Liam Neeson. Fascinating.
Could religious institutions lose tax-exempt status over Supreme Court's gay marriage case?—Sarah Pulliam Bailey
Don't miss this dialogue:
Download this week's edition of The Exchange Podcast with Amy Simpson.
Matt Carter joined Ed Stetzer to talk about church culture, small groups and missional communities on this episode of The Exchange. In this clip, we talk about how missional communities operate at his church.
The Exchange is a part of CT's Blog Forum. Support the work of CT. Subscribe and get one year free.
The views of the blogger do not necessarily reflect those of Christianity Today.