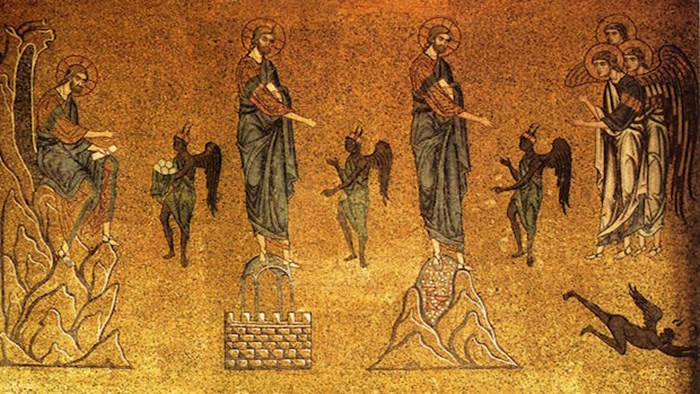 If you ever want to read Christian material that is spicy, dramatic, and packed full of truth, just read sermons from seventeenth-century English preachers. Picture them passionately preaching to women in their funny bonnets and men in their strange black ties, who tremble with awe on those old wooden benches as they listen. John Owen was one of those ministers, and what he had to say about temptation is profound. He said, "Temptation is like a knife, that may either cut the meat or the throat of a man; it may be his food or his poison, his exercise or his destruction."
In short, Temptation can kill you or make you stronger.
I'm sure we have all thought of temptation as being our poison or destruction—but have we ever thought of it as being food or exercise?
Now, I think it's fairly obvious to us that temptation can kill the soul. What is less apparent, however, is how it can become an opportunity for growth. Understanding this is a bit trickier to comprehend. But doing so can be life changing. The reasons we would miss this are if
our view of temptation is too shallow, or
our understanding of its role in our lives is too narrow.
If our view of temptation is too shallow, then we may be in denial, giving in to ways we are not even aware of, disintegrating our spiritual lives. On the other hand, if our understanding of temptation is too narrow, we despair, become discouraged and fearful, not knowing the power and purpose God gives us within it.
Temptation can kill you or make you stronger.
However, if we listen to what Scripture has to say on these issues, not only will we avoid a lot of pitfalls and pain, but we will also flourish in tremendous ways, understanding where our true identity lies and learning to live out of that with great hope and strength. On the one hand, we must be warned that temptation can lead to destruction. But on the other hand, temptation can catapult us into deeper growth, if we learn to trust God in the midst of it.
If we learn to lean on truth in the face of a lie.
It's not a random fact that before Jesus entered into His public ministry as Messiah, He faced temptation in the wilderness. I think, at the very least, it shows us how necessary it is for every person to understand what temptation is and how we are to face it in daily life.
We can't afford to get it wrong.
And we also can't afford to miss out on the incredible growth that happens when we get it right.
The famous wilderness temptation of Jesus was such an important event that it's recorded in three of the four gospel accounts. In it are not the typical situations you would expect—in fact, on the surface, Satan's offers to Jesus don't seem to look all that bad. I mean, I would imagine that if we were going to be given a crash course on temptation with Jesus as our leader, it would take place in some type of ancient Las Vegas, where sex, drugs, and rock and roll abound. Isn't that why some people call it Sin City? But then again, it could also take place in Salt Lake City, with its temples, anti-coffee policies, and religious undergarments. If we really believe what the Bible says about sin, then it could really be anywhere. Even in a wilderness.
We need to understand what it is about the temptation to turn rocks to bread, jump off a Jerusalem tower, and view the glory of world kingdoms that teaches us about the nature of temptation itself and how we are to face it. Every temptation contains a lie, which, if believed, weakens our spiritual health and leads us down a destructive path, away from what God intends. Yet each temptation can also be an opportunity to step further into Christ's life-giving victory, launching us deeper into our true identity as the beloved of God.
Every moment of temptation can be an exercise in what matters most.
Yes, within us we have competing commitments and conflicting desires. We want to sacrificially love other people, and yet we are drawn toward self-centeredness. We want to be faithful to our spouses, and yet we are tempted with unfaithful thoughts. We want to follow Christ in daily life, and yet we feel the pull to follow our fallen passions. But the truth of God's grace in Jesus makes it possible to change, to be transformed to become Christlike.
Temptation is an enemy.
Surprisingly, it can become our growth opportunity.
Each time we choose truth in the face of a lie, we are, in a sense, flexing muscles in our spiritual lives that grow stronger with each challenge. The result is that we become more mature, our character grows, and by God's grace, we reflect the beauty of Jesus to those around us. Every moment of temptation can be an exercise in what matters most. These moments don't have to kill you. They can make you stronger.
The Exchange is a part of CT's Blog Forum. Support the work of CT. Subscribe and get one year free.
The views of the blogger do not necessarily reflect those of Christianity Today.