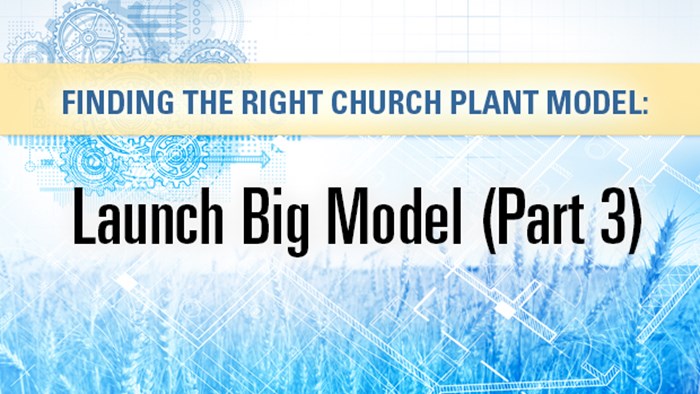 As we look at church planting models, I started with a more traditional model. My hope was that people would first consider what they might have rejected. The second model is probably the most used—the Launch Large Model.
What is the Launch Large Model?
In the Launch Large Model, a church planter usually begins with a core/launch team, in some cases, maybe with a small staff. Most of the time, these teams are not that large, but the launch still can be. As they get acclimated to the city/community where they will be planting, they seek to build a core group—numbering somewhere between 30–60 people—which will become their launch team. In some cases, where the mother church is large enough to do so, the church planting team is sent out with a launch team.
Yesterday, I was at Summit Church in North Carolina. Before I spoke, they played a video at each service, announcing their new church planting residents. As part of that announcement, they called for people to move to Orlando, Brooklyn, Los Angeles, or Winston Salem. The church is large enough (over 8,000, if I understood correctly) that they can create a large launch from sending some people, reaching some new people, and starting big.
Launching Large is almost the norm when starting a majority culture church today.
Once a launch team or core group is formed or close to being formed, the church hosts a few preview services so they can invite people from the community to "come and see" what their new church will be like. In some cases, rather than hosting a few preview services, some churches in an attempt to grow their launch team practices a "soft launch." This is where the core group holds corporate gatherings, or large Bible studies, that are less publicized in attempt to build their launch team.
In the weeks and months leading up to the "big" launch, the church will host a large event or a series of mini-events to build awareness of the church and her upcoming launch. In addition, the church will typically send out a mass-mailer or two (depending on their launch budget) inviting their target area to the new church.
With nervous anticipation, the planter and the team prays all their hard work will pay off on launch day. But the telltale sign of whether or not the Launch Large Model takes off with a bang are the next 4–6 Sundays after the big launch.
For some practitioners, launching big means that the church would have surpassed some of the early church growth barriers, like the 100 and 200 person barriers.
Where Did The Launch Large Model Originate?
Biblically speaking, many practitioners of this model would point to Acts 2 and argue that the church of Jerusalem was a Launch Large church planting model. They had a launch of over 3,000 people and kept growing.
You could (and I would) debate if that was really an appropriate example. I think of the Large Launch as more of a strategy, and less of a biblical mandate.
Practically speaking, practitioners and authors such as Bob Logan, Ron Sylvia, Aubrey Malphurs, and Nelson Searcy have popularized the Launch Large Model.
Utilizing business, attractional, and systematic and organizational savvy elements, proponents of this model believe that if done right—along with the call and movement of God—a church plant can witness numerical success in a shorter amount of time (compared to other models).
In fact, according to a conversation I had with Logan, this model of church planting is a contextual element within an event-based culture.
Why the Popularity of the Launch Big Model?
Given that church planting over the past two decades has been focused primarily in suburbia areas—saturated by middle to upper class people who love the next big thing, a good event, and something for their kids—the Launch Large Model has been effective. In short, it has been effective in reaching a certain demographic. Because of its effectiveness in these areas, the Launch Large Model has been the model most practiced and explained in books, conferences, and seminars.
Launching Large is almost the norm when starting a majority culture church today.
Although this model has been effective in the recent past, this model has lost (at least) some of its effectiveness in areas saturated by similar churches. For example, most of the largest of these launches have been in suburbs with a growing base of new people. And, as culture becomes more secular, the pool of people open to consider this kind of church plant approach is declining.
What's the Upside and Downside to the Launch Large Model?
Having implemented many of the elements and components of this model in some of the church plants I have led, I have seen first-hand, its effectiveness. I remember in the plant I led in Pennsylvania we launched a "How to Fix Your Bad Marriage" series.
We sent mailers, postcards, and made lots of phone calls. Undoubtedly a lot of people had some messed up marriages, given that over 200 people showed up. We were thrilled, and then again we weren't.
For that's the upside to the Launch Large Model—it methodologically can work in an event-based, consumeristic, spiritually seeking, church-inquisitive culture. As a result, the church can grow quickly.
The downside is four-fold. First, this model takes some high-end funding. You have to fund the rental site, equipment, staff, community events, and marketing tools. This can be very costly.
Second, you can potentially attempt to grow with the wrong people. This can lead to organizational, structural, and discipleship frustration, which can also lead to a high turnover rate over the first couple of years. For instance, when we launched in Pennsylvania with the marriage series—sure we reached a lot of people—most of the people we reached were people with a lot of problems and baggage. While, once again, that it is a good thing, many of them were in no place to serve, minister, or disciple another. What ended up happening is that our marriage series turned into more like a three-month group therapy session.
Third, the sad reality is that most Launch Large church plants never actively plant another church. Some may give financially to a church-planting denomination or network, but do not serve as a training and sending church. While there may be various factors that contribute to this, the Launch Big Model simply has a low to mid reproducibility rate.
Fourth, many critique the consumeristic and atheological mechanics used to reach people. As a result, people like Neil Cole would argue, "What you win them with is what you win them to."
For full disclosure, the most recent church we planed also launched large, so I am a believer in the approach—I just want to be sure we see the upsides and the downsides, and we also know that its effectiveness will probably decline in years to come.
Further Resources
The Exchange is a part of CT's Blog Forum. Support the work of CT. Subscribe and get one year free.
The views of the blogger do not necessarily reflect those of Christianity Today.