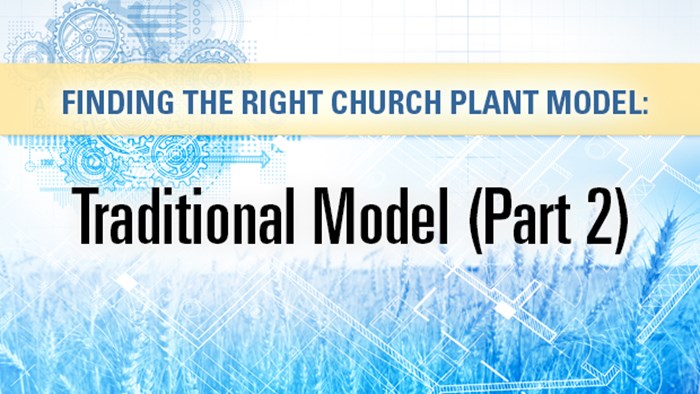 In the introduction to this series, I listed the five primary models of church planting and outlined some considerations for church planters deciding between them.
The challenge is that too many church planters fall in love with a model of church planting before falling in love with the people being reached. They end up disregarding some tools that might fit their context.
In this post I want to provide some basic information regarding the traditional model and what reasons might compel someone to plant a church in this way.
Prior to the mid 1990's, before the church-planting boom, before church-planting became mainstream, there were unsung planters like Larry Lewis, author of Church Planter's Handbook, who simply embraced the mantra, "Go and tell."
If you are a planter, finding the right model can be like finding the right car.
In other words, they had a call to fulfill Great Commission (Matt 28:18–20; Acts 1:8). As a result, they would move to an area with an evangelistic passion to share the gospel with as many as they could. Over time, converts were made who then became the foundational base of the church.
That church would start worship when they had four faith families (that was Larry's stated plan), then would start Sunday School soon after, and use Sunday School to mobilize the church to reach more people.
You say, "Ed, is anyone doing it that way anymore?"
Well, you bet they are—just not at the big conferences.
While this model has lost its appeal as a model of choice for many contemporary planters, it is the most common choice among minority cultures. And, there are also some majority culture plants that start this way.
Why is this model effective among such groups?
Think about it.
Let's say you are a Cuban who senses a call to plant a church among Cuban immigrants in Little Havana in Miami. You will have an instant connection with many of the Cubans living in Little Havana. With that connection, you would have some familiarity with the inhabitants—their background, customs, beliefs, spirituality, etc.—which can lead to a smoother, more natural, and potentially more receptive transition of sharing the gospel.
You start a home Bible study. You connect with the Florida Multicultural District of the Assemblies of God. With that partnership, you start meeting in the fellowship hall of a local AoG church once you have 4 families and someone with a guitar. This begins worship. Then Sunday School. Then Royal Rangers. The church grows and is soon established, maybe even in its own building.
That's the traditional model.
Or, let's say you are a cowboy who senses a call to plant a church in Tyler, TX—the city where the most cowboys live. Assuming you are an authentic cowboy (not just a Lonesome Dove wanna-be), you have a natural connections and community with other cowboys.
You start a small group. Then you get four families and start worshipping. (No large launch, no mailers, and probably no full-time staff.) You start with four families, reach 10 more, then keep going.
With the traditional model, the financial costs are lower than some of the other models. The reason being is they simply do not need all the "bells and whistles" like some of the other models. Many planters who choose the traditional model are typically self-funded or bi-vocational, who over-time may come to be fully funded by a self-supporting, self-governing church. However, some planters may find support from a mother church or denomination that wants to reach a specific people-group or cluster in a particular area.
What about the strengths, weaknesses, and reproducibility of the traditional model? The strength tends to lie in its evangelistic zeal. Its growth is often supported by a homogeneous focus. These two strengths become the factors that lead to many church plant successes.
However, its strengths can become weaknesses since the traditional model tends toward a homogenous group resulting in a narrow vision.
Now, if you started reading this article and immediately decided it was not for you, ask yourself "Why?" Is it that you might like your church model, with its smoke machine and mailers, more than the people Jesus has sent you to reach?
That was me at my first church—we were in the inner city of Buffalo, NY, planting a church among the urban poor. I wanted a cell-based, contempoary, seeker-sensitive church (a la Rick Warren). Yet, we faced major obstacles. The residents were embarassed by their homes and did not want cell groups in them, we did not have anyone who could lead us in a contemporary music session (piano lessons are not big among the urban poor), and people did not care much about the nuance of a seeker-sensitive service).
Once I got over me and my preferences, I found that our church soon had small groups before church (some might call that Sunday School—gasp!), music that was more unplugged than contemporary, and straight up preaching that "told it like it was" were more effective in that broken enviornment.
The end result—the model was chosen more for the mission, even though it took this young planter (at that time) about two years to figure out how it should have been done.
Maybe this article will help you get to mission-driven models a bit sooner.
For more information and resources on the traditional model (and where those ideas might originate) see:
The Exchange is a part of CT's Blog Forum. Support the work of CT. Subscribe and get one year free.
The views of the blogger do not necessarily reflect those of Christianity Today.