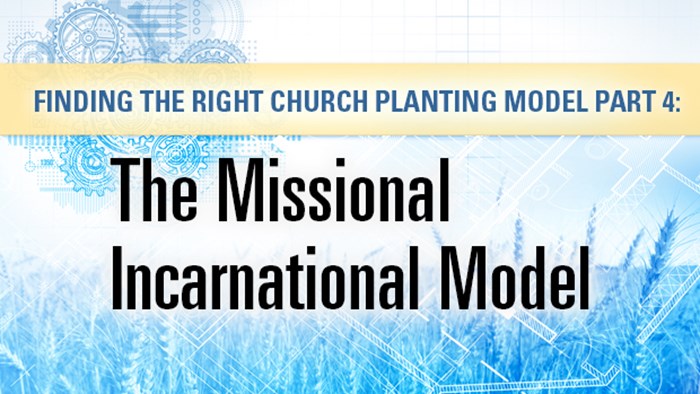 When it comes to alternative church-planting models, there are two main ones. In the next two posts I will cover both of them. First, I will cover the Missional Incarnational approach.
Now, some caveats are needed. I think that all churches should be missional. And, I think that believers should represent Jesus in incarnational ways.
The truth about the Missional Incarnational model is that it comes in all different shapes and sizes. Why? Because it seems everyone wants to be missional—thanks in large part to Princeton theologian and missologist Darrell Guder and those like him. As evidence of the variety within in this model, Craig Van Gelder wrote a book mapping out all the different missional branches.
The truth about the Missional Incarnational model is that it comes in all different shapes and sizes.
I would classify at least branches of the missional church planting approach.
First, there are some church plants that you could classify as "Traditional" missional churches. By traditional, I mean there will be some form of organization and discipleship programming, as well as some form of structured church governance.
While I have implemented elements of the Launch Large model, this is where I would classify some of my ministry efforts. Tim Keller's Redeemer Presbyterian Church in New York City and Daniel Montgomery's Sojourn Church in Louisville could also be classified this way.
But, my point in this approach is those who church plants are primarily focused on missional ministry done in incarnational (and more organic) ways.
Practitioners like Alan Hirsch and Michael Frost could be placed within this category. In addition, Hugh Halter pastor of Adullam Community in Denver and author of Tangible Kingdom, are other examples.
Most of those churches are similar that traditional missional churches, but tend to be smaller, more communal, etc.
And, of course, even this have degrees and some eschew structure to the point where they are missional incarnational "communities." Although many in the previous subset also use "community" language, I have in mind movements like the New Monasticism here—where people share meals, housing, etc., while on mission.
Main Elements of Missional Incarnational Church Plants
While there may be a few strains of Missional Incarnational church plant models, they all still have some main components and elements in common.
1. They desire to incarnate in the community. Holding John 1:14 as their banner verse, Missional Incarnational church plants seek to be present in the everyday rhythms of the community.
2. They are highly relational. Looking to the early church and seeing how they had "favor with all the people" (Acts 2:47), Missional Incarnational proponents seek to build bridges to the community's people, businesses, and organizations, as well as the local government.
3. They engage in a holistic mission. They seek to be a blessing to the city or community in which they are planted. Thus they embrace a spiritual, social, and cultural mission.
4. They disciple their way into a church. By becoming part of the ebb and flow of the community, serving and loving the community, and establishing relationships with the people of the community, Missional Incarnational church plants may have people "belong" to the community before they "become" a follower; but in doing so Missional Incarnational plants disciple themselves into being a church.
Challenges
Approaching the city, community, and people in the ways described above and embracing such a holistic mission, Missional Incarnational church plants are more conducive in urban, post-Christian environments. However, these contexts also lend to slow or gradual growth rather than the quick and steady growth of the Launch Large Model.
As a result, those who would choose to go the Missional Incarnational route may want to think or rethink their funding strategy. In many cases, while funding may be raised through a denomination, network, or mother church, choosing a bi-vocation or tent-making skill may be in the best interest of a Missional Incarnational planter.
Strengths, Weaknesses, and Reproducibility of Missional Incarnational Plants
The Missional Incarnational model has many strengths and is one I resonate with deeply. However, if we are going to evaluate models, we need to do that here as well.
Missional Incarnational churches are relational and authentic, with both an internal and external community orientation. In addition, they embrace a holistic mission, which in my opinion is correct. Furthermore, given their love for relationships, authenticity, community, and biblical (missional) holism, they do discipleship really well.
Along with the strengths associated with the Missional Incarnational model, there are a few weaknesses. First, some Missional Incarnational people are reactionary against the established church. Either through railing against or denigration, they vocally attempt to distant themselves from the established church.
Second, some Missional Incarnational practitioners have an unbalanced mission where they value demonstration (or service) over proclamation.
Third, some Missional Incarnational practitioners have loosened their grip on solid, sound orthodoxy. Given their high view of relationships, context, and community, some allow the context and community to craft their theology or interpretation of Scripture rather than allowing the Scripture to speak for itself and to speak into the community and context.
As such, the Missional Incarnational model—given that it too comes in various shapes, sizes, and features, in addition to its focus on relationships, community, and missional holism—should and does appeal to many planters desiring to impact urban, post-Christian areas.
Over time, I believe this "alternative" model (to the Launch Large option) may very well become (and is becoming) more and more prominent.
Further Resources
The Exchange is a part of CT's Blog Forum. Support the work of CT. Subscribe and get one year free.
The views of the blogger do not necessarily reflect those of Christianity Today.