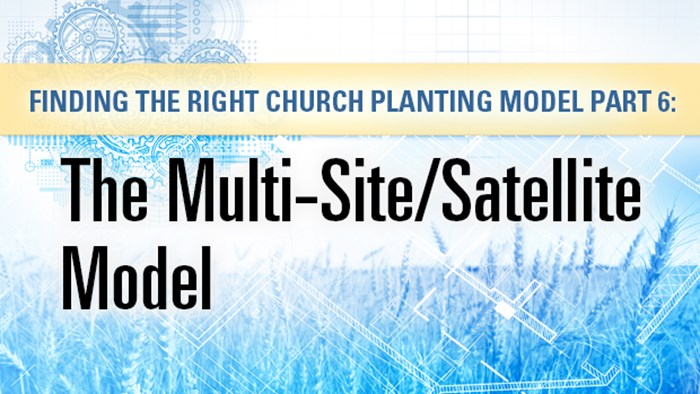 In this series on church planting models, I've focused on church planting approaches that create autonomous churches. That's my bias—I prefer planting churches, and starting campuses is not the same as starting churches. There are missiological, theological, and historic reasons for that, and not enough time to address them all here.
I've been in favor of starting new sites, but have separated that from church planting. I still do, theologically, but I think that practically these approaches have much in common, particularly the Large Launch and Multi-Site, that we should include them in the list of models.
So, now we are talking about planting churches and planting campuses.
The Multi-Site Satellite model is an emerging model. According Multi-Site Solutions—founded by Mr. Multi-Site himself, Jim Tomberlin—15% of Protestant church goers attend a multi-site church (though that does not mean they are AT a site). Many well-known pastors such as Andy Stanley, Billy Hybels, Perry Noble, Tim Keller, Matt Chandler, Mark Jobe, Darrin Patrick, and J.D. Greear, utilize this model. I pastor at Grace Church and teach regularly at Christ Fellowship—and both are multi-site.
Although there are many churches that implement a Multi-Site/Satellite model (over 5,000—many of them not being classified as mega-churches), there are still those who disagree with its practice. So, it's not without critics, but it has also become a new normal.
Main Elements of a Multi-Site/Satellite Model
A campus plant tends to be better resourced them most church plants—they are often connected to the main, or mother, campus. Given their connection—their shared mission, vision, structure, strategy, and budget—the satellite campuses may have many, if not all, of the features of the main campus. This is why many multi-site churches embrace the motto, "One church in multiple locations."
Many multi-site churches embrace the motto, "One church in multiple locations."
Why Implement a Multi-Site/Satellite Model?
There are many reasons why churches and practitioners utilize the Multi-Site/Satellite model. First, many, like Tomberlin, insist it is less expensive to duplicate a campus than it is to plant an autonomous church.
I'm not 100% sure I am with Tomberlin, but he may have a point. I'm just not sure. I am sure, however, that if churches were as involved and committed with their church plants as they are with their campuses, church plants would be doing much better.
Second, churches implement a Multi-Site/Satellite model to extend their reach (their mission and vision) into a geographical area. In many cases, the geographical area they intend to reach is filled with people who already attend the main campus. This leads to the third reason, which is that satellite campuses typically come with a built-in launch team who do not have to learn another mission, vision, or structure.
Fourth, the days of building a large worship center that can house all attendees in a single service have basically ended. There are many reasons for this, but one reason is the growth of the Multi-site/Satellite model. Many are finding this model— compared to building larger facilities—more prudent, fiscally wiser, and more sustainable over the long-run.
Fifth, some churches employ a Multi-Site model to revitalize or replant a declining or dying church. For instance, New Life Community Church in Chicago, IL, under the leadership of Mark Jobe, uses this model to bring dying churches back to life. For many dying churches this is a sound, but (often) costly strategy.
Strengths and Potential Drawbacks to the Multi-Site/Satellite Model
Just like all approaches, the Multi-Site/Satellite model has both positive and negatives. The many strengths of the model can be found in the reasoning for its implementation. But there are two main strengths to which I would specifically like to point.
First, the multi-site campuses are well resourced—fiscally, organizationally, structurally, and professionally—for they are connected to the main campus. This connection strengthens the campuses' foundation. Secondly, multi-site and satellite campuses can be a great incubator for developing new and young leaders.
Some churches employ a Multi-Site model to revitalize or replant a declining or dying church.
One of the drawbacks is the church and the multi-site campuses can be built around a personality (especially if he is the lead teaching pastor for all the campuses). When this is the case, the church suffers when the personality is gone.
Another drawback, according to some, is this model "McDonaldizes" the church. It can be a cookie-cutter approach appealing to the consumeristic and entertainment-driven culture.
I've expressed some of that concern myself (and Geoff Surratt responded) and we've done some research on video venues, just one type of mulitsite approach, and then had a pro and con discussion of the issue.
Conclusion
In this series, I have attempted to present some basic information on each model. To help think about the various church-planting models. Obviously, I haven't been able to be in-depth. But hopefully, it has been informative—providing the basic components and elements, strengths and weaknesses, and practitioners and proponents of each model so that if you are planting or desiring to plant you can see where God is calling you.
Once again, we must be reminded that models are tools. Therefore, we should not allow the model to become the main thing, but a tool for us to use in order to bring glory and honor to King Jesus as we advance His mission of sharing and showing the gospel to the nations.
In each post, I've included resources at the bottom. READ THEM if you are going to plant a church or a campus! Practitioners are always better than analysts when it comes to church planting.
The Exchange is a part of CT's Blog Forum. Support the work of CT. Subscribe and get one year free.
The views of the blogger do not necessarily reflect those of Christianity Today.