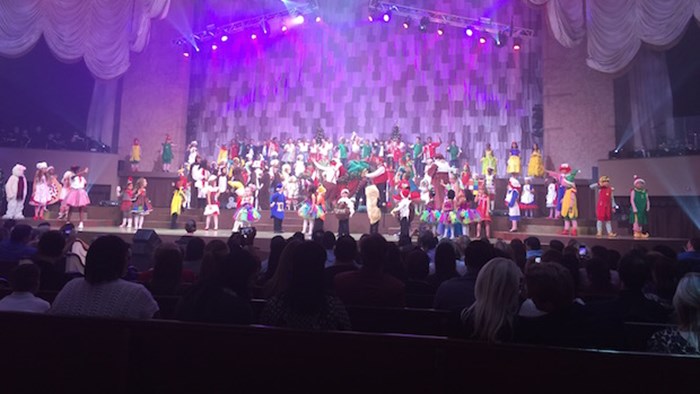 So, I've never actually been a a real Christmas pageant. By "real" I mean one where my kids were not dressed as sheep or something. (Those are awesome, but of a different variety!
Anyway, when I was recently in Fort Lauderdale, I was by an invitation to one of the more famous of these pageants— the Fort Lauderdale Christmas Pageant.
So, for a Saturday blog post, I thought I'd share a bit of it with you.
It was opening night, so For King and Country opened.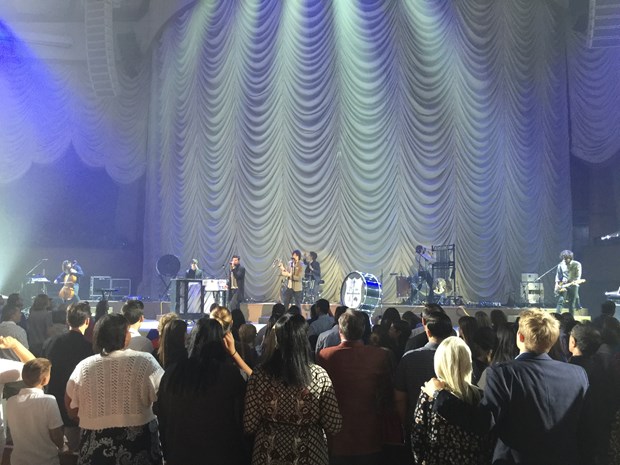 And, there was, shall we say, lots of energy.
But, if you've never been to one of these pageants, it's almost a cultural phenomenon.
First, they do a lot of shows and they sell them all out. We had 3000 people in the room to watch the program. It started with a "holiday" theme, rather than a distinctly Christian Christmas story.
There are dancers and singers.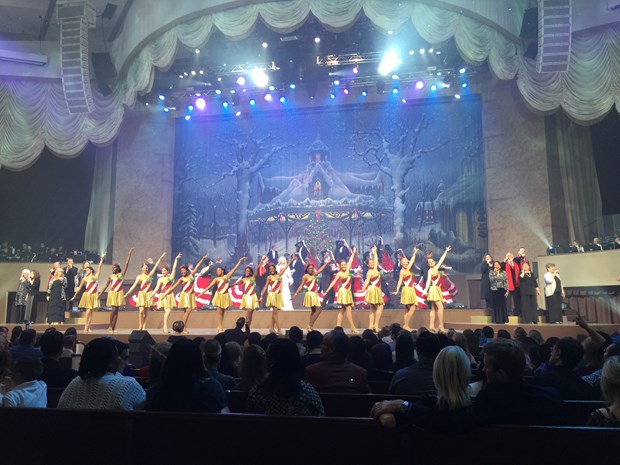 And toys and games.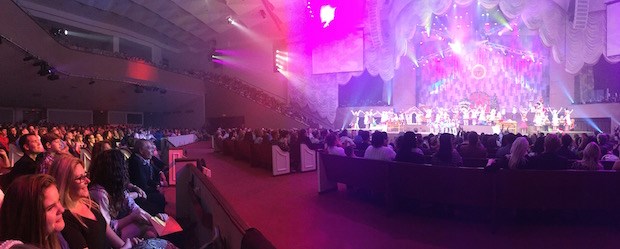 (That's my family smiling in the front—and the pastor, Larry Thompson, leaning forward).
The church goes all out.
Santa comes in riding in an old car.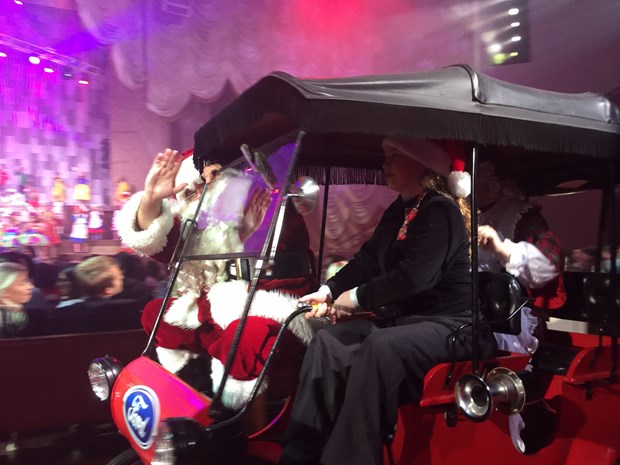 They sang.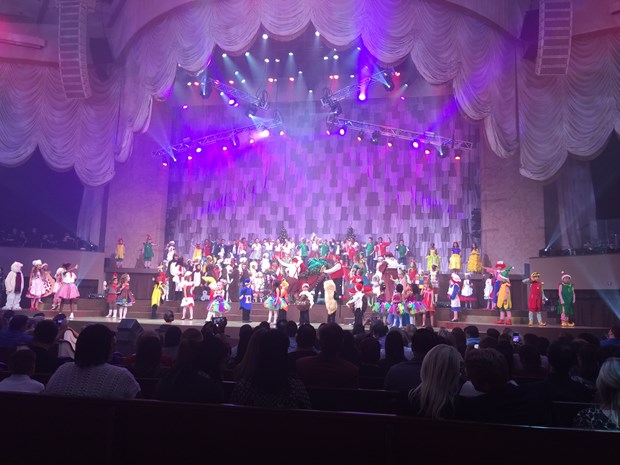 And sang more.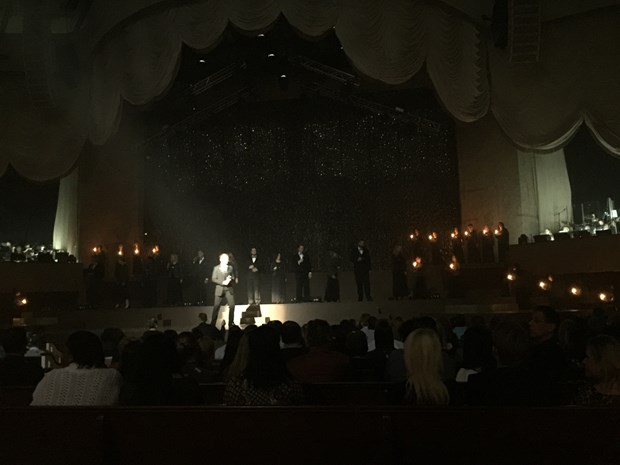 And, that's a choir and an orchestra (the orchestra is up in the wings):
And, while they were singing, angels were flying. It was truly a remarkable perfomance.
Like a church play crossed with Cirque du Soleil.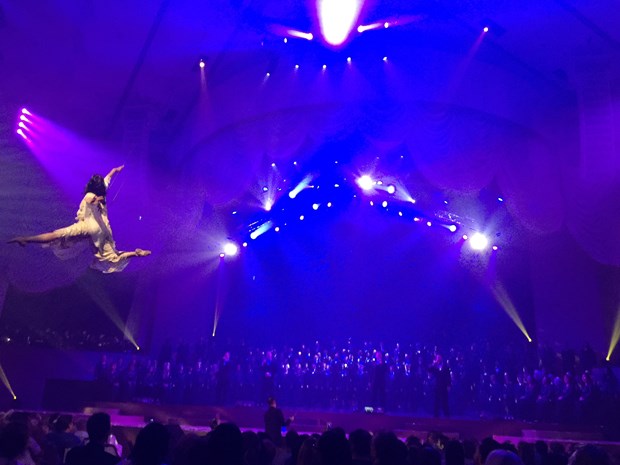 It ends with a distinctly Christian message.
This scene was particularly powerful, I thought.
I like that the pageant isn't only focused on the birth of Jesus.
A powerful depiction of the resurrection here.
"He's alive!"
The performance nears the end in joyous form.
So, what are we to think of these things?
Well, first, I was intrigued by the comments on my Facebook page.
For some, their immediate response was, "Think of how many missionaries could be sent" or "People are starving and we are doing this."
I actually get their concern. Attractional ministry can be costly, not just in dollars but also in energy. Pastors who do these things tell me that it is THE ministry of the church for months.
But, I was also intrigued by the reaction of my artistic daughter, who loved the vocal engagement and the arts as well.
First, it reminded me that the church had once been the main sponsor of the arts. And people went to church to see art in the windows, the music, and yes, the pageants. It's important for Christians to engage in the arts and display the beauty of the gospel and the goodness of God in the arts.
Second, I did think of the evangelistic impact. The pastor, Larry Thompson, was quite clear on the gospel and invited people to respond—and, after hearing "He's alive," people sure did seem open. Larry tells me they have many conversions each year, which is encouraging. Don't see the pictures and videos above as some sort of gigantic entertainment time and money hog. They put on this show each year with a missional mindset, which is important.
Third, I thought, "I wouldn't do this at my church, but I sure did enjoy the church that did." It did not really fit who we are at our church (and we are also not that big), but I also am thankful that some churches do think this is something God has called them to do. I might go a different way, but I'm glad they are just responding to the leadership of God in their lives.
They say on their webpage:
Each year we are truly honored and humbled that we have the privilege of portraying the timeless truths illustrated in the life of Jesus. The promise of two thousand years ago is realized again each time we tell the Christmas story. As morning rises over Bethlehem, a new hope arises in our hearts. Today, we celebrate that hope with you.
My family was blessed to be there.
This pageant airs on PBS across the country, if you'd like to watch it. It's been nominated for four Emmys—and won two!
You can find more at http://www.christmastickets.com/.
The Exchange is a part of CT's Blog Forum. Support the work of CT. Subscribe and get one year free.
The views of the blogger do not necessarily reflect those of Christianity Today.