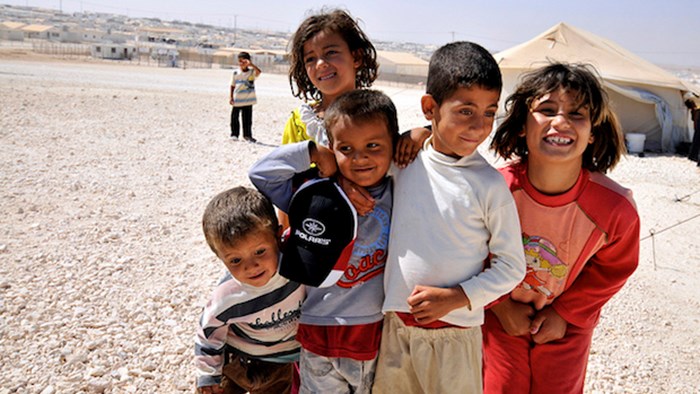 As I have been processing my response to the crisis of people on the move, I've had a family on my mind. And the more I have thought about them, I realize that understanding their journey is the key to defining our response as the Global Church.
The story of their dangerous travels across deserts, along borders, and through cities is well known to many of you. I try to imagine the bags they hurriedly packed in the middle of the night to get out of town. The glances back at their home as they fled . . . danger behind and danger ahead.
Would they ever return to their home? What would their reception be like in a foreign place? Could they raise a family there?
Like I said, you have heard this family's story. No, it isn't a recent Syrian family walking through Europe or a Libyan family bobbing in the Mediterranean. It isn't even a Latino family making their way across the Sonoran deserts of Mexico.
I'm thinking of Joseph and Mary of Nazareth with little Jesus in tow. Why were they fleeing? Their plight came on the heels of the Christmas miracle which quickly turned into an unimaginable disaster. One day kings were bowing down to their little one and the next day a different king sent troops to kill that child with a viciousness comparable to what we have recently seen from groups like ISIS. Joseph and Mary wanted what so many on the roads of this planet today are searching for; safety and a better life for their child.
Why did God allow His son to live as a refugee? And what should our response be to this supernatural identification God has with those who have fled their homes?
First we should ask, "What purpose did it serve for the Son of God to be a foreigner . . . a stranger . . . an unwanted resident . . . an untrusted imposition?" In Hebrews 4:14-16 we see God's thinking, "Now that we know what we have—Jesus, this great High Priest with ready access to God—let's not let it slip through our fingers. We don't have a priest who is out of touch with our reality. He's been through weakness and testing, experienced it all—all but the sin. So let's walk right up to him and get what he is so ready to give. Take the mercy, accept the help." (The Message, emphasis mine)
I love how Peterson's paraphrase captures the grit of Jesus' experience. He suffered all that the refugees from Syria, Afghanistan, Myanmar, Haiti, and countless other corners of the world are facing. God had Him experience it all so Jesus could offer REAL help to the hundreds of millions of refugees who have walked this earth since Jesus left it.
But how does Jesus offer real help today? That is answered by Paul's passionate words in 2 Corinthians 5:20 where he labels us "Christ's ambassadors" (NIV). With those simple words, the Church was commissioned to take Jesus' mercy and help to those who need it most. We are the ambassadors charged with presenting the refugees of the world with a Savior who has walked in their shoes and is ready to offer them mercy and help.
But is your heart ready to help? Patrick Johnstone, founder of Operation World, says it so well, "When people face difficult new challenges, we don't always respond in the best way right away. We often let fear overcome love." Does that describe your experience?
God generously provides you with the faith necessary to boldly embrace the refugee.
If so, I believe 3 simple words can transform your ability to provide real help:
Facts: Even though you haven't experienced their situation, you can become familiar with what refugees are going through and the realities of their situations. Imagine over 60 million refugees on the move today. While many are traveling internationally, over 38 million are displaced within their country. And half of all refugees actually live in urban settings – not the dusty camps you see on TV. These are just a few of the facts that God can use to help you empathize.
Fear: If you listen carefully to what people are saying, it doesn't take long to hear them express fear and anger about "them." You may have that same fear. If so be honest, but then remind yourself that you, like most people, should see yourself as the child of immigrants who moved to create a better life. The immigrants aren't them. They're us, perhaps a generation or two removed. Recognize that the fear is one based on a lack of faith in the God who promises to provide for all our needs as we are on mission as His ambassadors. Then release the fear and grab hold of faith!
Faith: Armed with the facts and having conquered your fears, God generously provides you with the faith necessary to boldly embrace the refugee. Now you are positioned to "download" the empathy Christ gained as a Middle Eastern refugee and represent Him as an ambassador. You can now reach out with compassion and courage to proclaim to them, "Take the mercy, accept the help."
If you are ready to reach out, Patrick Johnstone and author Dean Merrill's new resource Facts, Fears and Faith in a Migrant Crisis will help prepare your heart to proclaim the love of Christ to the refugee.
The Exchange is a part of CT's Blog Forum. Support the work of CT. Subscribe and get one year free.
The views of the blogger do not necessarily reflect those of Christianity Today.