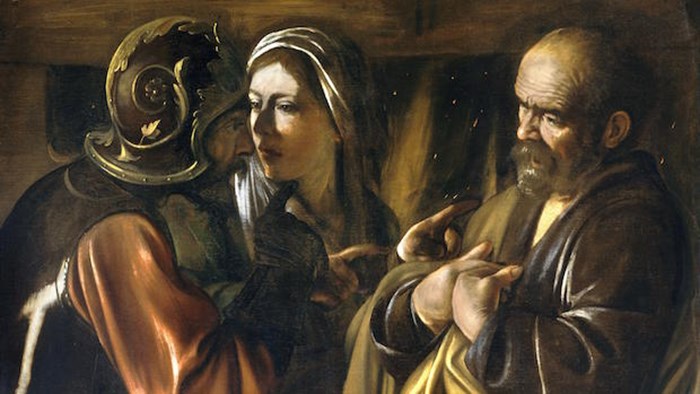 Image: Caravaggio
To help clarify, challenge, and encourage church leaders (and their churches) towards missional effectiveness, it may be helpful to consider three modes of mission as embodied by the Petrine Mission (1 Peter 2:9–12), the Johannine Mission (John 20:21), and the Pauline Mission (the life of Paul). In doing so, we can discern that a missional people, embodying "sentness," are on a mission of multiplication.
The reality of these modes is that an in-depth study of each would reveal elements of one another. However, below I intend to stress the major foci of each in an effort to build a visual of the enactment of the message and movement of mission, which results in missional effectiveness.
Petrine Mission—A Missional People
When God saves people, he doesn't save them only from their sins and themselves, but also saves them to himself and tohis people. For instance, when God called out Abraham, it wasn't merely for Abraham, but also for the people who would descend from him. Thus, God's mission includes forming a people for his glory and his purposes. In the New Testament, the Petrine mode of mission establishes "community" as a missional impulse, for it emphasizes that God's mission involves God forming a people, or a community, for himself.
The basis for the Petrine mode of mission is found in 1 Peter 2:9–12, where Peter writes,
[Y]ou are a chosen race, a royal priesthood, a holy nation, a people for His possession, so that you may proclaim the praises of the One who called you out of darkness into His marvelous light. Once you were not a people, but now you are God's people. . . .Conduct yourselves honorably among the Gentiles, so that in a case where they speak against you as those who do what is evil, they will, by observing your good works, glorify God on the day of visitation.
In this passage, Peter draws from Exodus 19, where God established his covenant with Israel. According to Christopher Wright, the covenant God established with Israel was a missional covenant, which made Israel a missional community (2006, 324-340). Given that Peter connects the Church with
Israel, the New Testament missional "community" should also be a community that (1) exists for God and for the good of the world, (2) is shaped by the gospel, and (3) serves as a centripetal "attractional" force by which God draws people to himself.
1. A missional community exists for God and for the good of the world.
Peter uses the term "possession" to communicate the idea that the Church doesn't exist for itself, but for the very one who brought it into existence. Just as Israel was a people created by God and for God, so too is the Church. Just as Israel had a High Priest who functioned as priestly head and entered the Holy of Holies, we have a High Priest in Jesus who functions as head of his Church.
In addition, Peter uses the term "priesthood," which speaks of the Church as a community living in the presence of God and mediating between God and the world. Just as Israel was to be a people standing in the presence of God, reflecting his glorious light, and being a mediator for the nations living in darkness (Beale 2004, 115), so too is the Church.
2. A missional community is shaped by the gospel.
Peter describes the Church as a "holy nation" that "proclaims the praises of the one who called you out of darkness into his marvelous light." In other words, the Church is to be a "community" marked by Jesus' life and way. Jesus saves his people; Jesus sanctifies his people.
It seems that longing for the word (1 Pet. 2:2) and coming to Jesus (1 Pet. 2:4) are prerequisites for the "community" of God to be holy. If so, the community is shaped by the gospel. Therefore, the Petrine mode of mission seems to call for a gospel-centered community. This means everything about the community—including its structure, strategy, ministries, programs, and processes—should center on Jesus and his word.
3. A missional community should be "attractional."
As the Church exists for God and for the good of the world, and is shaped by the gospel, God uses us as an "attractional" mechanism to draw others to himself. Peter shares that by observing our good works, those far from God will come to glorify him. Thus, as the Church embodies and enacts the life of God, we become an "attractive sign" to a watching world (see Goheen 2011, 25).
The church in Jerusalem exemplifies the Petrine mode of mission. When Luke describes the early church in Jerusalem, he reveals that they were strong in unity, togetherness, and service to those inside and outside the fellowship (Acts 2:42–47) as a result of their gospel transformation. Because of this, they attracted (drew in) many Jews to their faith family. In addition, they had many leaders who sought to protect the integrity of the ministry and mission (Acts 4, 5, 6, 7, 15) as well as add structures to enhance ministry and community effectiveness (Act 6:1–7). In short, the church in Jerusalem excelled as a faith community in its locale.
In each mode of mission, however, there can be unintentional and unhelpful consequences. Although space does not allow exploring the downsides of each mode, perhaps one example can be illustrative to the broader challenge. For example, there were some in the church in Jerusalem—including Peter (Gal. 2)—who had difficulty crossing cultural, ethnic, and racial boundaries. In fact, some struggled theologically and practically with a multiethnic, multicultural church (Acts 15:1–35; Gal. 2:11–14). Many wanted to cling to their Jewish traditions and practices (e.g. circumcision) and teach Gentiles that in order to be fully part of the faith community they needed to do likewise.
In short, they didn't stop at being a community focused on protecting and preserving the integrity of the gospel; instead, they moved towards self-protection and preservation by creating a [syncretistic] church culture—blending aspects of Judaism with Jesus. Eventually, the syncretistic church of Judaism and Christianity became known as the Ebionites (Jewish Christians) (see Stetzer 2002).
Using a more contemporary description, a key lesson in the Petrine mode of mission is to build a gospel-centered community, but one that is able to discern when gospel-centered ministry and mission become self-centered ministry and mission. On the one hand, it's perfectly normal (and actually necessary) to preserve and protect the church as it relates to contending for the gospel and advancing the mission; however, it's counterproductive to preserve and protect those things that prohibit the faith community from being on mission in ways and places God has called them.
In short, the Petrine mode of mission, community, speaks of a missional people. Thus, churches must be intentional about teaching their people that church, or "coming to church," isn't about them consuming elements from a religious vending machine, but about being conformed into the people of God, for his glory and the good of the world. In doing so, God uses his missional people as an eschatological movie trailer that draws people into being part of his story—to being part of his people.
The Exchange is a part of CT's Blog Forum. Support the work of CT. Subscribe and get one year free.
The views of the blogger do not necessarily reflect those of Christianity Today.