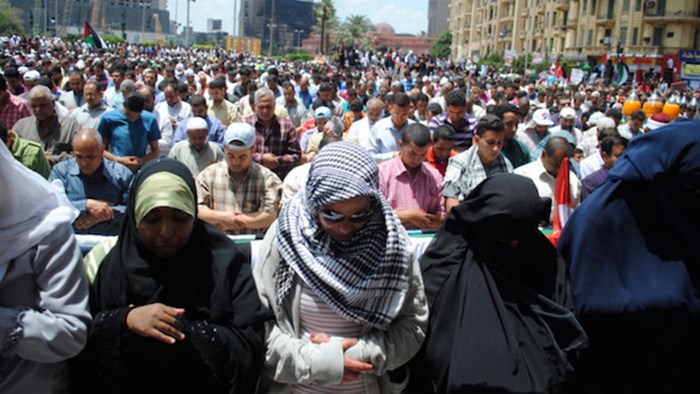 Image: Lilian Wagdy / Wikipedia
Yesterday, LifeWay Research released new data on how Americans and American protestant pastors view Islam in light of ISIS. USA TODAY ran a story with our data. Here's a brief excerpt:
More than a quarter of Americans and nearly half of senior Protestant pastors say the Islamic State terrorist group offers a true representation of Islamic society, according to a pair of new surveys by LifeWay Research.

The findings that indicate many Americans have a dim outlook on Islam come as President Obama sent a formal request to Congress on Wednesday to authorize the use of military force to combat the Islamic State. Meanwhile, police in North Carolina tried to determine whether the shooting deaths of three Muslim students were hate-motivated.
Forty-five percent of 1,000 senior Protestant pastors surveyed say the Islamic State, also known as ISIL or ISIS, "gives a true indication of what an Islamic society looks like." Forty-seven percent disagreed with the statement, according to LifeWay, a Nashville-based, non-profit Christian research group. LifeWay surveyed only clergy who identified themselves as the top pastoral officials in their organizations.

The pastors had a much darker view of Islam than Americans at large. In contrast, in the second survey, 27% of Americans say the Islamic State reflects the true nature of Islamic society.

The findings of LifeWay's twin surveys were shared with USA TODAY before their scheduled publication Thursday.

"People are increasingly antagonistic, and religious leaders are particularly antagonistic towards Islam, and perhaps what people are seeing nightly on TV news is driving this," said Ed Stetzer, executive director of LifeWay Research. "They think about it and say, 'I see this every night. I don't want this here.' "
The LifeWay Research data revealed some interesting views of both American pastors and the broader American populus. Here is a brief excerpt of Bob Smietana's story:
As President Obama seeks to ramp up military action against the terrorist group known as ISIS, Americans remain uneasy over the place of Islam in the United States and in the world.

More than a third (37 percent) say they are worried about Sharia law—an Islamic legal and moral code—being applied in America.

One in 4 (27 percent) believe the terrorist group ISIS reflects the true nature of Islam, while 4 in 10 (43 percent) believe Islam can create a peaceful society.

And most Protestant senior pastors (76 percent) say they support military action against ISIS.

....

"Now let's make two things clear," the president said in a Sept. 10, 2014 address to the nation. "ISIL is not Islamic. No religion condones the killing of innocents. And the vast majority of ISIL's victims have been Muslim."

Few Americans accept that view.
Here are some of the key stats that came out of our research:
48% of Americans disagree with President Obama's statement that "ISIS is not Islamic."
27% of Americans agree with this statement: "ISIS is a true indication of what Islam looks like when Islam controls a society."
76% of American protestant pastors agree that "Air strikes against ISIS are needed to protect Christians in Syria and Iraq."
61% of American protestant pastors disagree that "True Islam creates a peaceful society," while 43% of Americans think true Islam does create a peaceful society.
37% of Americans are worried about Sharia law being applied in the United States.
Here are three key graphs indicating the views of Americans: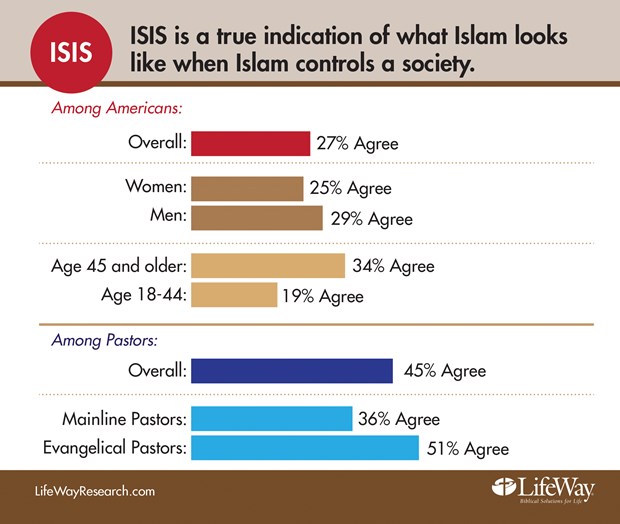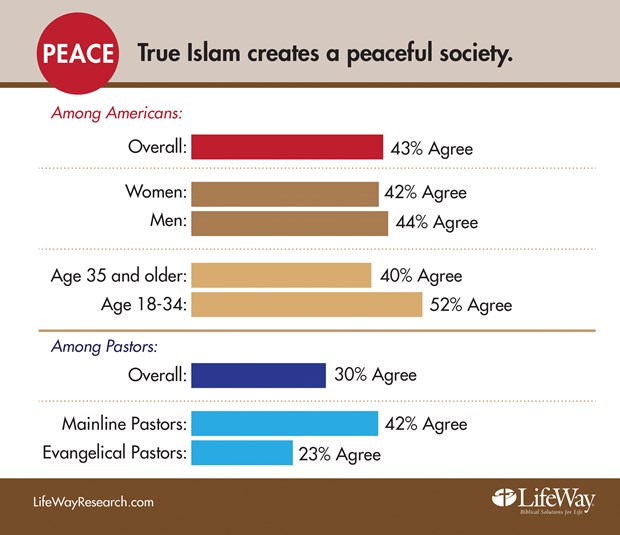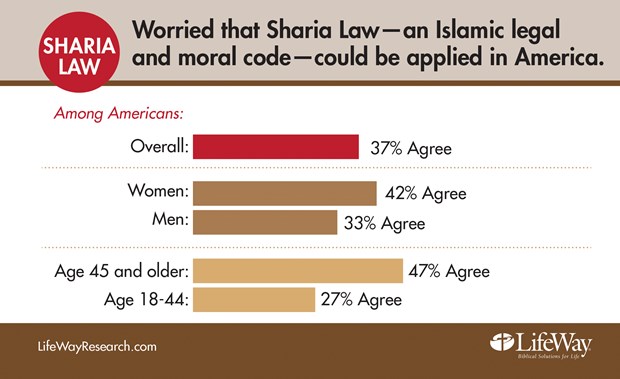 In full disclosure, in 2013 I wrote a column for USA TODAY entitled, "Loving all our neighbors, even our Muslim ones," and it seems as though we need to keep hearing this.
Here is a bit of what I wrote:
Watching the evening news, you might conclude that evangelicals are hate-filled bigots constantly making vitriolic statements and saying crazy things about hurricanes being caused by immorality. Why? Because, evangelicals are often depicted in news reports as angry people who say crazy things. Often, neither the journalists nor those who read or hear their reports know many evangelicals personally. As such, they connect with what they see on television, rather than reality. That, too, is intellectually lazy.
The same is true of Muslims, Hispanics, Mormons, homosexuals, union members, and any group of people with whom we are not personally familiar. Our lack of personal knowledge and experience, coupled with our unwillingness to learn more, leads us to jump to conclusions that are, more often than not, wrong. We believe it is true because we have seen it on television or read it on the Internet.

....

Don't be so lazy to assume that the worst of a group represents the entire group. They hardly ever do. Perhaps a better idea is to meet them, learn about them and treat them as your neighbor.
My prayer is that, despite our differences on the most foundational issues of faith, we can love and engage our Muslim neighbors.
The Exchange is a part of CT's Blog Forum. Support the work of CT. Subscribe and get one year free.
The views of the blogger do not necessarily reflect those of Christianity Today.