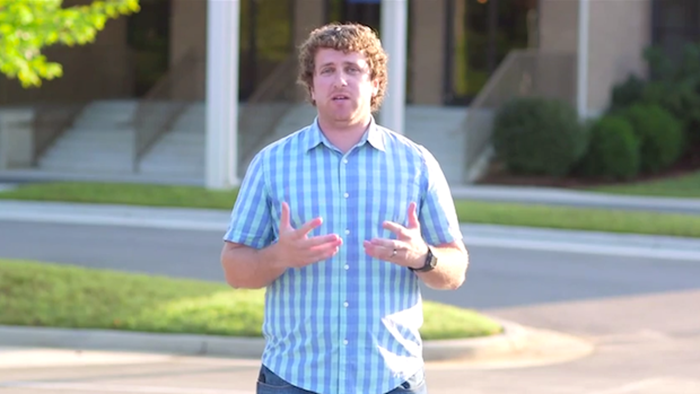 It is safe to say that most churches want their kids and students to learn the Bible. But in reality, as you'll often hear The Gospel Project team say, it is possible to teach Bible stories without ever teaching the Bible story.
In other words, it is possible to teach the Bible in a way that is not distinctively Christian.
There are many too many approaches to teaching the Bible that teach people values, virtues, and behavior—and that's it.
It is possible to teach Bible stories without ever teaching the Bible story.
That should disturb us.
The Bible is Not a Book or Virtues, but a Gospel Book
The simple fact is the Bible is not just a collection of stories with morals for life application; the Bible is the story of God's grace in redemption through Jesus Christ. There is a soul-endangering consequence in virtue-based Bible study material, centered on life principles or character qualities, and ripped away from the central focus of the Bible—Jesus Christ.
When I was a young pastor, some people in our church wanted us to get involved in Bill Gothard's "Basic Life Principles" teachings.
Gothard was well known in the '70s and '80s for his curriculum focused on virtue and godly principles. One of the many (emphasis on "the many") problems with Gothard's virtue development material was that it was driven by guilt, not by grace.
My theology was certainly not developed when I was in my early 20s, but I smelled something wrong.
In fact, if you were to turn to the index in Gothard's Advanced Seminar Textbook, you would find the definition of grace to be "Any active force within us giving us the desire and power to do things God's way" (356).
Sure, one of the implications of God's grace is that God's Spirit empowers us to live the Christian life. However, God's grace is about what God has done for us, not what we do for him.
This may seem like a subtle differentiation, but it can be deadly to your spiritual life. Legalism often masquerades as holiness and virtue, but it is compelled by a fear and not grace. Teaching that relies on guilt and fear does not produce lasting change.
That's true if you are going to a Bill Gothard seminar or teaching 9 year olds in church.
You see, the Bible is not a virtue book, and we should not teach it that way. It's a gospel book and it is from the gospel that these virtues flow.
The Bible is the story of God's grace in redemption through Jesus Christ.
Without Jesus, Virtues are the Goal and Become an Idol Competing with Christ
Christ-centered virtue is compelled through the love of God. Christian virtue is developed as a worshipful response to God's grace in Jesus Christ. Without Jesus, values and virtues are not Christian at all.
We cannot just teach people morals and behavior without pointing them to Jesus, the one who will transform their hearts and enable that obedience. If Jesus is not at the center of a Bible study resource, that resource is not distinctly Christian—it's just using the Bible as a book of virtues.
You see, without Jesus, virtues are the goal and not the outcome. Those virtues can and will become an idol—a competitor to the gospel itself.
It's easy to see that in the fruit of the Gothard movement—but I think we can also see it in the church as children learned virtue, but not Jesus—and then, as teenagers, they try to be good without a relationship with God.
And, trying to live like Jesus, outside of the power of Jesus, dishonors Jesus.
Moving the Pendulum Back to a Better Gospel Center
Christians have known this for centuries, so this is not new to us. However, it seems there is a pendulum swing. And, in our age, many people assumed the gospel and focused on the virtues, practical living, and more.
We think the pendulum swung too far. We are for virtue, but for virtue that is the fruit of the Spirit—the result of a life changed by the gospel. And that gospel cannot be assumed, but has to be taught.
So, because of this desire (and a desire for deeper engagement in theology and mission), we created The Gospel Project, a Bible study resource that invites adults, students, and kids of all ages to dive deeply into God's story of redemption through Jesus Christ. In every lesson, participants are immersed in the gospel and learn how apply the gospel to every area of life. You can actually download a full month of The Gospel Project to preview for free.
Without Jesus, values and virtues are not Christian at all.
The good news of Jesus Christ encourages values and virtues as a worshipful response to what God has done. The Spirit of God is what empowers the church to live on mission to proclaim and reflect the beauty of the gospel to a lost and broken world.
Virtues, values, and morality are intrinsically tied into the good news of Jesus Christ. As pastor Ryan Showalter says in this video, "One of the dangers of teaching people morality without rooting it in the gospel is that they will grow up to be legalists."
When we separate right behavior from right belief, we teach our people to, as Jesus said of the Pharisees, clean up their outside appearance without dealing with their internal filth (Luke 11:39).
The Exchange is a part of CT's Blog Forum. Support the work of CT. Subscribe and get one year free.
The views of the blogger do not necessarily reflect those of Christianity Today.