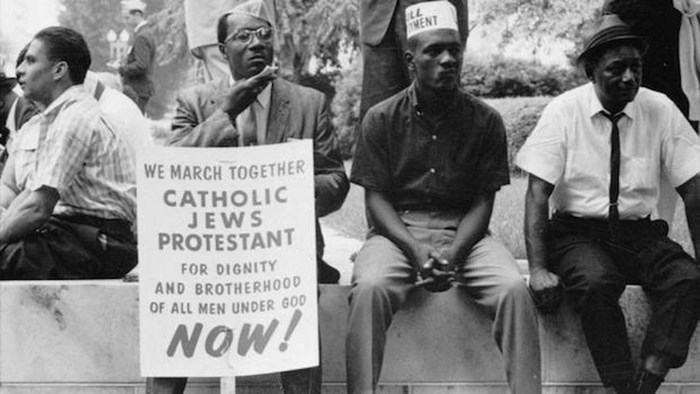 Image: Peter Pettus / Wikipedia
On January 15, 2015, Christianity Today published an article on its blog, Gleanings, entitled, "Sunday Morning Segregation: Most Worshipers Feel Their Church Has Enough Diversity." The article written by my friend, Bob Smietana, of Facts & Trends, cited recent findings of a study of church segregation by Nashville-based LifeWay Research, including these:
More than eight in ten congregations are made up of one predominant racial group;
Two-thirds of American churchgoers (sixty-seven percent) say their church is doing enough to become racially diverse;
More than half (fifty-three percent) disagree with the statement, "My church needs to become more ethnically diverse."
Such findings prompted Bob to write, "Sunday morning remains one of the most segregated hours in American life…and most worshipers think their church is fine the way it is." And he's right.
Yet there's another equally valid way to interpret the data, one that is much more promising and positive given the fact that twenty-five years ago, even fifteen years ago, very few were even asking the questions.
Think about it.
Based on this research, the flip side of the findings mentioned above are these:
Some fourteen percent of churches today have at least twenty percent ethnic diversity in their attending membership, a percentage that has doubled in the past ten years;
One-fourth of American churchgoers (now) say their church is not doing enough to become racially diverse;
Almost half (forty percent) agree with the statement, "My church needs to become more ethnically diverse."
To be clear I am not at all challenging the research or in any other way suggesting it's flawed. Rather, what I'd like to point out is just how far we've come in this regard, even while the current snapshot suggests we're not there yet.
A Brief History
With apologies to many individuals and organizations otherwise worthy of mention, here's a condensed history of the advance of local church diversity through the years as a concern and intended target for those seeking to present a credible message of God's love for all people in an increasingly diverse society.
1940s – InterVarsity Christian Fellowship begins to mobilize college students in North America for cross-cultural evangelism at home and abroad. The first Urbana convention is held in Toronto (1946). In time, InterVarsity Press will aggressively publish books promoting cross-cultural relationships, competence, and mission.
1950s – Billy Graham declares, "There is no scriptural basis for segregation," and Howard O. Jones, becomes the first black associate evangelist of the Billy Graham Evangelistic Association (1957).
1960s – Throughout the decade both Graham and Dr. Martin Luther King bemoan the fact that eleven o'clock on Sunday morning is the most segregated hour of the week, repeating an observation first made at the end of the nineteenth century. Circle Church is planted by David Mains in Chicago, IL. His book, Full Circle, is the first of its kind to proclaim a multiethnic vision for the local church, though not long after it was published the effort failed.
1970s – Pastors rejecting white flight, such as Jim Cymbala and "Coach" Wayne Gordon, establish ethnically diverse churches in urban neighborhoods.
1980s – John M. Perkins, building on twenty years of reconciliation work in Mendenhall, MS, establishes the Christian Community Development Association, promoting reconciliation, relocation, and redistribution. Former NFL linebacker, Ken Hutcherson, plants Antioch Bible Church in Seattle, WA, and becomes an outspoken proponent of local church diversity, as does Raleigh Washington who plants Rock of Our Salvation Church in Chicago, IL.
1990s – Promise Keepers (among other things) validates the message of reconciliation for millions of white Evangelicals. Pastors such as Pete Scazzero, David Anderson, Erwin McManus, Dave Gibbons, Soong-Chan Rah, Rodney Woo, and Ray Chang, plant or otherwise establish multiethnic churches, and other leaders like Brenda Salter McNeil call for change.
A few books on the subject are published including Breaking Down Walls (1994), Racial Equality in the Church and One New People (1996), and Where the Nations Meet (1998).
2000s – More Than Equals (2000) and Divided By Faith are published (2001). The latter is a seminal work, by Michael Emerson and Christian Smith, which documents and denounces systemic segregation in the local church and its impact on society. Many more pastors such as Mark DeYmaz, Eugene Cho, Efrem Smith, and Kevin Haah, plant multiethnic, justice seeking, communities of faith; while others like Dana Baker, Wayne Scmidt, Chris Beard, John Johnson, and Beau Hughes, help lead their homogenous churches to transition.
David Anderson launches BridgeLeader Network (2000) to help organizations increase multicultural effectiveness; George Yancey and Mark DeYmaz co-found the Mosaix Global Network (2004) to champion multiethnic church planting and development by connecting leaders, conferencing, and coaching. Christianity Today declares, "All Churches Should Be Multiracial" on its cover (2005).
Many more influential books are published including, United By Faith (2003), Multicultural Ministry (2004), A Mosaic of Believers and One Body One Spirit (2005), Reconciliation Blues (2006), Building a Healthy Multi-ethnic Church and Consuming Jesus (2007), The American Church in Crisis (2008), The Next Evangelicalism and The Color of Church (2009), to define the biblical theology, core commitments, common challenges, and best practices, of practical multiethnic and economically diverse local church ministry. Evangelical conferences, like Exponential, begin to offer workshops and pre-conference experiences focused on the subject.
2010s – The rising tides of socio-political injustice, changing demographics, and racial disparity in America, draw an increasing number of pastors, denominations, and networks, into the multiethnic church conversation. For three years Outreach magazine devotes an entire column to the subject (2010 – 2012); while front-page articles appear in the New York Times, USA Today, and the Washington Post, featuring changing attitudes and practice. Mosaix hosts its first national conference on the multiethnic church (2010) drawing 400 leaders from thirty-one states; similarly, 1,000 attend its next conference in 2013. Evangelical conferences begin to diversify their main stages; seminaries begin to offer graduate courses in the subject; and Leadership Network facilitates a two-year multiethnic church learning community for thirty pastors.
Other networks form, as well, to champion multiethnic church planting and development, including Rebuild and Kainos, while existing networks, like Acts 29, make becoming a "radically diverse crowd" a core value. Multiethnic church planting continues to rise and, increasingly, existing local churches transition from homogeneity.
More credible works are published including, Leading a Healthy Multi-ethnic Church and Many Colors (2010), Church Diversity (2011), The Post-Black and Post-White Church (2012), Bridging the Diversity Gap (2013), Disunity in Christ and Red, Brown, Yellow, Black and White – Who's More Precious In His Sight (2014). A new, younger, generation of like-minded pastors, church planters, academics, and writers, arises to embrace and validate the vision, their names too many to mention.
In Real Time
From this brief history, and in consideration of current realities, we should recognize that local church diversity is an idea whose time may not yet have arrived, but is now well established and here to stay. As I've tried to demonstrate, a forerunner stage (prior to 2000) has given way to the pioneer stage of a growing Movement that will again transition to an early adopter stage by 2020 - a time when it's believed that twenty percent of churches will have at least twenty percent diversity in their attending membership.
Even as I write a historic gathering is being planned for March at Gordon-Conwell Theological Seminary in Charlotte, NC. The two-day event, facilitated by Mosaix, will bring together key leadership from more than twenty denominations and networks to discuss future collaboration in an effort to advance multiethnic church planning and transition over the next ten years.
All such progress and influence, then, will continue to shape the attitudes of American churchgoers on this issue; and in time, I believe, ethnically diverse churches will become the standard and norm for those seeking to present a credible message of God's love for all people in an increasingly diverse society. As Chris Rice has written:
Yes, deep reconciliation will produce justice, and new relationships between the races. Yes this will lead Christians to become a bright light in the public square. But I have become convinced that God is not very interested in the church healing the race problem. I believe it is more true that God is using race to heal the church.
The Exchange is a part of CT's Blog Forum. Support the work of CT. Subscribe and get one year free.
The views of the blogger do not necessarily reflect those of Christianity Today.