Jul 21, 2015
Interview
Fighting Ebola for the Sake of the Gospel: The Story of Kent and Amber Brantly
Medical missionaries like Kent and Amber Brantly put hands and feet on the sacrificial love of the gospel. |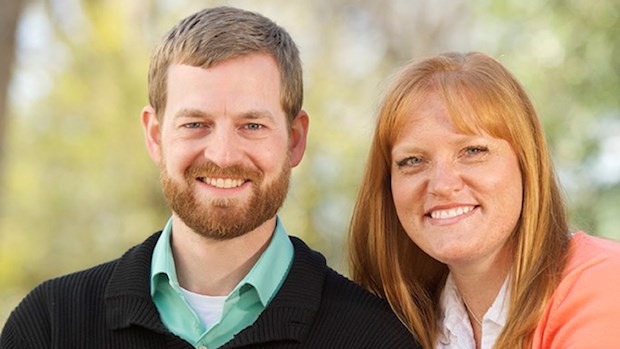 Earlier today on The Exchange, I talked with Dr. Kent and Amber Brantly. I asked them about their call, the challenges of serving and then leaving, their ministry, their thoughts about Ann Coulter's comments (calling him idiotic) and more.
You may not remember Kent, and that's OK, a lot has happened since he was the leading headline of every news station in the world less than a year ago and making the cover of TIME magazine as Person of the Year. In fact, I interviewed the family of Nancy Writebol shortly after she was released. Nancy was a nurse for Dr. Brantly as they worked together to serve the sick in Liberia.
Kent and Amber Brantly responded to God's call to the mission field in and left for Liberia in the fall of 2013 after Kent had finished medical school at Indiana University.
Kent first sense the call to the mission field while attending Abilene Christian University for his undergraduate degree. He writes of his calling in he and Amber's new book Called for Life:
While in East Africa [interning abroad], I began to sense my life calling. It wasn't for the type of mission work I was most familiar with, though, because growing up in church and hearing missionaries speak, what I'd heard them say most concerned preaching, teaching, and planting churches in foreign countries. I did not consider myself skilled to be a preacher or a teacher; getting up to speak in front of people was not in my comfort zone. But I dod know that I could show compassion to people in need.

....

While on that internship in East Africa, I thought about my abilities, interests, and experiences, and I decided I wanted to go to medical school so I could become a doctor and use those skills to serve people on the mission field. (page 35-36)
Last Friday, Kent wrote a piece for the Washington Post on the persisting problem of Ebola. The fight isn't over. He writes:
Crisis often generates a tension between fear and compassion. Much of the reaction to Ebola in the United States last year was evidence of fear trumping compassion. We saw public health policy being guided by fear rather than by the best available science. We observed sufferers of Ebola — and even healthy individuals who simply volunteered to fight the virus — being treated not like victims or heroes but criminals and threats to the public. These attitudes broke my heart, not just for the casualties of this public attitude but also for the public itself.

When we discriminate against those for whom we ought to have compassion, we lose our sense of empathy. We become callous, and our humanity is eroded. We too quickly give up on caring for people with a protracted need for help, leaving the defenseless to fend for themselves.

My wife, Amber, and I, along with our two children, recently returned to Liberia — where I contracted Ebola one year ago — to visit friends and colleagues. We had the opportunity to say thank you and to express our deep gratitude to the many who cared for me in my illness, who fasted and prayed for me in their churches and who took action in official capacities to allow a patient sick with Ebola to be evacuated across the Atlantic Ocean. Though too short, it was a meaningful reunion. Coming back to the place we called home for a little less than a year brought many memories: familiar faces, familiar scenery, the memorable finger-snap handshake common across that part of the world. But there were also unfamiliar experiences: chlorinated hand-washing stations outside every business, church and public building; fewer embraces than one might have expected for such a joyful reunion; the missing faces of those who fell prey to the savage predator of Ebola.
I'm thankful for men and women like Kent and Amber Brantly because they are the personification of sacrificial love. Obviously, the prototype, the hero of sacrificial love is Jesus Christ. The God-man gave his perfect life to pay for the life of wretched people like you and me so that we might experience the goodness and glory of God forever.
But people like Kent and Amber Brantly, and the thousands of missionaries in the world providing for the spiritual and physical needs of the weak and lowly, put hands and feet on the spiritual values we preach in our churches every week. This couple heeded the call of God on their lives to move thousands of miles away from everyone and everything they know to have compassion on the helpless and sick.
My hope is that the stories of faithful followers of Jesus like Kent and Amber Brantly, who travel across the world to live out the gospel's implications, inspire other Christians to travel across the street and share the gospel with their neighbors.
At the end of the book, Kent writes of a family gathering on December 28th of last year. This was the first opportunity he had to speak to all of his family in one place, and he made a short speech that he did not plan to make before. He writes of the gathering:
As I spoke from my heart and looked into the attentive faces around my parents' dining room, I could clearly sense that we all shared a deep emotion of gratitude to God. It was more than just gratitude for the outcome, that I was alive. We shared a sense of gratitude for how God had lovingly carried our family through our trial.

He had given us everything we needed to be faithful to him. (page 217)
Indeed. God is faithful, and he provides for the faithful.
Watch the interview with Dr. Kent and Amber Brantly below.
Thanks to Jon Wilke for arranging the interview and Chris Martin for putting this blog post together.
Support our work. Subscribe to CT and get one year free.