Happy Fourth of July weekend folks, my American readers!
Two hundred thirty-nine years ago tomorrow, Congress adopted the Declaration of Independence, nearly a month before it would eventually be signed. I hope you're having a fun weekend, getting to enjoy some time with family and friends.
As I explained in a post last year:
Christians are, in a sense, dual citizens-- of the Kingdom and of the nation where they live. I live in a country that is not without fault, but I am proud to be a citizen of that nation. I teach my children to be proud of their nation-- not unaware of its challenges-- and patriotic citizens.
Just this week, LifeWay Research released some new data on how Americans view their country and how God relates with it. Here's an excerpt from our report:
In a nation founded on religious liberty, most Americans believe God has a special relationship with the United States, and they're optimistic the best is yet to come.

Despite headlines lamenting the global decline of the United States since the Cold War, 54 percent of Americans believe the nation is on the upswing, according to a September survey by LifeWay Research. Only 4 in 10 think "America's best days are behind us."

And though the U.S. Constitution makes no mention of God, 53 percent of Americans say they believe God and the nation have a special relationship, a concept stretching back to Pilgrim days. Even a third of atheists, agnostics, and those with no religious preference believe America has a special relationship with God.

"'God Bless America' is more than a song or a prayer for many Americans," said Ed Stetzer, executive director of LifeWay Research. "It is a belief that God has blessed America beyond what is typical for nations throughout history. I am sure that would spawn many theological conversations, but it's important to note most Americans think God has a special relationship with their country."
Christianity Today reported on the data, and added additional research, in their article, "God and America: It's Complicated," explaining, "A third of Americans say the United States is a Christian nation. But more than half say the country has a special relationship with the Almighty."
Christianity Today also included a link to my post providing cautions about combining patriotism and worship, where I explained the importance of patriotism (and not just in the U.S.), but also cautioned, "If your church service was driven more by America than by Jesus, I think you need a change."
Here are a couple of the graphs depicting the major findings: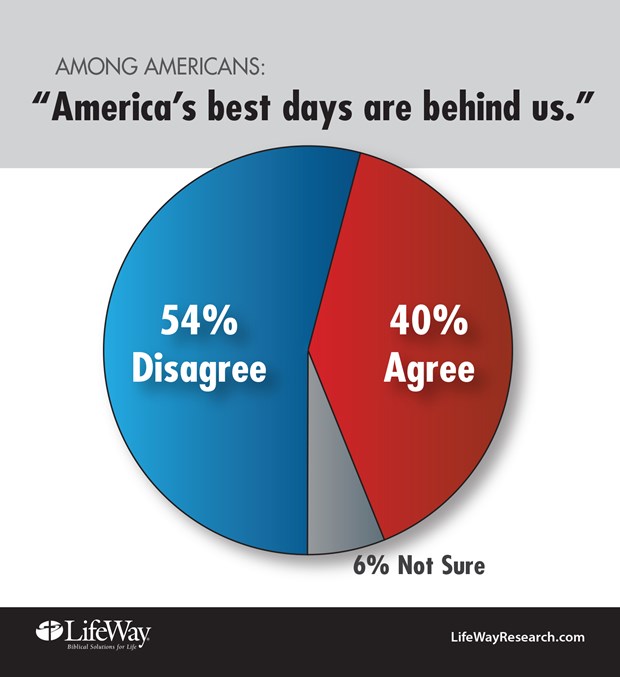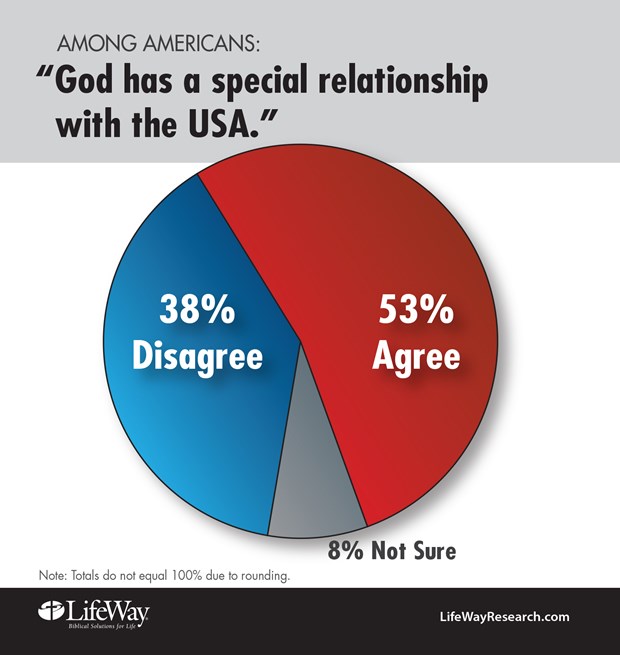 One of the most interesting parts of the survey was the gender divide among the views:
Women are significantly more likely than men to believe God has a special relationship with the United States. While 49 percent of men have that view, the number rises to 58 percent for women.

LifeWay Research also found differences by age, race, geography, education, and religious preference.

Nearly two-thirds (63 percent) of Americans 45-54 years old think God has a special relationship with the United States, a belief shared by 48 percent of those 18-44.

Belief in a special relationship is also high among:

African-Americans, at 62 percent, compared to whites at 51 percent. Southerners, at 59 percent, compared to 49 percent of Midwesterners and 50 percent of Westerners. Those with a high school degree or less, at 66 percent. For those with some college, the rate drops to 51 percent. It drops further to 40 percent of those with a bachelor's degree and 29 percent of those with a graduate degree.

Evangelical Christians are the most likely to believe in a special relationship, with 67 percent agreeing. Among evangelicals 45 and older, the share soars to 71 percent.

"Americans, particularly those in more religious segments or geography, are most likely to believe in this special relationship," Stetzer said. "But, considering the history of the nation, from Manifest Destiny to Ronald Reagan's 'City on a Hill' speech, it's not surprising this long-held theme continues today."
A lot of this, of course, is rooted in our sense of American exceptionalism. Here's a bit on that from our report, including a thought from me:
Both ends of the political spectrum—from President Obama to the Republican Party platform—have touted American exceptionalism, the belief that the United States plays a unique role in human history. For some, the concept includes the idea of a special relationship with God, although beliefs about the nature of the relationship vary.

"Some Christians view America as an archetype of biblical Israel, chosen and uniquely blessed by God," Stetzer said. "That's why Christians sometimes speak of God 'healing our land,' when most theologians say this American 'land' is not in the same category as the 'land' of biblical Israel."
What do you think? Is America exceptional? Does God have a special relationship with the United States? Comment below.
Click here to see the full research report.
The Exchange is a part of CT's Blog Forum. Support the work of CT. Subscribe and get one year free.
The views of the blogger do not necessarily reflect those of Christianity Today.