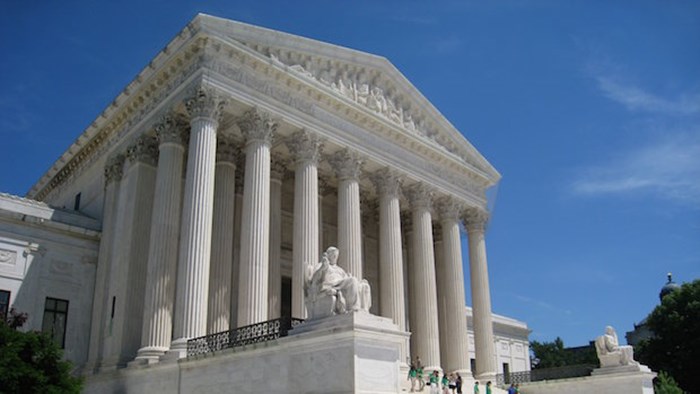 Image: Daderot / Wikipedia
Apocalypse Now?—Robert Tuttle & Ira Lupu
It's a tricky thing to know the right source for information on the legal implications of the recent Supreme Court ruling. Let's be fair, some of the best-known organizations raise funds by sounding the alarm about religious liberty. I'm not saying that they are wrong, and I should add, I am concerned about religion liberty issues.
However, I've had neighbors ask me if I'd be forced to do gay marriages now. One pastor in my area shouted he'd rather go to jail than do a same-sex wedding, even though any pastor can decline to do a wedding for any reason now. (He received a standing ovation.) Those are not the pressing issues.
Yet there are real issues. For example, I was speaking at, and watching the concerns of, chaplains at the Army Chief of Chaplains training where the new plans (and requirements) for same-sex marriage were explained.. And, I don't think that people who have religious objections should be forced to bake cakes for gay weddings (or confederate ones, for that matter).
Also, most Protestant pastors and most Americans think religious liberty is on the decline. Also, most Americans think that same-sex marriage is a civil rights issue, which is some talk of this as a collision of civil rights and religious liberty.
So, needless to say, those who hold that marriage should be (only) between a man and a woman are concerned about religious liberty issues. That being said, I found this, from the Berkley Center at Georgetown University to provide a helpful overview.
Overworked, Underpaid, and Cautious about Science—Ruth Moon
I thought this was a helpful look at science (and several other issues) from the General Social Survey. The GSS is the go to source for such data and is what my team and I used in recent articles in CNN and the Washington Post. And, please don't disregard science—several of us wrote about why in a recent book from the National Association of Evangelicals.
If you want to understand religious trends, the GSS is your source and the RELTRAD is your tool.
Ten Marks of a Kingdom-Shaped Church—Scot McKnight
I've not linked to Scot in a while, and that is a shame, so here is another article worth reading.
Though he and I differ a bit—I see a close connection between Kingdom and church and he sees it, well, even closer—I love his kingdom-shaped church emphasis and appreciate what he's written here.
On this episode of The Exchange, we have Anthony Evans, Jr., an artist, actor, producer and son of Dr. Tony Evans. Co-host Micah Fries sits with Anthony to discuss his faith journey, his career path, and what's it like to be a believer in the entertainment industry.Don't forget to join me every Tuesday at 3:00 PM Eastern for The Exchange.
The Exchange is a part of CT's Blog Forum. Support the work of CT. Subscribe and get one year free.
The views of the blogger do not necessarily reflect those of Christianity Today.