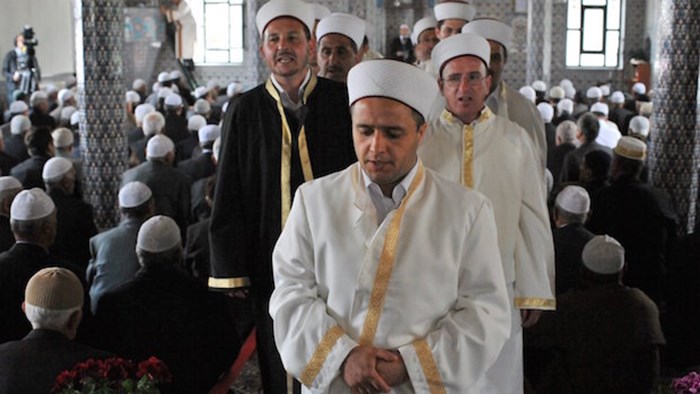 Image: Ggia / Wikipedia
Muslims around the world are approximately halfway through the month of Ramadan, a month of fasting out of observance of what they believe is the first revelation of the Qur'an to Muhammad.
Needless to say, this has not been a good week for the "view" of Islam, as we've seen multiple attacks around the Middle East and Europe.
I've written before about how we might approach Islam and Muslims, for example my call to love your Muslim neighbor in USAToday and my cover story at Christianity Today that includes the right to share one's faith, namely that it is restricted in most of the Muslim world .
The facts are pretty clear. In many Muslim countries, religious freedom for non-Muslims is restricted at varying levels. And, many Islamic governments have declined to sign the Universal Declaration of Human Rights, which includes the right to convert. (The Wikipedia section on Islamic countries is quite helpful, at least as of June 29, 2015.)
Recently, LifeWay Research conducted a study in which we called 1,000 Americans, asking questions about Islam's threat to religious freedom in the United States and throughout the world. Here's an excerpt from the report:
Americans view Islam as a threat to their own nation's religious liberty almost as strongly as they consider it a danger to religious freedom internationally, new research shows.

Although most persecution occurs overseas, 39 percent of American adults say Islam threatens religious freedom in the United States—almost as many as the 40 percent who see Islam as a global threat, a survey by Nashville-based LifeWay Research finds.

"Most recent headlines regarding Islam don't paint a picture of religious freedom—so we should not be surprised by the strong minority that consider Islam a threat to religious freedom," said Ed Stetzer, executive director of LifeWay Research.

"However, it is worth noting less Americans see Islam as a threat to religious freedom than do not. What's of particular interest to me is not people's concern about international religious liberty—which I would expect—but that 40 percent of Americans see Islam as a threat to religious liberty in the United States."

A slim majority, 52 percent, believes U.S. religious liberties are not at risk because of Islam.

Religious liberty has been widely discussed recently, but social policy, not Islam, has been the focus of recent religious freedom disputes in the United States. Courts have weighed religious freedom arguments in deciding whether to permit same-sex marriage, allow businesses to turn away gay customers, and require employers to pay for birth control.

On a global scale, Americans are unsettled about the influence of Islam. While 47 percent think it doesn't endanger religious freedom internationally, almost as many (40 percent) believe it does, and 13 percent are unsure.
Here's a graph that depicts some of the data: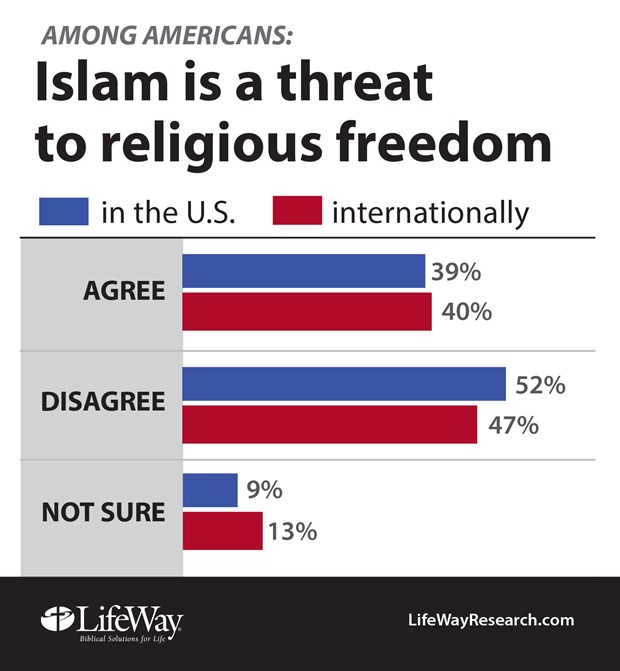 Note that this was before some recent incidents in the United States, but neither was the survey done in the midst of any major news event. Thus, the numbers are fascinating in, as I see it, two ways.
1. People are almost as concerned about Islam and religious liberty in the United States as they are around the world.
2. Only a minority see Islam as a threat to religious liberty globally, considering how many are concerned about it here.
I'm not quite sure how to square these conclusions... clearly we need some more research.
Click here to download the full PDF of the report.
The Exchange is a part of CT's Blog Forum. Support the work of CT. Subscribe and get one year free.
The views of the blogger do not necessarily reflect those of Christianity Today.