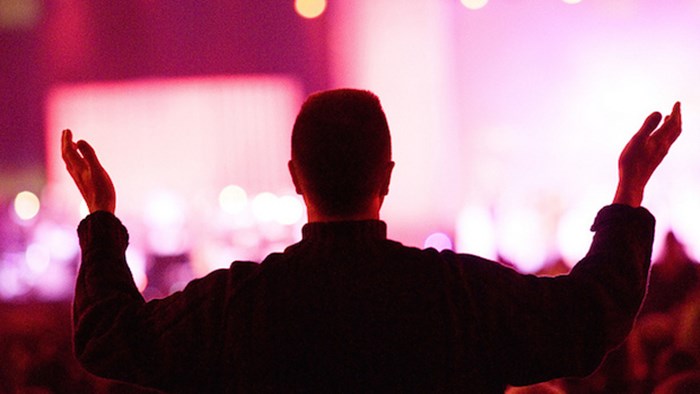 Image: Michael Swan / Flickr
We at LifeWay Research are in the process of doing a major project on evangelicalism, and I've been contacting some scholars on the subject. It's interesting to note that the scholarly view of the state and future of evangelicalism tends to be very different from the popular view.
Much more on that later…
Here are a few brief questions I asked Dr. Rodney Stark. Dr. Stark is a well-known professor of the social sciences, an internationally known author, and co-director of the Institute for Studies of Religion at Baylor University.
He does not identify as an evangelical (I asked), so maybe that will lessen the screams of bias that always comes when we talk about math. ;-)
ES: What's your kind of perception of the state of evangelicalism now?
RS: Well I think this notion that they're shrinking is stupid. And it's fiddling with the data in quite malicious ways. I see no such evidence.
ES: It seems that that's the prevailing narrative now, though.
RS: Oh yeah but…I'm writing a book called The Global Religious Awakening, because there is more religion going on in the world than ever before. And I've got data from 163 countries collected by Gallup annual polls. The section on the United States when I get to the end, the whole section is going to be called, "Bad News Bearers."

[He then "named names" but I will edit that out.]

[They] make a living coming and saying, "Church is going to hell… everything's going… "

And they're always wrong.

One of the standard ones just drives me nuts is, "Young people are leaving the church in droves, what are we going to do"?

And in [a forthcoming] book I'm going to put in the table that justifies that by showing that people under 30 are much less likely to go to church.

And then I'm going to reveal that that table is from data 1972…

Every time we've ever done a survey we find this, because people sleep in on Sunday morning and then they get married and they go to church. That's been going on I suppose since Cain and Abel.
For this project, we've been talking to scholars like Christian Smith, Nancy Ammerman, and many others.
---------------
I'll share more later, but I thought was interesting.
My article in the Washington Post explains,
When Pew considers how respondents self-identify, a higher percentage described themselves as evangelical or born again now than seven years ago — up from 34 percent to 35. When asked, one-third of all Americans describe themselves as evangelical or born again.

The numbers are even more telling when we isolate those who are Christians. Now, half of American Christians call themselves evangelical or born again. And those self-identification numbers are up across the board from 2007, even among non-evangelical faith traditions. Along with every other Christian subgroup, more Catholics and mainline Protestants now personally define their faith in evangelical terms.

One cannot help but note the ironies: A religious movement whose roots go deep into the Protestant Reformation now claims 22 percent of modern U.S. Catholics. And an even larger share of mainline Protestants (27 percent) now identifies with a movement that was virtually defined in the United States by its rejection of leftward theological shifts in denominations like the Episcopalians and United Church of Christ.

We have gone from a time when nobody knew what former President Jimmy Carter was talking about when he mentioned being "born again," to where half of all Christians use that phrase or the word evangelical to describe themselves.

So if evangelicalism increasingly holds more sway over American Christianity, including those from outside of its tradition, who is losing influence?

Quite clearly, it's mostly mainline Protestantism, which continues its precipitous decline.

And, my article in CNN provided a bit of a chart.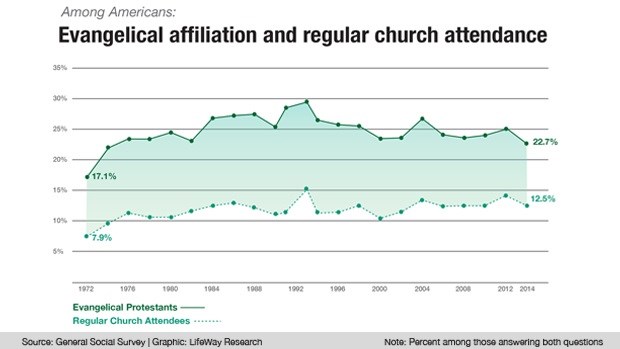 I actually DO think that evangelicalism peaked in the 80s and 90s, but all the talk of the collapse of evangelicalism (and the death of Christianity) is just bad math (or a way to sell books).
After the Pew data dropped, I hope we can move on beyond the hysterical math, face the fact that there are real challenges, acknowledge that we've lost our home field advantage, and move on with facts as our friends.
The Exchange is a part of CT's Blog Forum. Support the work of CT. Subscribe and get one year free.
The views of the blogger do not necessarily reflect those of Christianity Today.